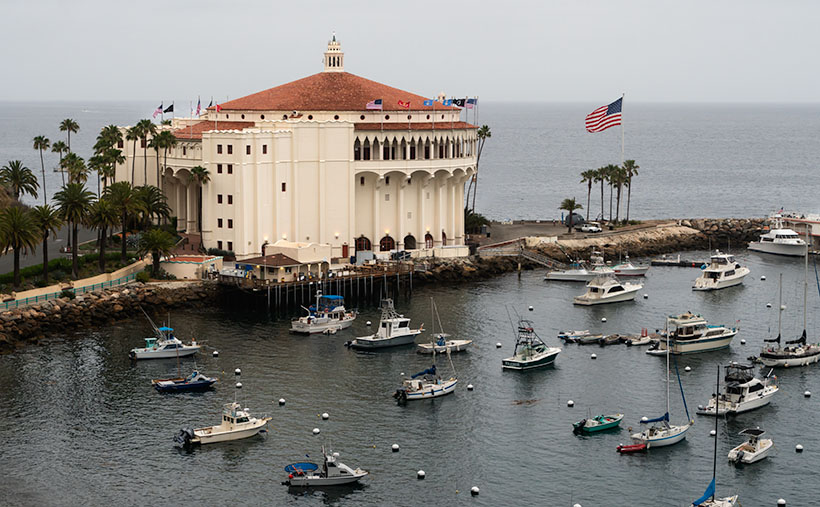 Listen, guys, I know this goes against the man code, but you really should pay attention to your wife every so often. This seemingly innocent act of unselfishness pays dividends. She may let you watch the race (game?) and cook a pack of pizza rolls for you; she could let you play golf, or—in my case—the sock-fairy returns a drawer full of footies before I order another pack from Amazon. You got to try it. A little act of kindness pays off tenfold.
By now, you're probably wondering what I'm babbling about. Let me explain. Here at the Witkowski double-wide mansion, we've had the fortune to get small returns from the IRS over the past couple of years. We treat it as unexpected vacation money, but we always spend it on tires, garage doors, or new cameras. This year, we didn't have any incidental expenses, so I asked Queen Anne, "Honey, where would you like to go on vacation." At first, she squinted and scowled at me, but when she realized I was serious, she answered, "Catalina Island is high on my bucket list." So, we agreed to blow all our tax returns on an island for a week.
Before I get too far, let me clarify a point. Unless you own a yacht, you're into backpacking, or your family name starts with Wrigley, you don't visit Catalina; you go to Avalon. They don't have rental cars on the island, but you can rent a bike, golf cart, or steal a local's Smart Car, but you're mostly going to walk around town. We didn't mind because that was enough to keep us entertained for the week.
Although Avalon is still in Los Angeles County, its atmosphere makes you feel like you need a passport to travel there. First, the air is free of LA smog so that you can see the mainland's San Gabriel Mountains through the fog. As you walk past the shops and bars on Crescent Avenue, you get the aroma of sea air mixed with waffle cones, beer, and pizza. The businesses along the strand are the same mix of souvenir shops, restaurants, hotels, ice cream, and adventure tours that you'd expect in any popular tourist attraction. We spent the week scouring through all the T-shirt shops before selecting a couple to bring home.
Before we even left home, I knew one of the photos I would take would be of Catalina's iconic casino. Since I had plenty of time on the island, I took nearly a dozen. I shot it in the sun, in the fog, under a cloudy sky, from ground level, and this week's featured image is from the cliffs overlooking it. I picked this version to show because it has soft shadows, and you can see its details and its relationship with the harbor. I call this image Avalon Casino even though its actual name is the Catalina Casino.
The Santa Catalina Company built the building and opened it in 1929. They never used it for gambling. 'Casino' is a European term for large gathering hall, but Vegas operators thought that casino sounds more hoity-toity than gambling hall, so they stole the word. The multi-story hall is the largest building on the island, and its art-deco design has fans worldwide (I'll have more to say about that in a couple of weeks).
This week's photo also includes my dream boat. Can you guess which one it is? It's not the biggest, but it'll do. I'm scheming a way to have Santa bring it for Christmas, so after I publish this morning, I have to do dishes and mop the floor. I got to keep the jolly old elf happy, you know.
We'll spend the rest of our hot July remembering our Avalon trip. You can see the larger version of Avalon Casino on its Web Page by clicking here. Come back next week and see more from our Avalon adventure.
Till Next Time
jw