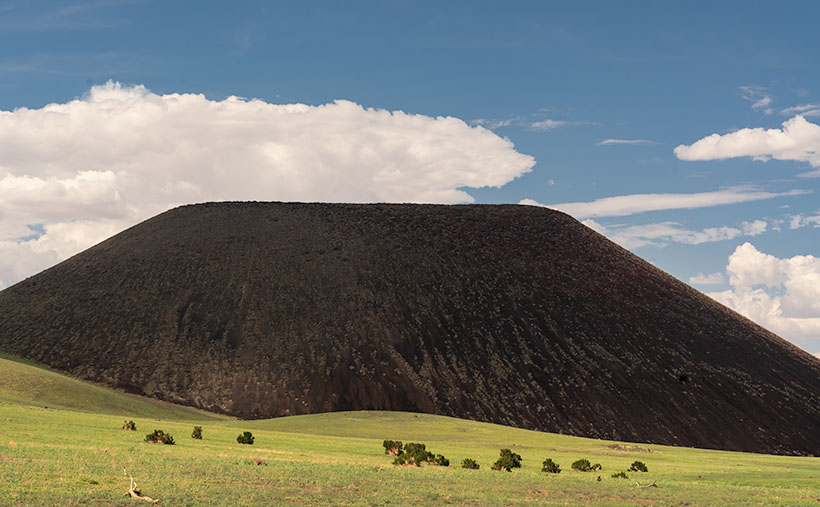 When Queen Anne and I visited the San Francisco Lava Fields this summer, we were there to photograph one cinder cone—S.P. Mountain. I watched several YouTube videos that featured the area, and I thought the cones would make an exciting journal project. I don't see as many pictures from the lava field as I would expect, so maybe Ansel Adams left something for me, "Here's a nickel, kid. Don't spend it all in one place."
The San Francisco Peaks is the taller of the two major Arizona volcanoes (the other being Mount Baldy/Mount Ord which are southeast in the White Mountains). The Peaks are the remnants of San Francisco Mountain—an active volcano that became dormant 400,000 years ago. Scientists have calculated the volcano was over 16,000 feet tall—4,000 feet above Mt. Humphreys, the highest remaining peak and Arizona's high point.
Although the mountain has been dormant for a half-million years, there have been newer local eruptions. Geologists date the flow at S.P. Mountain to 55,000 years, and only a thousand years have passed since Sunset Crater erupted. That eruption caused the Sinagua Indians (the people we visited in August) to move 13miles south to Walnut Canyon because their Safeway was severely damaged.
Maybe one of the reasons the lava field doesn't get more visitors is that much of it is on private land and doesn't get much press. C. J. Babbitt is credited for the mountain's name. If you're young and ambitious, you can climb to the rim, and from that point of view, the crater resembles an overflowing chamber pot—or Shit Pot as he called them (and you thought those pretty flowered bowls and matching pitchers you see in museums was for washing your face). When the cartographers heard what the locals called the crater, they said, "Oh dear. We can't put that on the maps. We'll just use the initials." If you'd like to see the view from the top without leaving your Lazy-Boy, I captured this Google Earth view.
When we drove out to the lava field, I wanted to video the cinder cone. Most of the time we spent at S.P. Crater was with the drone, and I didn't get a still shot that I liked (if you're interested in seeing the videos, here's the Pond5 link). As we started to leave, I stopped to shoot last week's photo of Split Top, and when I turned back, I saw this image of S.P. Mountain. The clouds were casting shadows on the cone, but a break in them let sunlight spill down on the grass and juniper trees. I'm pleased about how well this photo turned out. It's only a couple of zebras short of being from an exotic African location. Naturally, I called this image S.P. Mountain because I didn't want the Internet censors after me.
You can see a larger version of S.P. Mountain on its Webpage by clicking here. Come back next week when we finish our tour of the San Francisco Lava Field with one last photo. We'll see you then.
Till next time
Jw
BTW:
I'm working on my Website's Arizona galleries to make them flow better. Unlike the other State groupings, I have too many shots from Arizona to have a single page. So, I have subcategories for deserts, farms, towns, mountains, etc. This week I posted a second Arizona Index page that allows visitors to switch between a slideshow view and a thumbnail view with a button click. Some people like the traditional thumbnail view, while others prefer to see slides. Here's the link to the page. What do you think?