For most of the 1200 miles between Oklahoma City and Barstow, Route 66 and Interstate 40 are stuck together like a zipper. As you drive along the freeway—started in 1957 and completed in 1984—you can see a ghost of the old mother road on the roadside. Sometimes it's a frontage road with little traffic, in different spots the pavement is gone, and it's not a road at all.
Arizona has two exceptions to these overlying trails. The first is where Interstate 40 cuts off Peach Springs between Kingman and Seligman, and the second is between Kingman and Needles. In the first case, the freeway cuts miles off the trip by heading straight across country, while the latter deviation is further (albeit quicker) as it skirts the Black Mountain Range.
The section of the historic road that Queen Anne and I explored this month cuts through a mountain pass that Captain Lorenzo Sitgreaves mapped in 1851. Although the trail has beautiful scenery for me to photograph, it is very twisty and slow going, and that's not ideal for interstate commerce.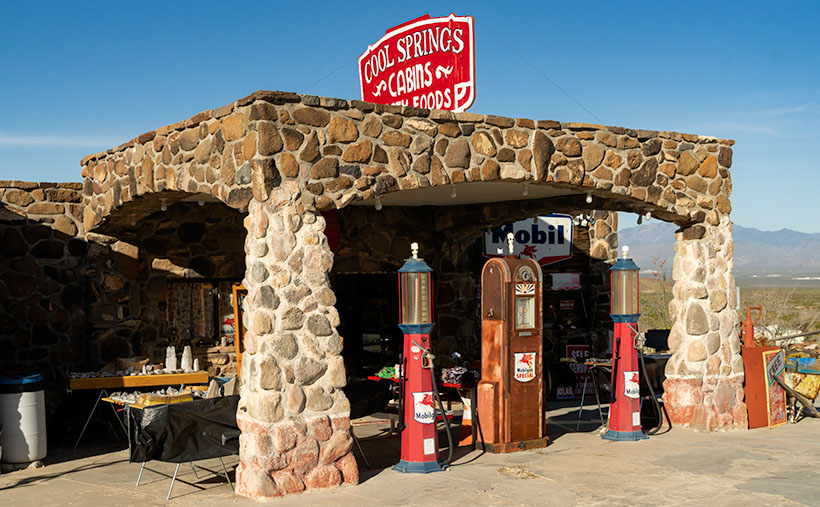 After we finished photographing Thimble Mountain seen in last week's post, we continued along the road for less than a mile, where we stopped at an old gas station called Cold Springs. The owners have converted it into a gift shop that sells nostalgic Route 66 kitsch, but there were no customers. As I snapped a few pictures, a woman's voice came from the shadows, "Hello there. How ya doin'?" When I took off my sunglasses, I saw a young woman sitting in the shade next to a hot dog cart. We made small talk, and I asked about her business. "April is normally our best month, but this year it's a bust." After promising not to include her in my photos, I took another shot or two before we drove away. Looking back, we should have bought our dinner there. She could have used the money, and her food was probably better than the drive-through meal we got at the Kingman Carl's Jr.
As we drove further, we had to stop almost immediately again, where the canyon narrowed. On the road's north side was a pair of sandstone bluffs rising from the dry creek bed. Their cliffs glowed in the late afternoon sun, so of course, I had to capture the moment on film … er, I mean electrons. I've since found out that at this location, the road passes between two wilderness areas. To the north is the Mt. Nutt Wilderness, while on the road's south side is the Warm Springs Wilderness area.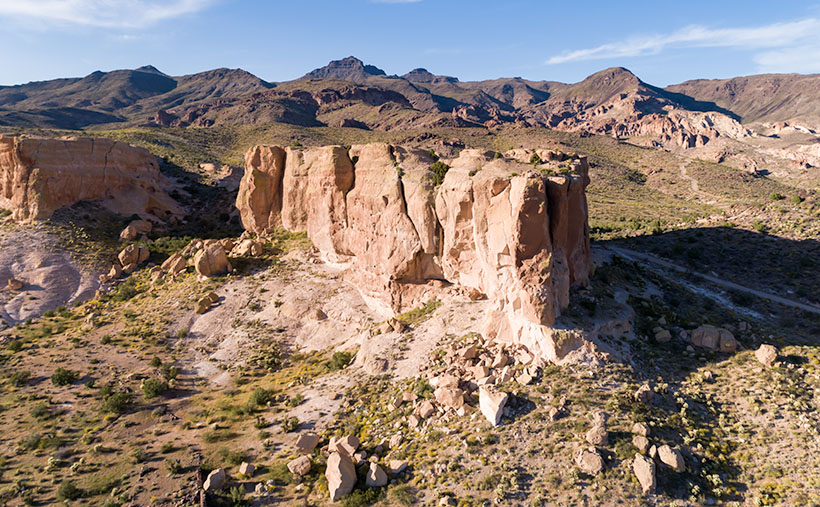 In this week's featured image—called White Bluff—you can see Mt. Nutt in the distance. At over 5100 feet it is the tallest peak in the Black Mountain Range. To get any closer, you'll have to hike or grab one of the local wild burros—of which there are many—and ride.
You can see a larger version of White Bluff Butte on its Web Page by clicking here. I hope you enjoy it. Next week, we'll travel over the pass and make a stop in Oatman. I hope you'll join us then.
Until next time — jw