Four years ago, when Queen Anne and I moved to Congress, one of the decisions we made was to cut-the-cable. Well, it wasn't a hard decision to make because Cox doesn't cover this area, and we were tired of paying Dish Network more than a hundred bucks a month. Fortunately, we're in line-of-sight with the South Mountain antennas, so we get the major local channels sharper than a cable signal. To supplement our viewing choices, we bought a TIVO box and signed up for the fastest Internet available in our neck of the woods, and we get the gist of current shows via YouTube.
One of the channels we repeatedly watch is The Daily Show with Trevor Noah. It's a comedy-news show that we've enjoyed since Jon Stewart was the host, and Trevor has carried on well. Last week, or maybe it was the week before, he had a segment titled Is This the Way We Die? – Coronavirus. For Anne and I, that question struck close to home.
I usually shy away from writing about current events—I don't know why, because I can't count the number of times that people have called me an opinionated jerk—but, this week, I feel like talking about the elephant in the corner. I know that most of us will catch this bug and shrug it off in a couple of weeks. However, there's that small percentage of elderly with underlying health issues that are at risk. With my diabetes and Anne's recent surgery, we are that group. So it got my full attention. I've been preoccupied lately with my mortality, and asking myself, "Is this how it all ends?" I've concluded that I haven't run out of film yet, and we're going to carry on. I always knew that there was an upside in being an anti-social curmudgeon, and my time has finally come. I've practiced Social-Distancing for years, so I pretty much have it down pat. Now, if I could get one of you to throw a pack of toilet paper up on the porch now and again, we'll be fine.
To maintain your sanity, the doctors recommend that you get out of the house and exercise. Walk around your block, ride a bicycle, or just spend some time outside, but stay away from crowds. I'm glad they urged that because it means I can still go out and shoot photographs. With my kind of subjects, I don't interact with other people so that I won't harm them or myself, and that brings me to this week's featured image.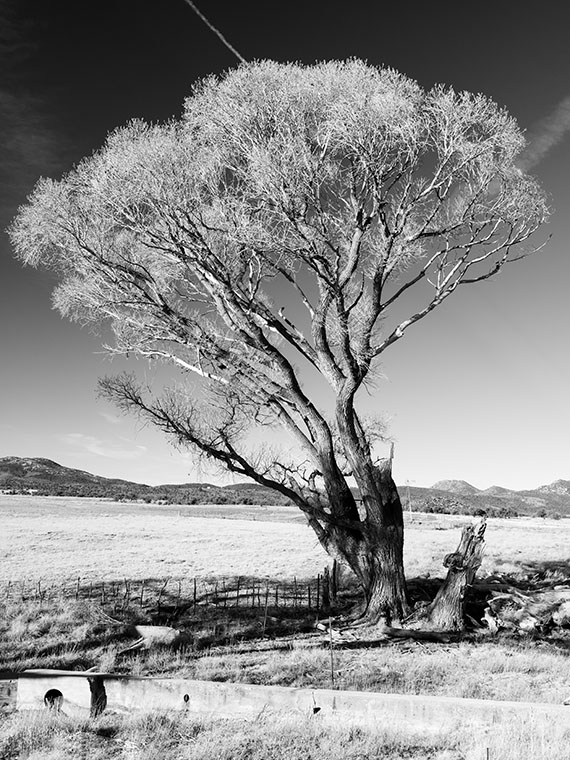 This picture is my fourth image in the series of Peeples Valley Cottonwood trees, and this one is called Peeples Valley Cottonwood. It's an old cottonwood tree growing along a rancher's irrigation trench. In case you didn't recognize it, it's the same tree that is the subject of the first in this series—Broken Cottonwood. The angle is slightly different, and I used a polarizing filter to darken the sky. I think it gives the tree a three-dimensional look.
You can see a larger version of Peeples Valley Cottonwood on its Web Page by clicking here. I hope you like it. Be sure to come back next week for the final portrait from Peeples Valley.
Until next time — jw
p.s. I know that these are not going to be the easiest of times, but we'll get through this. Be kind to one another and find something you enjoy doing. Listen to what the doctors say and stop obsessing on the news.