Here's a final list of numbers from Fritz's trip meter.
12,079 total miles driven
329.21 total hours the motor was running
37 mph – the average road speed
18.3 mpg – Fritz's average miles per gallon for the trip
To put that in perspective, twelve thousand miles is just short of half way around the world. It's about a third more that the 9,000 on Fred's itinerary, but he based his number on point to point distances. We made a lot of side trips. My original budget proposal was only 7,000, based on a Google Maps trip to Fairbanks and back.
Yesterday's drive went just as I imagined it. We left Bakersfield at 7:30 and stopped in Tehachapi for gas and coffee. We hit the I-40 Bridge over the Colorado River at 12:15, and then stopped for lunch in Kingman at 1:00. That's how I called it in my earlier post.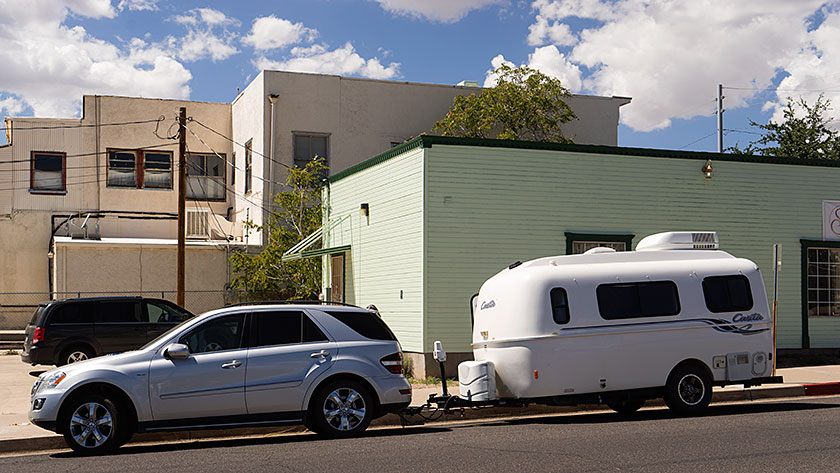 We had a leisurely afternoon drive down US-93 and were home by 4:00. I wanted to brag that we made the trip without hitting a moose (there are none to hit), and that I came home without a cracked windshield. I also wanted to say we drove half way around the world without incident, but I can't, because as we say around here, I just made the newsletter.
When we pulled up in front of the house, our neighbors, John and Reenie greeted us with waves from their front porch. Then I started to back The Ritz into the drive and around the house and deck. That's a big u-turn pushing the trailer backwards. I did it on the first try, but it wasn't lined up perfect, so I pulled forward to straighten it out . . . and ran over the plastic stanchion that holds the water and electricity for one of our hook-ups. Instantly we had a nice little fountain in the back yard.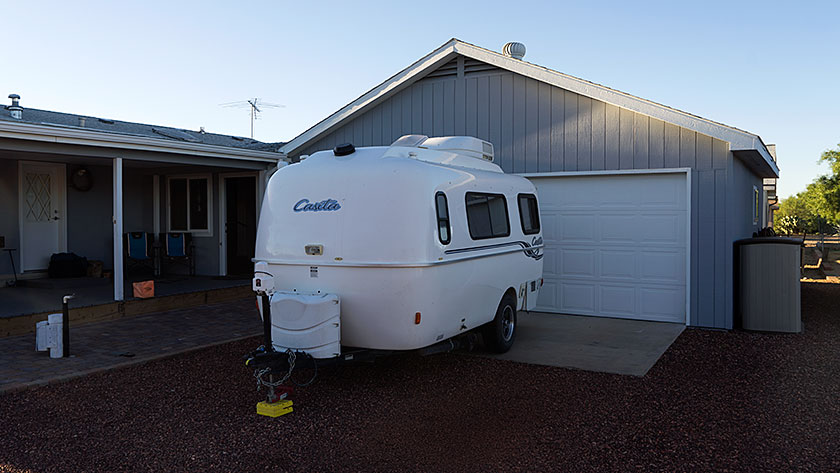 John went across the street and retrieved a water-valve shut-off wrench and we turned off the main. Since the temperature was near the century mark, we unloaded all the wine into the cooling house. Then I unhooked the trailer and made a mad rush to the hardware store to get a cap and some PVC glue, so that we could at least turn the water back on.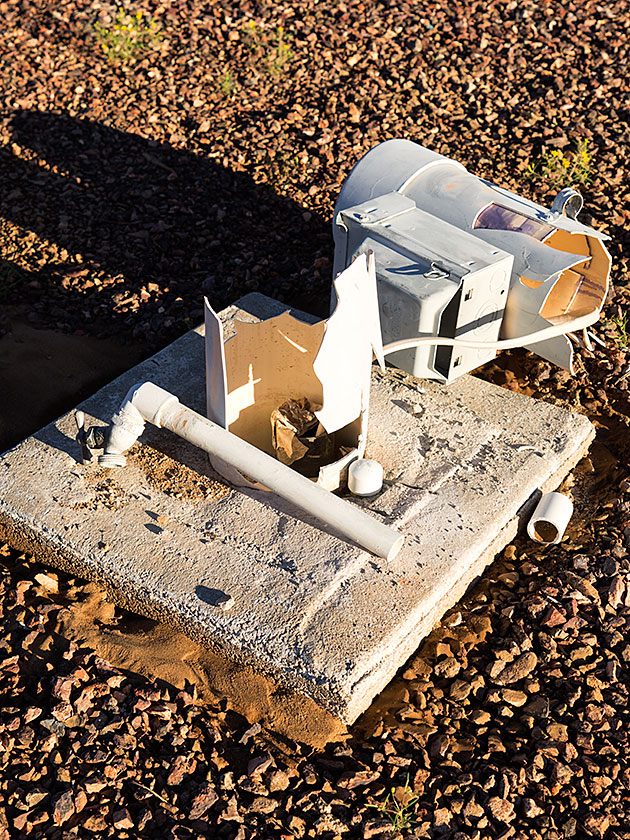 I made it before they closed and after getting home, I cleaned up the broken pipe and glued the cap on. Satisfied that the repair was good, we then turned the water back on, only to find that I broke the PVC pipe under the concrete base. The whole thing needs torn up  and replaced. So we're waiting for the plumber to come this morning.
In the mean time, we're living with water buckets from the John's spigot, and bottles of drinking water we had stored in the freezer. It's a challenge for sure, but it's good to be home.
On another note, you're probably interested to find out about the rest of the gang. You may remember that Fed, Deb and Sally wanted to spend more time in Canada. About ten days after we did, they crossed the border (without inspections). Then they recreated Patton's March down the east side of the Cascades and Nevada and got home a couple of hours ahead of us.
So I guess this means, this chapter in our lives has come to a close. I have a newsletter to write sometime this weekend. If you're a subscriber, I apologize. I guess I'll do a follow-up of the trip. But this will be the last post about our trip to Denali. I've had fun writing these for you, but I've run out of topic and I don't know what else to talk about.
What do you think? Have you had enough of us, or is there another subject to cover? I'd like to hear from you.
jw