This week's new photograph wasn't taken in Aguila for a change. I took it on the way home from my outing there. This is the second version I've taken of an abandoned service station at the Arizona Route 71 and US Highway 93 intersection. My first shot of this place—called Station 71—was before sunrise in November 2015. When I stopped this time, the sun was setting and I thought the stately saguaro added to the story of this old building. This version—called Saguaro Station—can be seen on my Website here.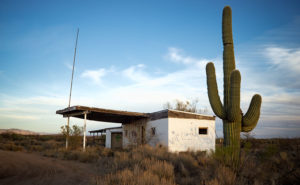 I actually travel through this intersection often, and when I do, I try to stop and look for new angles. Usually, the light isn't right or nothing interesting jumps out, but this day the beautiful light on the building's graffiti-covered end-wall forced me to drag the tripod out of the car. The failing light also shows off the saguaro's pleats.
The next time I stop, I should try to find what gas station brand this was. The gas signs are gone—no doubt scavenged by collectors—but maybe there's a clue hidden inside the building among the tarantulas and rattlesnakes. In the next couple of years, this intersection going to be an exit for the new Interstate 11—replacing US 93 for traffic between Phoenix and Las Vegas. City planners expect the new highway to bring growth to this area and there's talk of a Wal-Mart planned for this intersection. Ironically, that traffic would support a new gas station in this spot.
I hope you enjoy seeing this new photo and let me know what you think in the comments. Which version do you prefer? If you enjoy this post, please click the like button below.
Until next time—jw