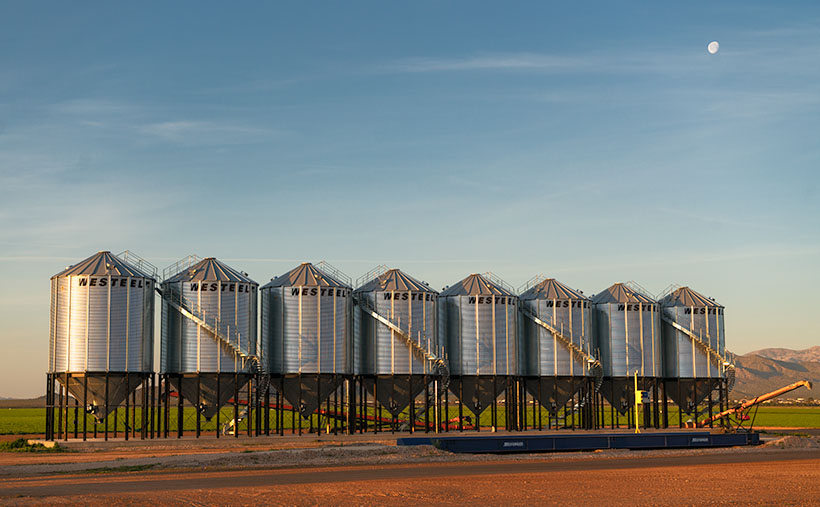 Welcome back to the third image in our May orphan photos project. We hope you've been enjoying the journey so far. Last week, we took a nostalgic look at some old farm equipment, but we're shifting gears to bring you something new, and I didn't have to travel far to find this week's subject.
During our travels, Queen Anne and I often find ourselves driving through the charming town of Aguila—though calling it a town may be a bit generous. It's more like where the tumbleweeds stop to stretch their legs, and the cacti gather for a gossip session. It has been the subject of my playful jesting in the past, but today I'll take a lighter tone. Aguila is situated along route US 60, west of Wickenburg, and as I've mentioned before, it serves as the quickest route for Queen Anne and me to reach Interstate 10. On one of our recent journeys through Aguila, a remarkable sight caught my attention—a magnificent set of silos erected on a cotton farm. Their towering presence against the horizon immediately captured my imagination. As a photographer, I'm always searching for unique and captivating subjects. These silos presented the perfect opportunity to catch something unique.
Regarding my photography, I enjoy sharing my work with a broad audience, and one platform that has been instrumental in reaching a larger community is Unsplash. For those who may not be familiar, Unsplash is a platform where photographers can showcase and share their high-resolution images, allowing anyone to download and utilize them freely. I take great pleasure in contributing to this platform, and I currently have around 100 of my photos available there. (You can check out my Unsplash portfolio here :[https://unsplash.com/@jcw].
Among the images, I have posted on Unsplash, two particular silo photos have garnered significant attention. These silo images, which I previously captured and uploaded, have become some of the most popular in my collection. The two silo photos alone have amassed over 1.5 million views and have been downloaded more than 1,100 times. This positive reception motivated me to seek out new and captivating silos to add to my Unsplash portfolio, and that's where this photo comes into play. Who would have thought that a collection of silos could attract so much attention? Move over cute puppies and stunning landscapes; it's time for the silos to shine. Maybe they have some secret magnetism, or perhaps it's just the allure of all that grain storage. Either way, these silos have become the unlikely celebrities of the photography world.
When I laid eyes on these gleaming stainless silos in Aguila, I knew they possessed the potential to enhance my Unsplash portfolio and further boost my numbers. I took this photo with a mixture of artistic vision and a touch of self-interest, fully aware that the unique beauty of these silos would resonate with viewers. It's fascinating how an ordinary subject like silos can captivate and draw the attention of so many people.
Ultimately, my decision to capture this image was driven by a desire to continue sharing my work with a larger audience and expand my presence on platforms like Unsplash. The allure of these silos and the previous success I've experienced with similar images solidified my belief that this photograph would be a valuable addition to my Unsplash portfolio.
When you gaze upon this photo, it's like sipping a Pousse-Cafe, with each tier offering its delightful flavor (If you have no idea of what I'm referring to, here is a recipe: https://www.epicurious.com/recipes/food/views/the-pousse-cafe-no-1-51167400). At the bottom, we have the earthy essence of the brown dirt road, followed by a refreshing burst of green from the newly planted cotton fields. And finally, the pièce de résistance, the shining stainless steel silos, add a touch of sophistication to this visual libation. And just like a perfectly crafted drink, we have a cherry on top—the waning moon gracing the composition like a delightful garnish. It's a photographic concoction that will tickle your taste buds and leave you wanting more.
To enhance the curves in the seed containers, I find the light from the sun at a low angle the best. The tanks would look like cardboard cutouts if you shot this scene at noon. Either end of the day works fine, but since I got up early, I got a lovely moon in the bargain. I had to move left to get that moon into the shot, introducing a perspective. In this case, it works better than a static head-on point of view.
I hope you enjoyed this week's photo and story. These gleaming stainless silos in Aguila serve as a testament to the agricultural essence of this small town. They stand tall, surpassing any yard art or decorative statues, and remind us of the remarkable structures that farmers create as they cultivate the land. The silos embody the local community's hard work and dedication, showcasing agriculture's beauty and importance in shaping our surroundings.
To fully appreciate the visual impact of the Gleaming Stainless Silos, I invite you to visit the official webpage, where you can view the photo in all its glory. Follow this link [https://www.jimwitkowski.com/newWork/gleamingSilos.html] to immerse yourself in the fascinating details and explore the nuances captured in this image.
Thank you for joining us this week as we delve into the world of agricultural beauty and the stories behind orphan photos. We appreciate your support and the moments you've shared with us. Be sure to mark your calendars for next week's finale as we unveil a special place in Arizona's history. It's an extraordinary journey you won't want to miss. Thank you for giving us a moment of your time.
Until next time
jw
BTW:
The snake count is two a peace. Ours was a 10′ bullsnake on a mission. He was headed west, and nothing would get in his way. No matter how much I tried, he would not turn around. When I annoyed him enough, he slid under the house. But, the neighbors spotted him later in the evening leaving the park like Horrice Greely personally spoke to him.
Fred and Deb's story has more drama. Their snake was a baby rattler hiding next to their front hose. When spotted, Fred got a shovel and pitched it into the middle of the street, but the snake had bitten their youngest dachshund. Odie got pretty sick for a while, but he's feeling better and resting at home. You should run out and buy him a get-well card.