My lovely bride abandoned me for a couple of days to get her annual check-up at a beauty spa on the Arizona Rivera—Lake Havasu City. Before she climbed into her friend—Yasmeen's—car, she turned to me and with a pointed finger and sternly said, "I have two words for you. Be – have!" Well … that sounded like a challenge to me, so I began thinking about what kind of trouble I could get into. I was in the mood for a photography outing and I hadn't been to Stanton since Fred and I got lost, so I tossed my gear into the truck and set off to get some new photos.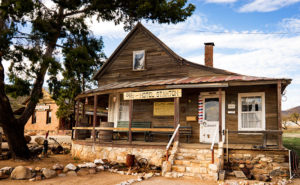 Stanton is one of the many towns in mountainous Yavapai County (rhymes with have-a-pie) where, because someone discovered gold, a town sprung up overnight and disappeared just as quickly when the ore played out. It was little more than a stagecoach stop on the Wickenburg-Prescott road at  Antelope Creek until a tracker named Alvaro chased an errant burro to the top of what is now Rich Hill. When he got back to camp and told the expedition leader—Pauline Weaver—about finding gold nuggets "the size of potatoes" on the summit, you can surely guess what happened next.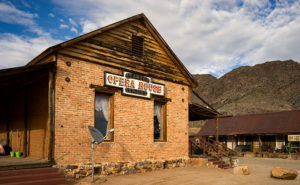 The town—known at the time as Antelope Station—got its name from an unscrupulous character named Chuck Stanton who moved to the thriving community several years later. Stanton opened a store and, with the help of his hired banditos, killed off his competition. His reign didn't last very long as he was shot and killed that same year (living with swords, I guess). The town thrived afterward for several decades but it had a bad reputation. "In 1892, for example, a Prescott newspaper reported that the residents of Stanton liked to 'drink blood, eat fried rattlesnakes and fight mountain lions'" (Wikipedia). By 1905 the gold ran out and Stanton was abandoned.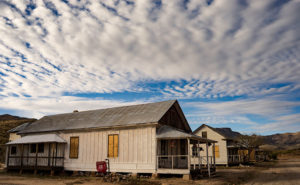 Ownership has changed several times since then and now it belongs to Lost Dutchman's Mining Association (LMDA) and they have turned it into a member's only RV Park. Membership is kind of pricey but LDMA has methodically bought up mining claims in the area and its members can work those old claims without charge. It's surprising how many people will pay good money to play in the dirt—I don't even like to plant flowers. Guests are allowed to visit but they first have to stop by the office and sign a release.
After my visit this week, I drove further down the road to the old Octave and Weaver mine sites and saw people on either side of the road prospecting. Late in the day, I stopped to take a photo along the roadside at quitting time when several trucks pulled out of a side road. They all slowed and waved and one of the men stopped to ask if I was getting some good shots. I asked him how his day went.
"What do you mean?" he asked.
"Did you make a fortune today," I explained.
He laughed and replied, "Only the boss makes any money."
"I see."
Then he started telling an old joke, "Do you know how to make a small fortune in placer mining?"
"Yeah, you start with a big fortune," I responded.
With that, he laughed and drove off in a big trail of dust.
Until next time — jw