Don't tell anyone, but we snuck out of the house again. We had to. It's the only way that I could bring you fresh pictures for May. I think we did ok though, because—as we always do—we never intended to interact with people. Since I never shoot anything with a face, I don't run into a lot of humans when I'm out on the road.
For May, I wanted a road nearby, so that we could get out and be home in an afternoon. I chose the section of Old Route 66 that starts in Kingman, travels through Oatman, and winds up at the Colorado River near Topock Marsh. I've written about my experiences traveling The Mother Road before, but I've never completed this section. That's because when my parents got to Kingman, they made a hard right detour to Las Vegas. Queen Anne and I have visited Oatman several times, so we didn't need to stop and feed the resident burros. I was more interested in shooting the Black Mountains in Sitgreaves Pass.
I think there's a Black Mountain in every Arizona county (sometimes more than one), but the Black Mountain Range that borders the Colorado River from Lake Mead to Topock is the most interesting. It's 75 miles of jagged volcanic peaks and rhyolite formations along the west border of Mohave County. They're so rugged that only a handful of roads cross through them—even Interstate 40 loops 60 miles south to avoid the range. Our trip skips that loop as we got off the freeway near the Mohave County Prison, headed west across Sacramento Valley, and through Sitgreaves Pass.
As you drive across the wide valley, creosote dominates the landscape. There are yucca and an occasional cactus along the roadside, but none of the big succulents we have at home. Everything is sparser, which is a typical Mohave Desert. This desert is dryer than our Sonoran home because it rains mostly during winter. The southerly winds that bring the summer monsoons bypass the Mohave.
As the old road approaches the mountains, it travels up a canyon with high peaks on either flank. On the north side is a tall monument that marks the eastern boundary of the pass. Its name is Thimble Mountain, and the granite jewel rises 1400 feet above the valley floor. If it were red sandstone, it would be at home in Monument Valley.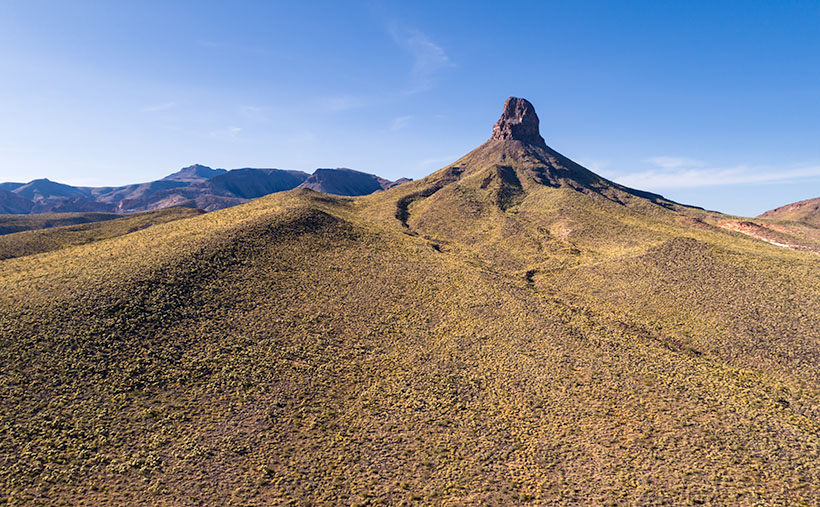 It's the subject of this week's featured image, and I naturally named the photo Thimble Mountain. I'm pleased with the pyramid composition and how the afternoon light shows each plant growing on the slopes. I also like the way the drainage curls around the top. I only wish that the wispy cloud that echoes the peak's left side was more defined, but hey, I'm no Ansel Adams, so I'll take what I can.
You can see a larger version of Thimble Mountain on its Web Page by clicking here. I hope you enjoy it. Next week, we'll make another stop in Sitgreaves Pass and show you what we found. I hope you'll join us.
Until next time — jw