Have you ever been to a place, but you didn't know you were there until you went away? I know that sounds like a Yogi Berra-ism, but it will make perfect sense once I explain. Most of the time when I'm out shooting, I have to come back to the office and scour maps to name the landmarks that are in my pictures—and you thought I was a human geography book. That's the story behind this week's featured image that I call Vortex.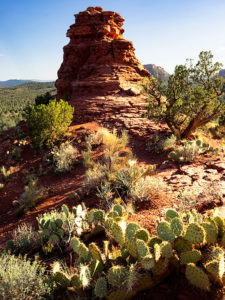 For Sedona month, I wanted to get images of the red rocks that aren't on every calendar that you've owned, so I scouted and explored a couple of trails that were off the beaten path. One of them was the Boynton Pass Overlook Trail, and I took the Climbers photo featured three weeks ago from the same place. Back at the office, I searched Google Maps to see if the pinnacle they were scaling had a name. It didn't (Wrong. According to the site in the following link, its name is Kachina Woman – jw), but—according to the map—I was standing on (or near) the Boynton Pass Vortex. When it comes to those kinds of metaphysical things, I must admit that I'm a skeptic, so I wasn't searching for a vortex. I was after the view. It's interesting that there isn't a marker to show it's there and I didn't come away enlightened. I did, however, get two photos from one spot, so maybe …
This smaller turret and the much taller tower as seen in Climbers flank each end of the overlook saddle. Since they're on opposite ends, if you look at one, you have to turn around to see the other. I liked the shape of this little guy—it kind of looks like an inverted tornado. I don't know what a vortex looks like, so maybe this is one.
Another thing that appeals to me is the plants. Within the frame, are all the varietals that make up the Sedona chaparral: juniper, sage, prickly pear, agave, and some others that I can't identify by name. I'd like to think that this shot is a miniature Sedona model—a stack of red sandstone and the plants thriving there. If I had a stag deer majestically posing in the photo, it would have been perfect—or maybe have it spinning through the air like the cows in the movie Twister.
You can see a larger version of Vortex on its Web Page by clicking here. I hope you enjoy viewing this week's post and come back next week when we'll start another month in a new site.
Until next time — jw