It was already well past lunch as we drove up Highway 80. Queen Anne's all too familiar whining had begun, "I only had one meal today." We were heading to Bisbee's Copper Queen Hotel, where we could satiate our hunger. As we approached the Lavender Pit, I noticed an old Shell gas station in my peripheral vision. When I looked in the mirror, I saw that—not only was it real, but an old car was parked outside. That was enough catnip for me to slow the Buick and make a U-turn across four lanes of traffic. Lunch could wait.
When I turned onto Erie Street, I was surprised to see an entire block of old buildings with vehicles of the same period parked out front. Was I on a movie set, or had I died and gone to some photographer's idea of heaven? I decided it had to be the former because I still heard Anne's food grumbling in my ear. I was further confused by a wall sign saying, "Welcome to Lowell, Arizona." I turned to Anne and announced, "We're not in Bisbee anymore."
Lowell is to Bisbee as Tempe is to Phoenix—a cling-on. Bisbee and Lowell were founded in the late 1800s as mining claims—Bisbee in the 1870s and Lowell in 1899. As the mines grew, they needed men to work them. Like every other mining town, the population lived first in tents, shacks, and finally, proper homes. Unlike the Tombstone mine, the ore at the Copper Queen Mine and Lowell Mine was so abundant that it supported the towns for over fifty years. That's why these southern Arizona towns have masonry buildings instead of the rickety shanties of most ghost towns. Bisbee reminds me of the coal-mine towns in Pennsylvania or West Virginia.
As time passed, the Copper Queen (and Phelps Dodge) took over the operation of the Lowell Company. Underground mines are inherently dangerous, and there was so much copper ore still buried there that during the World Wars, it became economically feasible to build giant machines to scrape away mountains and dig big pits to extract the copper. Bisbee's renowned scab in the ground is called the Lavender Pit—named for Harrison Horton Lavender (the mine superintendent). As the abyss grew, it took parts of Lowell with it. All that remains of Lowell today is Erie Street which runs from the traffic circle in the south and the pit's edge on the north side.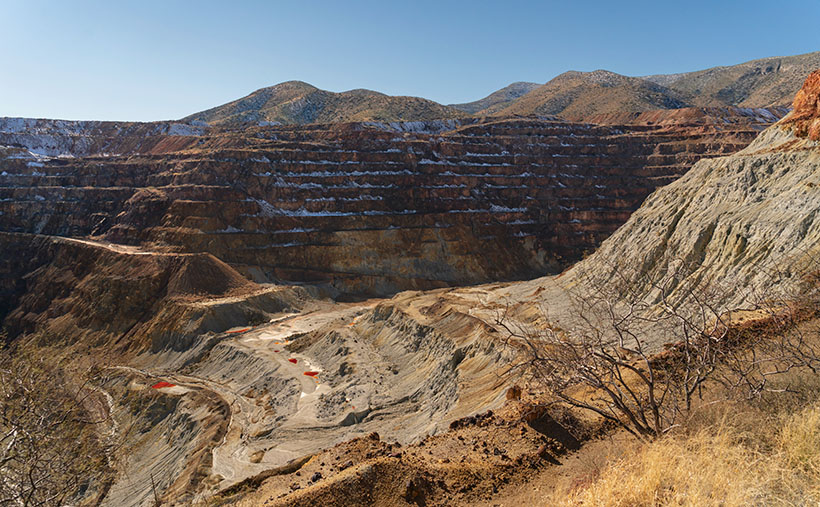 A group of volunteers banded together and formed the Lowell Americana Project. They worked hard to restore and enhance the quarter-mile street and transform it into an open-air museum. Their hard work got them international attention for their cultural preservation. They have turned Erie street into one of the most photographed streets in the West. Like me, you've probably seen some of those pictures in magazines and films without knowing the location.
We'll explore Lowell's Erie Street in February, hopefully, to delight my car friends. I consider this week's photo the foundation shot. It was taken at the north-end parking lot where I left Anne to starve while I skipped up and down the street taking pictures. In this shot, I wanted to show the theater marquee, the Gulf, and the Lowell welcome sign. As an additional no-extra-cost bonus, the town thru in a Chevrolet flatbed truck. I don't know what year it is, so perhaps one of you gearheads can tell us. I also have no idea about the flying saucers. I didn't find a reference to any abductions in the area, although more aliens visit Arizona than any other place. They like the weather here—especially at Bisbee's mile-high altitude. Maybe the spaceships are a warning that you're about to enter The Twilight Zone.
You can see a larger version of Lowell Theater on its Webpage by clicking here. We'll begin our walk down Erie Street next week to see what we can find. Be sure to come back then.
Till next time
jw
BTW:
No Queen Annes were harmed in the making of this article. She finally got her lunch and a glass of wine before she fell asleep as we drove back to the motel.