In the spring of 1959, my dad traded in his '52 Ford Business Coupé for a brand new Ford station wagon. It was two-tone — white over red — with red vinyl seats, push button radio and 4-60 air conditioning — you'd roll all four windows down at 60 miles an hour for greatest effect. Neither my three sisters nor I had a clue why he bought the new car. His pride and joy was the '56 Crown Victoria that was in the garage. We didn't need a reason, and we didn't care. It was new and shiny and had pretty wide white walls. As we found out later, he bought it so we could visit his uncle in California. The six of us were taking a two-week road trip from Pittsburgh to LA and back. We were the Griswolds prototype.
When my dad was behind the wheel, he focused on the destination. I don't think the man would have stopped for a bathroom break had not one of us been whining from the back. We started out on Friday evening, and drove all night to Chicago, but not stopping until the next evening in Joplin. Mom may have done a stint, but we were asleep in the back.
We were on Route 66, The Mother Road. We didn't appreciate its significance then, the TV show wouldn't air for another year and we were too busy making truckers honk their air horns. My dad was relentless, he wouldn't stop to see the Jackalope, the Thing, the Grand Canyon, or any of the other cool places that cost time and money. Can you imagine torturing kids like that? Signs along the road … "The Thing – 50 miles", "The Thing – 10 miles", 5, 4, 3, etc. At least he didn't stop the car to kill us. Of course, that would have meant stopping the car.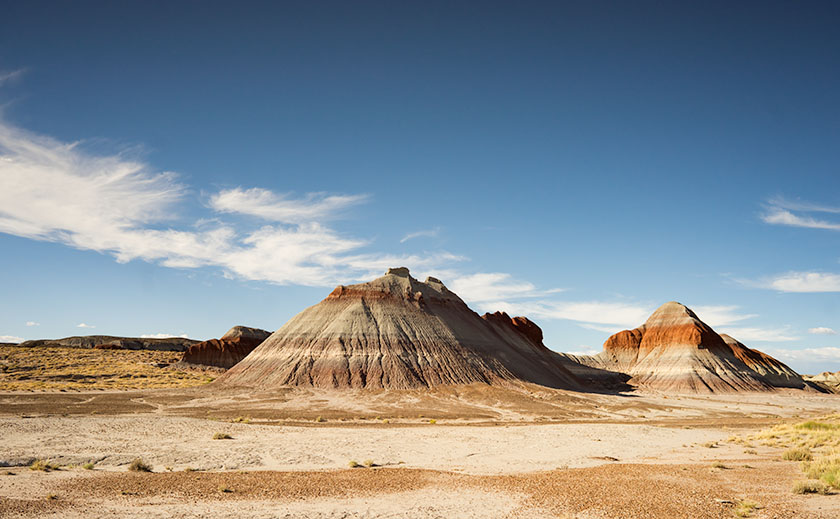 He did stop at one place — The Petrified Forest — he had to. The stupid road ran right through it. He said we could stop and go through the park and we were giddy. Finally, we'd see something and maybe get a break from the treeless desert we drove through. A forest, with trees; made from rocks … yeah! Imagine our shock when we saw all the rock-trees were knocked over. This wasn't a respite from the desert, this was just more desert … with cool looking rocks. "There's so many of them, can I take just one mom … huh? … huh? … Can I?" Even now, I sound so annoying, I want to slap myself.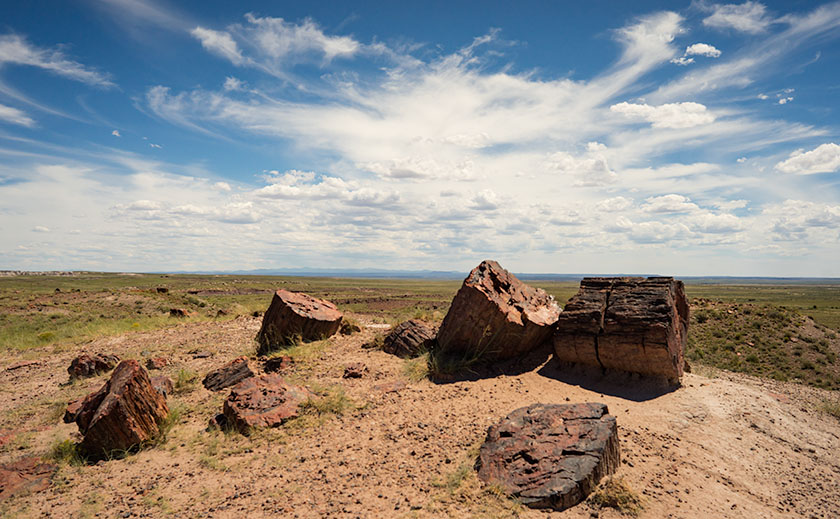 Within a month of our return from that vacation, my parents sold our Monroeville house and the second car. They got rid of most of our excess baggage and we moved to California. We settled into a Sylmar rental house so quickly that none of us kids missed a day of school. Although our family drove along Route 66 four more times, we never again stopped at the Petrified Forest. After I moved to Arizona decades later, I made two photography outings to the park on my own.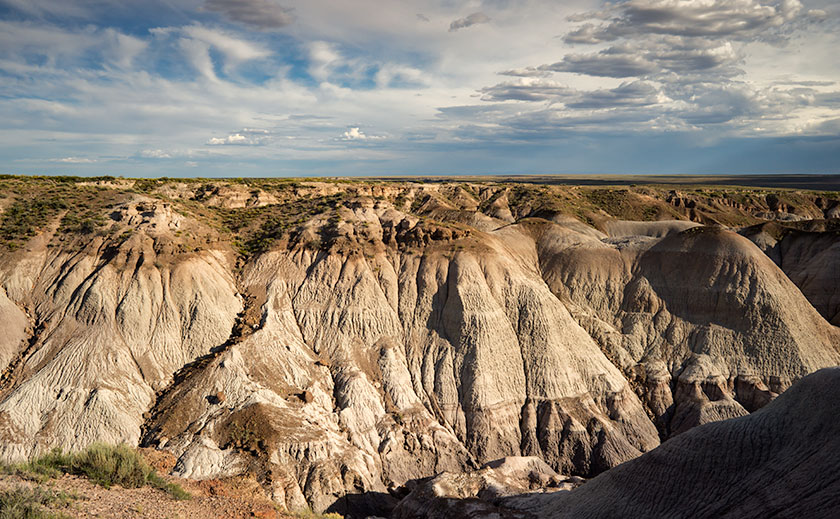 Yesterday, I took Queen Anne to visit the park for her first visit. Despite what Google Maps says, it's only an hour trip along U.S. Route 180. The road follows the Little Colorado as the river descends from the grass-covered Springerville Volcanic Fields, past the little town of Saint Johns where the cinder cones give way to dirty tan sandstone. The red silt river played hide and seek, only revealing itself when it passed under the empty highway. As the elevation continued to drop, the sandstone formed low tables and — where water eroded the softer underlying shale — large angular blocks broke off and slumped on the red soil below. Further along, I saw a bright white swell that I guessed was Chinle Shale and I knew we were almost there.
When we visit a national park, we head straight to the visitor center. That's where you learn stuff … besides, I love those giant relief maps — which they didn't have here. This time, we sat through the documentary film, browsed the museum exhibits, picked up some pamphlets, and bought two photo books before driving north along the road. As a photographer, I want to see the 'long-shot' first, so we slowly drove the road's length. I made mental notes as we went, and tried to figure out how I'd shoot those images after the crowd thinned. After we turned around, we stopped at each pull-out, walked the trails, and photographed what we saw. As the day passed, I watched how the light and the sky changed as clouds formed over the White Mountains and the San Francisco Peaks before they drifted away in the invisible air stream.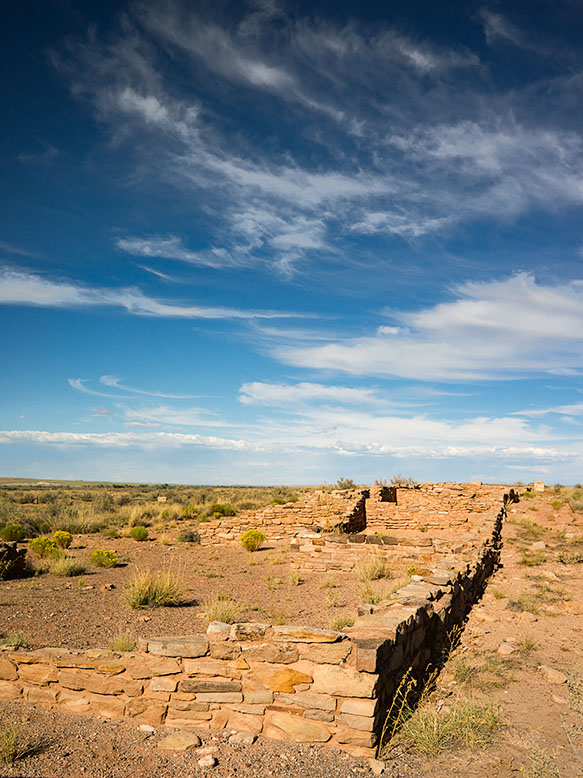 We discovered that the park isn't just about petrified trees, it's about layers. There are layers of soil and rocks, layers of flora and fauna, and layers of settlers and travelers for everyone to see in an open time capsule. As each rainy season washes away soil, more fossils are uncovered. There are fossils of ferns, grasses, lizards, crocodiles, toads, dinosaurs … and yes, trees. People before us settled this land, and they've left things behind for us to find. They left arrowheads, baskets, weaving, petroglyphs, and along the bank of the Puerco River, a pueblo ruin. Other people have traveled through the park. The Mogollon's had trade routes to and from the Pueblos in New Mexico. In 1853, Lt. Amiel Weeks Whipple used those trails to survey the route now used by Burlington Northern Santa Fé Railroad. The tracks were a basis for U.S. Route 66 and now Interstate 40. These routes are layer upon layer of traders and countless migrants moving across the Colorado Plateau.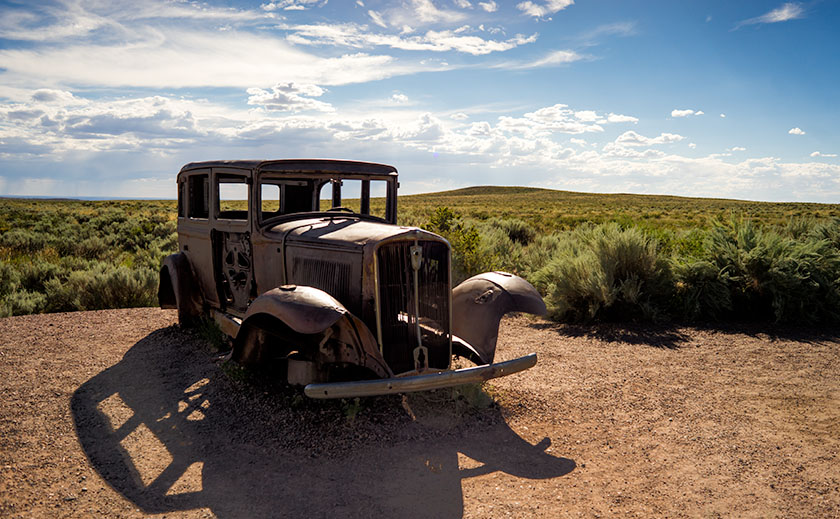 Even though the National Park's mission is to preserve and protect natural history, I was pleasantly surprised to see a nod to history more recent. There's a turn-out north of the Interstate 40 bridge marked by a rusty skeleton of a 1932 Studebaker on blocks. It's the spot where Route 66 passed through the park. The pavement has returned to grass and sage, and only the telephone poles give away the road's alignment. The road of my past. While I was photographing the scene, I swore I heard distant echoes of four kids in a red and white station wagon, begging dad to stop.
Till then … jw