This week's image is the last in our Route 66 Car Show series, and coincidentally, it's also a significant motorsports TV holiday. Much like how fans spend Thanksgiving and New Years vegging out on the couch watching football—today is wall to wall car races.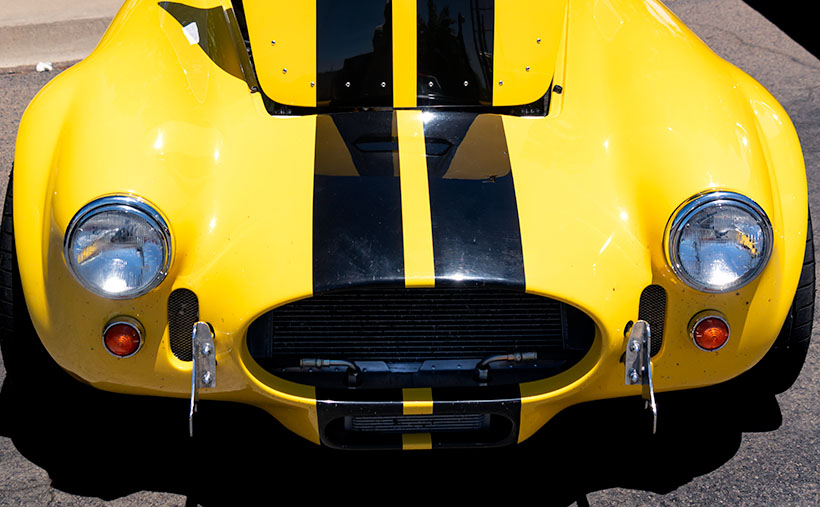 The day starts in Monaco and the Formula One Grand Prix. It's not the fastest F1 race, but all of the glitz and glamour surrounding it makes it the year's biggest spectacle. Although I love watching the cars parade through the streets, I'd die to attend a progressive dinner that stopped for new courses on each of the yachts moored in the harbor. Next on the schedule is the Indianapolis 500. It's the World's Greatest Race according to the promoters. I suppose it is, much in the same way that McDonald's is the World's Greatest Hamburger. Then after a couple of ribs off the bar-b, the evening show is the Coca-Cola 600 at Charlotte.  Although it's not NASCAR's premier race, it is the longest of their season as it transitions from day to night.
TV races are the bastard red-head step child of sports, and die-hard fans always had to work to see them. When I was a teenager, we bought tickets to see the '500 on closed circuit at the Grauman's Chinese theatre. We'd pay 10 or 15 bucks to see a low-res TV image blown up to movie screen size. You couldn't tell one car from another, so what we experienced was paying money to listen to the radio broadcast while watching a bad Nintendo game. At least it was live. ABC sometimes showed Monaco a week later on its Wild World of Sports, but it was a heavily edited highlight reel that shared airtime with the Bocce Ball finals. As for Charlotte, nobody showed hillbilly racing on TV, except maybe Daytona. Racing wasn't crucial to broadcasters until they found out that motorsports draw more viewers than any other sport except for horse racing.
Watching the shows is so much better now. First, it's live on the network channels with some timing overlaps. Having a TIVO takes care of time conflicts. More importantly, by recording them, you can turn 16-18 day of binging into a 6 hour evening by zipping through the commercials. If I start around 2:00 pm, I usually catch up to the live broadcast with 20 laps to go.
In all seriousness, Memorial Day is really about remembering the men and women that fought and died to defend our freedom. We can do that on Monday, which is Memorial Day proper. But, it has to be done in the morning, because we need to get home in time to catch the sportscar race at Lime Rock.
This week's featured image—oh yeah. It was one of the cars on display at the Route 66 car show in Kingman. It didn't have any name badges on it, so I couldn't tell who manufactured it. It looks British, so maybe it's an MGB. If you look closely on the front, the owner didn't bother to wipe off the squashed insects it collected on the drive from Seligman, so maybe it's a bug-eyed Sprite. I called this image Bumble Snake because of the bright paint scheme. You can see a larger version of Bumble Snake on its Web Page by clicking here. Next week begins a new month, and we'll show off some images from another Arizona place.
Until next time — jw