A couple of decades ago, there was a TV ad where a sleepy-eyed baker got out of bed and made his way to his Dunkin Donuts store, and as he made his way, he mumbled, "Time to Make the Doughnuts." I felt sorry for the poor guy and wished he could crawl back in bed. But, if your business is selling coffee and deep-fried cake to a morning crowd, you gotta' make some product. You've got to work your schedule.
In photography, the quality of light is vital for making memorable images. Pictures that stand apart from the millions posted daily on Instagram. This topic is one that I've covered in my writings several times. Any subject looks better when you capture it when the light is warmer, and the shadows are longer—known as the golden hours. Those happen after sunrise when healthy people are still in bed, and before sunset when smart people have sunset cocktails. When I go out on a photo shoot, I try to time my sessions using that light.
The light is even more complicated in Arizona. Because we live in a longitude closer to the equator, that golden hour dramatically shrinks in summers. To further complicate things,  the desert afternoons are too hot for scouting subjects. That's why I chose the early morning when Fred and I went to Placerita. To get there at the right time, we left before sunrise. Unfortunately, by the time we arrived, the clouds moved in and took away the color, so I made a second trip last week. This time I was on my own because Fred was nursing an old war wound, and Queen Anne doesn't get out of bed unless there's a jewelry store involved.
So, in the darkness, I packed my gear into Archie and drove north on State Route 89 with a USB stick full of fresh tunes and a hot mug of coffee in the cupholder. In Yarnell, the sky was bright with a line of clouds leftover from the day before. I watched the color deepen as I passed through Peeples Valley. By the time I arrived at Kirkland Junction, I had to stop so that I could get a shot. After turning onto Wagoner Road—this month's back road—there was enough light to show color on the ground. I lined up the scene so that some abandoned structures were under the pink clouds.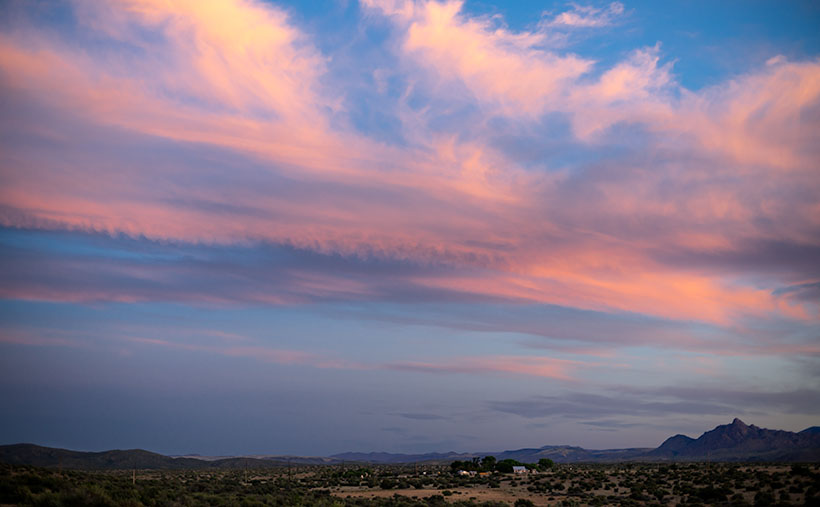 That's how I took the last photo in June's series. I call this week's featured image, Kirkland Junction. Interestingly, this month we showed the subject of this month's journey from the end to the beginning. We began the month at our destination—Placerita-and worked to the road's start. It's like that movie Momento.  You knew the protagonist was guilty of the murder right up to the story's beginning that was at the film's end. I was so confused by the time the movie was over; I had to think about it for weeks. I hope that I haven't done that for you.
You can see a larger version of Kirkland Junction on its Web Page by clicking here. I hope you enjoy it. Next week, we'll begin a new journey on a different, less-traveled highway. I hope you'll join our expedition.
Until next time — jw