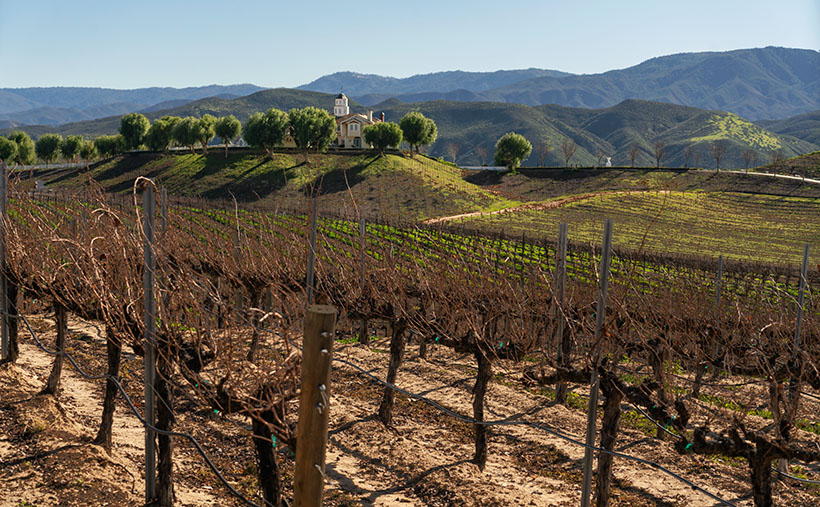 When Queen Anne and I embark on photo shoots requiring an overnight stay, we try to indulge in a fancy dinner to express our mutual appreciation. While we rely on websites such as Trip Advisor for dining recommendations, we've noticed that they often suggest generic options like burgers, pizzas, or Mexican food, neglecting many exceptional dining spots in the region, especially those nestled within wineries.
These winery restaurants may be pricey but they offer a unique dining experience. The chefs here are culinary maestros, creating gastronomic masterpieces with each dish. They provide upscale and luxurious options for special occasions and are an essential stop for wine lovers. Amongst the many wineries in Temecula, Leoness Cellars stands out as a must-visit spot.
Leoness Cellars' tasting room is like an adult Disneyland, with more wine and fewer screaming children. As soon as you arrive, you'll be greeted by the vineyard equivalent of a fairytale castle, except there's a sparkling fountain instead of a moat. And instead of knights in shining armor, a team of friendly wine experts is ready to guide you through the tasting experience.
Its floor-to-ceiling windows offer breathtaking views of the vineyards. They have an extensive selection of wines to suit any palate, from rich and bold reds to crisp and refreshing whites. And if you're feeling intimidated by the complex world of wine, their friendly wine experts are on hand to guide you through the tasting experience of a lifetime. The tasting room is more like a sophisticated wine cave, with rustic wooden tables and cozy leather chairs, perfect for relaxing while you savor the unique flavors.
One of the most exceptional features of Leoness Cellars is the food pairing experience. It's an absolute match made in culinary heaven – the wines are expertly paired with small bites, leaving your taste buds in pure bliss. The experience is so indulgent that you might even be tempted to make out with your glass of wine (but please don't; that's weird). During our visit, Queen Anne and I paid $25.00 to share a flight of 6, and we savored the 2021 Viognier, the 2018 Meritage, and the 2018 Syrah—my favorite. We did notice that the pouring sizes, in general, are getting skimpier. To put it in perspective, imagine getting your favorite wine glass from the cupboard and spitting into it a couple of times; that should give you an idea of the serving size. We realized we were being pathetic when our hostess had to stop us from elbowing each other to get to the glass first.
After the tasting, we went to the restaurant patio for lunch. We ordered full glasses of the wines that impressed us, savoring each sip and bite while basking in the warm sun. The day couldn't get any better with full bellies, fine wine, and a picturesque view—except for maybe a nap.
I hope that this week's photo, titled Morgan Estate, captures the natural beauty and sophistication of Temecula's wine country. The lush wine groves in the foreground and the majestic Santa Ana Mountains in the background create a stunning backdrop for the photo's focal point – the Morgan Estate. I took this photo from the restaurant patio during lunch when I couldn't resist snapping a shot of this breathtaking view. It's the kind of view that makes you want to grab a glass of wine and bask in the tranquility of the surroundings.
The Morgan Estate is a popular wedding venue in the area, and it's easy to see why. The estate's sophisticated elegance perfectly complements the region's natural beauty, making it the ideal spot for brides to slap on that ball-and-chain. From the vantage point of the restaurant patio, you can appreciate the estate's grandeur beneath the majesty of the Santa Ana Mountains. I tried to encapsulate the region's allure in the photo- from the vineyards' rolling hills to the estate's sophisticated charm. I hope my photo encourages you to get off your couch and plan a trip to Temecula to enjoy your slice of La Vita.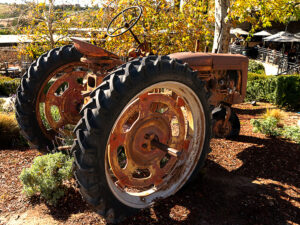 You can see a larger version of Morgan Estate on its web page by clicking here. Next week—after I dry out—we'll begin April's series of show-and-tell. Come back then and see where the road takes us.
Till next time
jw
BTW:
Visiting wineries and sampling their offerings has brought us joy over the years. While putting together this month's project, we've considered the idea of writing reviews for each of the farms that we visited. However, with over 40 cellars open for tasting in Temecula alone, we couldn't visit them all without having my liver shrivel and fall out. During this trip, we paced ourselves and saw a couple of places in the morning, had lunch, and then stopped at another two in the afternoon. We found that the wine flavors began to run together if we visited more than that.
I'm considering an idea for a book that covers all the regions we've visited. However, putting together a book covering five vineyards in each of the 15 California wine regions with five pages of photos and text would be monumental. The book would be over 300 pages long. Instead, I'm considering breaking the task into bite-sized pieces and publishing them in a magazine format, similar to my Utah State Route 12 magazine. Each publication would have about 50 pages, making them more affordable than hardcover books. I would publish three or four per year, leaving me time for other assignments.
I'm interested in hearing your thoughts. Would you like to see a project like this? Or would you prefer that I stick to pretty landscapes and roadside relics and never talk about wine again? Please share your comments below, and while you're there, click on the "Like" button if you enjoyed this post. Don't worry; no one will know you did it.