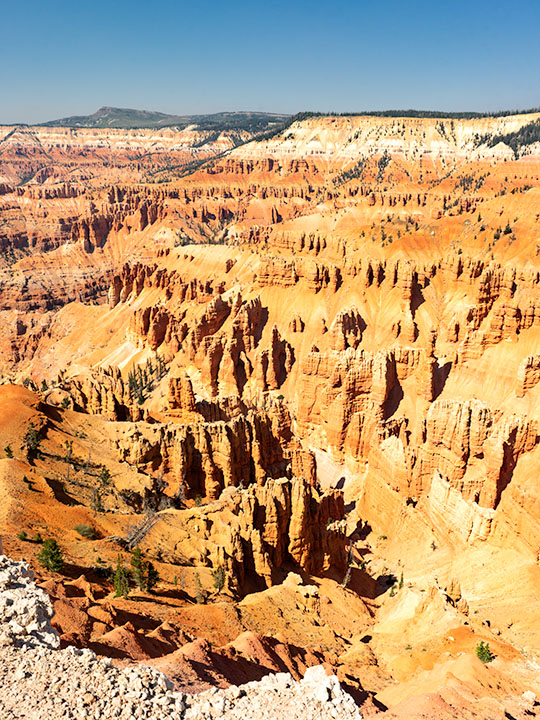 Yesterday could have been the perfect day to visit Cedar Breaks, the mini version of Bryce Canyon high on the eastern edge of the Markagunt Plateau in southern Utah. The muggy weather that had hung around all weekend moved out and it was dry and sunny with a light breeze from the west. As we entered the park the car's temperature indicator said it was 68° outside. Conditions couldn't have been better for an afternoon of hiking and picture-taking.
It wasn't this nice the first time we visited Cedar Breaks. That was Memorial Day weekend in 2004. The Queen and I decided to get out-of-town to escape the 115° weekend. We had tossed the camping gear into the truck and left before dawn dressed in shorts and tee shirts. We drove straight through only stopping at the Flagstaff Mickey D's for an egg-a-muffin. That truck didn't have an outside temperature gauge and it barely made it up the 12% grade. We still had the air-conditioning on when we stopped in the parking lot. It was a sunny afternoon, but when we opened the doors, a blast of Arctic air greeted us and chilled us to our bones. We scrambled to find our jackets. At 10,300 feet, Cedar Breaks can be hostile.
Tee shirts and shorts were the perfect uniforms yesterday. That wasn't a problem. The issue that I had was in the air. Up here, it's normally clear and pristine, protected by its remoteness, but because somebody's trying to burn down California, the air was filled with smoke that traveled across Nevada. That smoke-filled air is not conducive for taking detailed landscape panoramas. I had to change my mindset and look for more intimate images.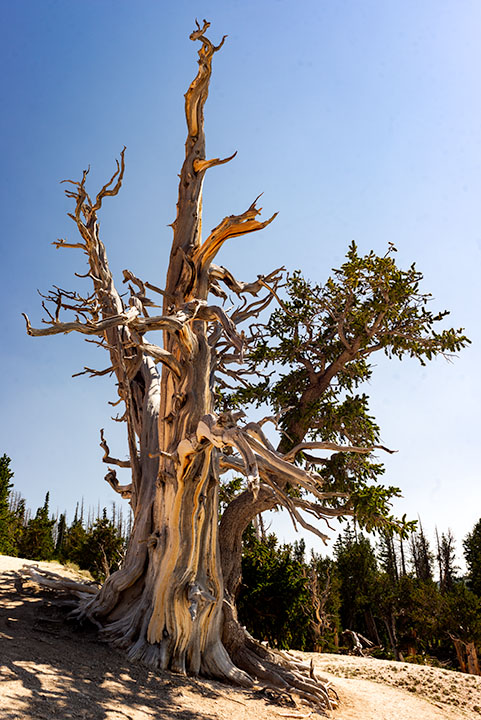 From the visitor's center, there's a short one-mile hike to Spectra Point—an overlook that has a grove of large Bristlecone Pine trees. I've always admired these Methuselah trees for how they live for thousands of years in places where nothing else will grow. I had heard about them on my last trip, but it was spring thaw with snow covering parts of the trail and the rest being a muddy bog. That wasn't an excuse today, so I put on my new camera backpack and balanced the tripod on my shoulder and set off to conquer nature.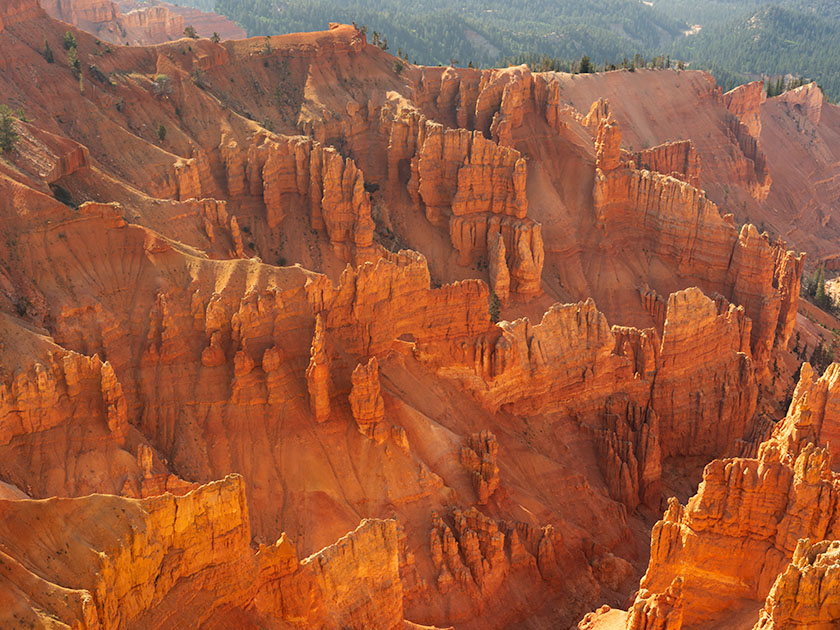 The trail actually leads to two overlooks, the second one being Ramparts. As I started skipping along I considered going the extra mile—as they say. It looked doable on the map because the parking lot is 10,300′ and Spectra point is 10,285′. A mere 15-foot drop—posh, child's work. Ramparts, however, is 9,985′. I decided to see how I felt when I reached Spectra Point—after all, I have ridden a bike five miles every morning, so I'm buff … Right?
My skipping immediately ceased when I turned a corner and reached the base of a 300′ hill that's not on the map. You can guess what my decision was already. I can walk three miles in an hour at home, but in the thin air, my trip took 45 minutes. I spent an hour shooting trees and views along the rim before heading back to Archie—our truck, where Anne was reading a book. You'd think she'd have carried the camera bag or a picnic basket or something. When I opened the back door in my sweat-soaked shirt and loaded the equipment while panting, all I got was, "How was your little hike dear?"
We spent today recuperating—she broke a nail—and I processed a couple of photos to show you. At dinner, we'll decide where next to explore. We've concluded that the smoke has permeated Utah and we'll just have to work around it, but we're going to have fun even if it kills us.
Until next time — jw