Until this week, May has been pretty nice. The temperatures in Congress were pleasant enough that Queen Anne and I could enjoy coffee on the back deck in the morning and have happy hour on the front porch where we watched the daily parade go by. Our nights had been quite cool. By managing the airflow—opening and closing the windows at the right times—we succeeded in keeping the hot afternoons at bay.
All of that came to an abrupt halt on Wednesday. With this latest round of high pressure crossing our State, the evening air didn't cool off as fast or as much. We finally had to turn the air conditioning on for the season. On top of the heat, people have started new brush fires each day, so I have to accept that summer has come to the desert.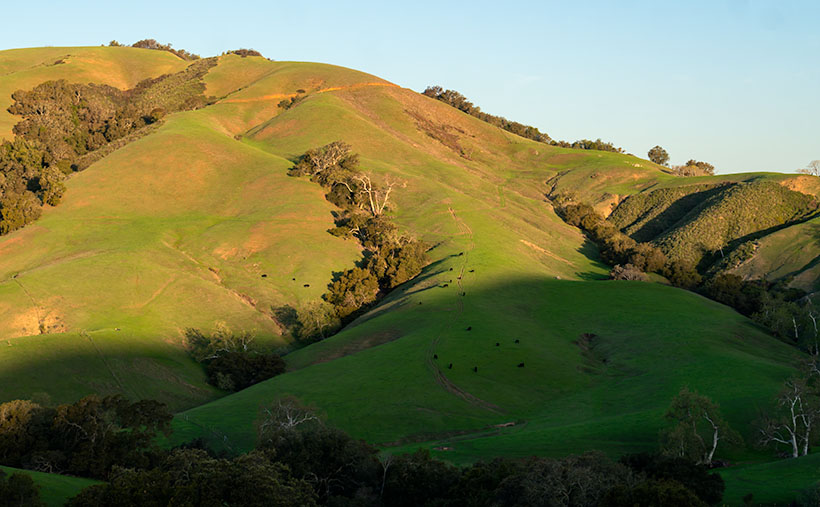 I don't want to go into the inferno without a fight, though, so I went back through the photos from our recent California trip. I wanted to remember the great morning I spent photographing the sunrise on the Santa Lucia coastal mountain range. There was a slight breeze on top of the hill where I waited in the dark, but my wool sweater was enough to ward off any chill. As I worked my way from the top to the coast road, it seemed like someone was painting in the black shapes with color—like in a coloring book. As the sun cleared the horizon behind me, I stopped along the road to capture a herd of cattle grazing emerald green grass on a hillside. It's this week's featured image, and I called it Santa Lucia Cows. As I worked on it this week, I wondered why we didn't stay in Cambria for the whole summer.
I want to give credit to the artist that influenced me to take this picture. I'm glad that I was able to buy three of Eyvind Earle's works in my life. They're all small pieces because I couldn't afford the six-figure larger ones. If you ever watched the movies Snow White, Sleeping Beauty, or Cinderella then you've seen his work. He painted backgrounds for Disney films. That was his day job, but he painted scenes along California's Central Coast on the weekends. His style was graphical and modern impressionism. His trees and animals had exaggerated long shadows—often bigger than the subject itself. I suppose it's Eyvind's fault that I'm always on the lookout for long shadows.
You can see a larger version of Santa Lucia Cows on its Web Page by clicking here. Now I have to snap out of my memory, put on some shorts, and get back to work, so why don't you please come back next week and see if I found anything good.
Until next time — jw