Even though we had to wing it, I think that the day in the mountains Fred and I had was a very successful adventure. We both got a lot out of it. Fred was able to put his—new to him—Toyota FJ through its paces, we saw some beautiful rugged country, we took a lot of pictures, and we came back in one piece. When we got back to base camp, our wives—Deb and Queen Anne—knew we had a good time from the big bug-stained grins on our faces, and the incessant chattering about our day.
We visited four of the two dozen high passes in the San Juan Mountains, and those were the day's high points (pun intended) of our trip. Coincidentally, that's enough material for a typical month's worth of blog posts. But September has five Sundays this year, so I get to show you another picture that I took; of the twenty-two keepers, this one is my favorite.
I don't usually work this way. When I'm out alone with my camera, I try to work a scene. I'll shoot several angles, zoom in and out, add or remove elements in the composition, or maybe wait for better light. When I'm back at my desk, I'll review the raw files and pick out the best. I don't bother processing most of my shots. In Colorado, we covered a lot of area in one afternoon, and I was just along for the ride, so I snapped pictures when I could before moving on. For most of the day, the light wasn't to my liking, but the mountains were strong enough to stand up in less than ideal conditions. As dinner time approached, the sun's color began to warm, and the scattered clouds cast shadows on the peaks.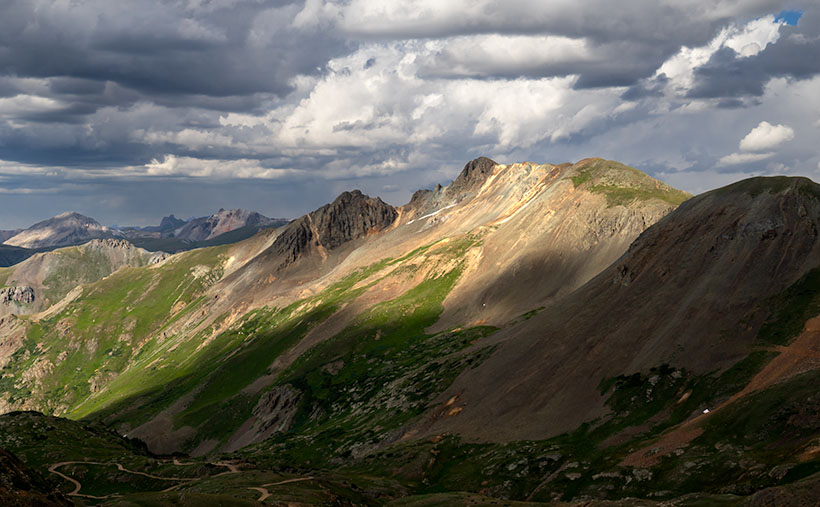 We were almost done for the day, and as we approached Hurricane Pass, I saw this scene on the road overlooking Como Lake. I consider it the best of the day. It's the fish you pull from the creel after the guys have finished laughing at the other minnows from your basket. It's called Poughkeepsie Gulch. In this image, the warm afternoon sun is shining through a hole in the clouds on Tuttle Mountain's top, which is otherwise covered in cloud shadows. The 13,203' peak overlooks Poughkeepsie Gulch and down there, you can see the road the rangers warned us was too advanced for amateurs like us.
You can see a larger version of Poughkeepsie Gulch on its Web Page by clicking here. I hope you enjoy viewing it. Be sure to come back next week when we feature the scenery from another Arizona back road.
Until next time — jw