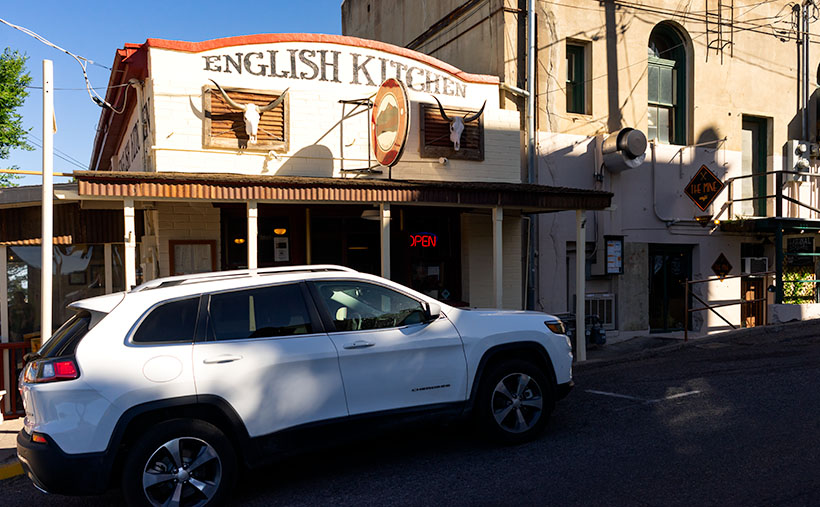 To coerce Queen Anne to join me on a photo outing, I have to bribe her with something precious—like food or ice cream. If I schedule everything carefully, I can get away with having to pay for only one meal while we're on the road. I wanted to shoot in Jerome in the good afternoon light and the drive from our house is a little over a couple of hours, so my cheapest bet was to buy her lunch. When we travel we use the TripAdvisor rankings to see what the popular restaurants are at our destination. It eliminates some guesswork picking out a place to eat. We look at the best reviews and then try to find them when we get to town and for our Jerome trip, Bobby D's BBQ was their top pick.
Bobby's is in the English Kitchen Building directly across the street from the Liberty Theater. The old building has hosted various restaurants since Charley Hong built it in 1899, according to the story on the back of the menu. I enjoyed reading the part about the English Kitchen name because—being a Chinese restaurant—it never served traditional British fare. If unwitting diners ordered an English breakfast, they were more likely served a dish of chop suey.
The interior of the original building is simple with about dozen wooden tables and historic Jerome photos decorating the wall. There's not much room inside and since it was a pleasant day, we opted for seats on the deck. Our friendly hostess quickly found a spot at one of the many picnic tables. We enjoyed a nice breeze in the shade of the orange canopies and gawked at the Verde Valley panorama while the aroma of the smokers seduced our appetites. Our pleasant waitress brought menus and took our drink orders before we finished looking around.
Bobby D's is a BBQ joint and the staff proudly proclaims that they've won a Best in Arizona award. The first page of the menu is all BBQ, but we weren't that hungry so instead, we split the Arizona Cheesesteak from the second page. It consisted of brisket, sautéed onions, pepper jack cheese and (Ortega) chilies stuffed into a hoagie. It sounded different. It came to the table dry along with four house-made sauces for us to sample.
I'm a guy that likes BBQ and I've cooked a mean rib a time or two. I like a lot of flavor. A good sauce should singe your nose hairs but leave a sweet taste. The sandwich was good, but it surprised me at how little smoke and rub seasoning was in the meat. While I'm picking nits here, the mild chilies they use are lost in such a bold sandwich as this—jalapeños would have been a better choice. Their BBQ is southern style so one of the sauces is mustard-based, but it was too reminiscent of honey-mustard dressing for me. A second blend they have is called Jalapeño Molasses and again the chilies were missing in the sweet syrup. That leaves their Little Miss Tango sauce as my pick among the three. Anne liked it too—so that alone shows that it wasn't spicy enough.
Bobby D's is a good place in Jerome for lunch or an early dinner. It's fun to eat in and learn about the historic diner. Our service was very good, and the staff was attentive. The food was also very good even if I felt it was on the bland side. Is this the best restaurant in Jerome? The reviews say it is, but I haven't tried the others. Is it the best BBQ in Arizona? I've had better, but BBQ is always a safe bet. Because Jerome isn't an overnight destination, many of its restaurants close by 2:00 while Bobby's is open until 6:00. If this were a Yelp or TripAdvisor review, I'd offer four out of five stars.
Until next time — jw