Any discussion about Black Canyon City wouldn't be complete without mentioning Rock Springs, so I saved that for last this month. It's hard for me to know where to begin. If you say that name, most Phoenicians will think about the pie restaurant. It's understandable, it's been open for a century now, and every time we drive by and think about stopping, we don't because it's packed. Like Yogi Berra said," Nobody goes there anymore, because it's too crowded." As for lasting 100 years, I'd like to extend my congratulations, but I don't want to talk about pies, I want to discuss its history.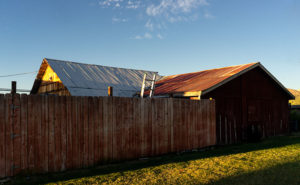 Before cars, trains or airplanes—when I was a child—travelers stopped at Rock Springs because it was a reliable source of good water. People came here for centuries before Caucasians lived in Arizona. On your next visit, take the time to stroll around the grounds and look for the Waterfall signs. Outback, you'll see water drizzling over polished and worn boulders—that's Rock Springs. The restaurant has a couple of tables out there so you can enjoy a waterside cocktail. I imagine that the flow over the falls is pretty good at times, but when it's dry, it's more like forgetting to turn off your garden hose.
The water is the reason that Ben Warner opened a tent-like store, and—in 1918—built a hotel on this site. In case you didn't notice,  I love these historical buildings. Fortunately, the café has a Web Page that speaks of its history and shows an old photo of the block building—with an A-1 Beer sign hanging from the portico. I really wanted to capture an image of that hotel and talk about some of its famous guests; like Jean Harlow, Tom Mix, and Wyatt Earp. I couldn't. Decades of hastily planned expansions have camouflaged the original building. Only hints of the original hotel sick out here and there. After circling the restaurant as the sun rose, I gave up and shot other subjects.
On one of my laps, I saw this interesting pattern of weathered tin roofs on a couple of storage sheds behind the Rock Creek Café. It's as if they knew that I would be shooting this because they built a simple plank fence that masks the clutter and adds a perspective line to the scene. When I took this shot, I honestly didn't pay attention to the clouds, but let's not tell anyone. I'll claim that I planned it. I call this week's image: Out Buildings.
You can see a larger version of Out Buildings on its Web Page by clicking here. I hope you enjoy viewing this week's post and come back next week when we begin a new monthly series from a different place in Yavapai County.
Until next time — jw