Queen Anne, my darling wife, flew east last month to join her sisters for a week in New England. Supposedly it was an Autumn-Leaves tour, but they went to Salem in October during a full moon. I'm no math whiz, but I know what you get when you put four and ten together. That's right—witches!
I'm a big boy, so I wasn't about to spend my time alone sulking and drowning my sorrows in a tub of Cherry Garcia—I intended to treat myself to a night on the town—another town—in another state. Laughlin, Nevada is an easy three-hour drive from here via Kingman, across Golden Valley, through the Black Mountains, and down to the river. I booked a cheap casino hotel room for Wednesday night and set off determined to lose some money on a craps table.
The downside of weekdays in Laughlin is that it's mostly closed. The big weekend crowds are working, so the remaining patrons are retirees like me. Half of the restaurants are dark, and some of the casinos don't open the gambling tables. You have to search for a place to eat and find some action, so that's how I ended up at the Riverside Casino. They had a couple of working Blackjack tables and one craps table. I think the staff outnumbered the players when I joined. Two people were on the right of the stickman, so I claimed an open spot on the left.
Trying to get a feel for the player's moods, I looked at the faces around the table. Because masks were mandatory, it was hard to tell who was doing well. A woman across from me wasn't even a whole face at all—only a pair of brown eyes behind jewel-rimed glasses and silver-blue hairdo peering over the table's edge. Just like my mom, her short hair had enough hairspray to keep it in place between weekly salon visits. She had a few chips on the rail pushed to one side so they wouldn't block her view of the playing field.
I placed my bet; someone threw the dice a couple of times and lost. Then we all took a turn bouncing the dice off of the far wall when the silver-haired lady stood up. Until then, I didn't realize she was sitting. Even when she stood, she wasn't much taller. She scooped up her remaining chips into a clutch. I thought she was leaving. Instead, she began pushing a walker towards my side of the stickman.
As she maneuvered her tricked-out lavender walker behind the dealer, I saw that she had dressed to party. She had on a very sparkly silver lame top and black spandex pants—which, quite frankly, bagged a bit. Weirdly, as I watched her, I suddenly heard Lenard Cohen singing his tune—Closing Time—in my head:
"…And the place is dead as Heaven on a Saturday night
And my very close companion
Gets me fumbling gets me laughing
She's a hundred but she's wearing
Something tight…"
When she got close, she spoke through her mask in a voice that comes from years of smoking Chesterfields, "Hey, big boy. You need a good luck charm."
"Hi," I smiled (a useless gesture behind my mask) and introduced myself, "I'm Jim."
"Nat-ly," she replied.
"It's a pleasure to meet you, Natalie."
"No. I'm from Flatbush. It's Nat-ly," she corrected with furrowed eyebrows.
"Sorry. What kind of good luck charm are you talking about?"
She explained, "Well, every high roller knows it's good luck to have an attractive woman beside him while he rolls the dice. You're alone, and I'm the best-looking dame in the joint."
Just a glance around the room was enough to confirm to me that she was right. "What's in it for you?"
"Well, you tip me each time I blow good luck on your dice."
I was curious, "Do you do this for everyone?"
"Na," she blushed and went on, "The girls and me spotted you the minute you came through the door."
"That was because of my dashing good looks and natty fashion sense, I bet."
"No. You're the only man in the casino standing upright without a cane. You know how cougars are; we like 'em young and stupid."
With that, Nat-ly positioned her seat to my right and plopped herself down. On my roll, she blew on my dice for luck. I even made my point once, so her luck wasn't all bad. "You'd do even better if I hung off your shoulder," she offered, "It's only $20 bucks."
I couldn't imagine how she could reach that high given her stature, so my curiosity bettered me. I handed her a couple of chips. She reached down and pulled a cane from the tool rack attached to the walker's side. Then she raised it and hung the crook over my shoulder and began gently stroking it back and forth. I almost burst out laughing, but she was so adept that it felt alright.
The next thing she said was, "For $5 more, I'll play with your ear." When I turned, she was holding one of those trash-grabbers for me to examine. I declined, so she slipped it back into its rack spot.
The night passed, the dice went clockwise around the table twice while we talked. She worked at the Mustang Ranch until the Feds seized it, and she retired. Since the Treasury Department was managing the business, she got a federal employee pension. After she quit, she moved south from Reno for a warmer climate and affordable housing. Now, she spends her free time watching the tanned muscle boys ride jet skis up and down the river.
I managed to hold onto my bankroll an hour and a half before it ran out. As I packed my things, I looked down and saw Nat-ly slumped over—asleep. I knew that the dealers wouldn't let her stay at the table alone, and I didn't want to wake her. So, I pushed her to the nearest quarter slot machine and parked her in front of it. I reached into my pocket and threw all but one of my quarters into the tray. The last, I stuck in the coin slot. I knew that security wouldn't bother her as long as there was a bet on the table. With that, I left and went to my room. Tomorrow I have pictures to shoot, so the day will begin early.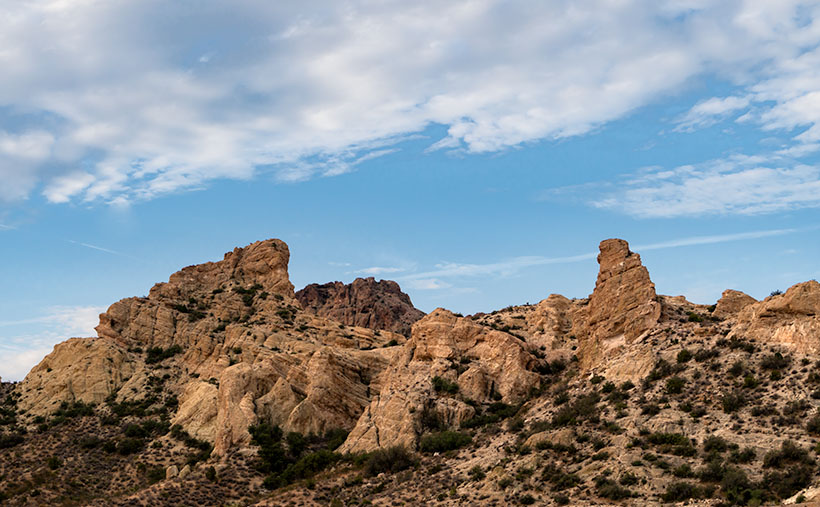 The last time I crossed through Mohave County's Black Mountain Range was last year on our Oatman trip. I always find something new every time I travel through, which was the same on this excursion. As I drove through Union Pass, I made a mental note that I should get up early and shoot while the light was good. When the morning alarm went off, I got dressed in the dark, packed the truck, and headed to Denney's for coffee and breakfast. I was determined to stop on the hilltop and photograph the beautiful rugged terrain. on the drive home
This week's featured image is a part of my morning's work. I call this photo Union Pass because that's where I pulled to the roadside and walked up and down the highway shooting as quickly as I could. A thin gauze of clouds filtered the morning light, which is why the shadows are soft in this shot. That's good because it shows the rock's layer details. I believe they're the Tuff that we learned about from Organ Pipe N.M. Tuff is volcanic ash that covers the ground in layers. Here we can see those layers have been broken and thrust into the air when the Black Mountains formed.
You can see a larger version of Union Pass on its Web Page by clicking here. When you come back next week, I'll show another picture of my time hanging out in Union Pass.
Until next time
jw