It takes a lot of space to jam a four-lane freeway through a mountain pass. If you have a horse-drawn wagon, you can squeeze through some tight spots, but with a Peterbilt 579—not so much. You have a couple of options to get that extra width—cut back the mountains or raise the road over them. A more practical approach is to do a little of each. Cut into the hills some and use that fill to raise the road—like how we build today's modern highways.
The reason I bothered with this engineering exercise is that there are segments of the old Union Pass two-lane road that you can still explore, but they're maybe 50 feet below the current grade. The more extensive section is on the west side of the Black Mountains crest, which we'll talk about next week. On the east side, less than a mile of Old SR 68 remains. It's behind an unlocked ADOT gate meant to keep livestock off of the highway, so be sure to close it after you. The road-gate is the public access to the old Richardson Homestead—a one-family ghost town.
The Richardsons were a family of five who settled the homestead in 1897. When they claimed the 160 acres, it had spring water, enough flat land for an orchard, vegetable garden, and a horse barn left behind by Union Troops stationed there to protect travelers from hostile Indian tribes. In summer, they made the journey from Los Angeles in a covered wagon pulled by a pair of horses.
They moved after John's doctor told him to "go live in the desert." I didn't find a reference to John's ailments, but that was a standard remedy for tuberculosis back then. The clear desert air undoubtedly helped him because John and his wife, Victoria, built a two-story home, root-cellar, planted trees, and raised livestock using only their sweat and simple hand tools. After establishing their home, Mohave County paid them a monthly allowance to maintain—what was then known as Beal's Wagon Road—three miles in each direction. For thirty-eight years, they welcomed weary travelers with fresh fruits, preserves, vegetables, cold water, and a place to spend a night.
Victoria succumbed to cancer in 1935—four years after their fiftieth wedding anniversary. John followed five years later. Today they rest side by side in Kingman's Mountain View Cemetery on Stockton Hill Road.
If you can call middle-aged adults kids, they managed the ranch and changed to keep up with the times. They added guest cabins, a small store, and a gas station. The family enterprise lasted until 1984. We, like our parents before us, didn't have time to stop at some old place along the road. We had places to go. Shortly after that, the last of the family gave up the land, and the BLM took back ownership.
I remember the Richardson Homestead as a shady oasis on the drive between Kingman and Bullhead City. We would do the long climb from the river, and soon after cresting the hill, tall trees shaded the old road. The collection of rock-wall buildings and weathered metal roofs were always a  blur as we sped past. I vividly recall one early morning return trip. I remember the time because of the golden light. After we passed the old gas station, we saw real-live cowboys on horses driving cattle down the hill on the roadside. My companion and I laughed out loud because we had never seen working cowboys in Arizona—just the plastic ones that hang out in Scottsdale.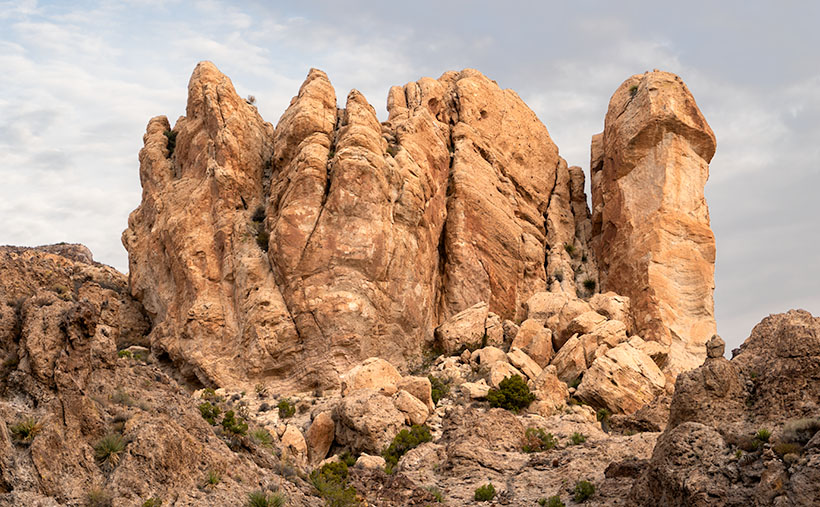 When I pulled over and stopped Archie to shoot this week's picture, it was beside the homestead. Before I ran across four lanes of traffic (it was very early sun-up and no one was on the road yet), I looked over the guardrail at the remaining ruins and blew them off. I wasn't out house hunting. Instead, I opted to focus on rocks (pun intended). This large outcrop of tuff on top of a basalt layer was just the ticket. I call this image, Broken Crown because of the fresh rock-fall and truck-sized boulders on the right. But, now that I know about the Richardson family, I want to return soon and wander among the remaining ruins with my camera.
You can see a larger version of Broken Crown on its Web Page by clicking here. Please come back next for our final image in this series and the story that goes with it.
Until next time — jw