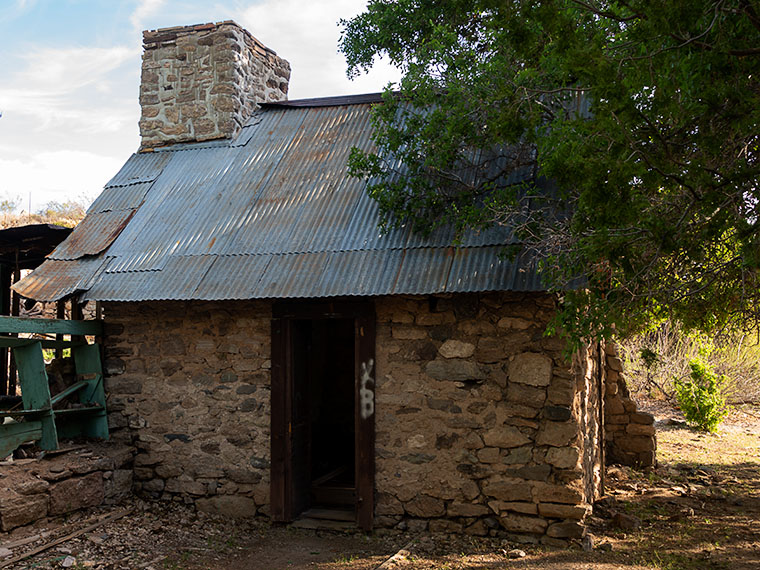 This week, we reluctantly leave last week's Cozy Bed by the Fire and step outside of the historic stone house to explore further. On that May morning, the air was crisp, and the smell of sage-flavored tree pollen filled the air. They were sure signs that spring had come to the 3500′ Union Pass. Since I had spent the night at one of the river casinos, I had on my summer uniform—shorts and a T-shirt. The 60° temperature was perfect for encouraging me to keep moving.
I only took a few steps into the Sideyard before seeing the composition that triggered my instinct to take this week's shot. It's the west face of the Richardson house covered with a corrugated tin roof. It's in pretty good shape, so I'm surprised that poachers haven't already salvaged the metal.
Two weeks ago, Fred commented on the Richardson House post. He said, "…I admire people that can build rock houses. Not easy!" I agree, and as I processed this image, I wondered how John Richardson learned to build a rock house. This morning, I searched YouTube and found over a half dozen videos on the task, but John didn't have that resource in 1897, did he? I understand his use of local volcanic stones—that makes sense. But, I have many other questions: did his dad teach him how to build, or did he take classes at night school?
To further appreciate this century and a quarter-year-old structure, we must remember that the family of five moved to Union Pass from Los Angeles because he had a respiratory disease. Lugging boulders around is fatiguing work for the healthiest of us. If Queen Anne suggested that I build a new home out in the Black Mountains, I'd look around at the rocks, trees, and water supply; then, I'd go hunting for a large cave. It would be faster for me to invent a giant 3D printer than to hand-lay all those rocks.
Maybe people back then were more resourceful than we were. My dad was. Once, in a land far away and a time long ago, my wife and I converted a spare bedroom into a den at our Scottsdale house. We had to pause because we needed shelves for the enormous 24″ TV we wanted in the closet space. In those days, we didn't have Lowe's, we had Sears and lumber yards were closed on Sundays. When my dad came by and we showed off our work, he drove to America's department store and bought the cheapest skill saw they sold. Then he cut up the bi-fold closet doors and built our shelves out of the garbage we planned to take to the dump. Voila, we watched the football game on the big screen in our new den that evening. I never thought to re-use the scrap wood even though most of my brain cells still functioned then. It's even worse today. Some mornings, I spent minutes staring at the back of the fridge until I remembered coming into the kitchen for a coffee spoon.
I didn't appreciate how clever my father was until I had to stand alone. So, if you're fortunate enough, hug your dad for no reason on this Father's Day. Show your appreciation while there's time.
You can see the larger version of Sideyard on its Web Page by clicking here. Come back next week, and we'll see what shot I can come up with to finish our month with the Richardsons.
Till Next Time
jw