When I was roaming around Black Canyon City a couple of weeks ago, I was on a street that had homes along the right side and open land on the other. On the hillside was a dense stand of saguaro growing and I knew that I wanted to capture their image, but the field had a barbed wire fence. As I drove further down the street, I found a spot that was open. A gravel road led onto the property, so I parked the truck and got out for a closer look.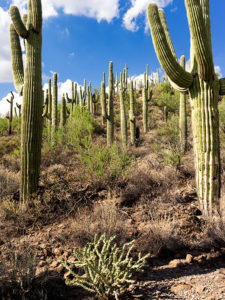 I'm usually cautious about trespassing, so I always look for Keep Out signs. After all, this is Arizona, and I'm allergic to bullets. I didn't see any postings nearby, but there was a sign down the road. It read, "Agua Fria National Monument." I thought, "There's a national monument? Here, this close to Phoenix? Why don't I know about this?" It turns out that all the open areas from Black Canyon City to Cordes Lakes and east of Interstate 17 was given monument status in 2000 because the Agua Fria River has a treasure of ancient dwellings, petroglyphs, and artifacts. There are no freeway signs, visitor centers or entrance fees. There is a hiking trail that runs its length, and you can walk, bike, or ride horseback. Bloody Basin Road cuts through the monument, and from it, you can get access to a couple of rugged jeep trails. So, I've already mentally filed it away as a future project.
Meanwhile, back at Black Canyon City …
Saguaro grows exceptionally well on well-drained south-facing slopes, so when you see a grove like this, you can tell the compass direction—like moss on the north side of trees. The overhead clouds are remnants of hurricane Rosa which dumped enough rain to plump up these giant cacti. They look like my uncle after Thanksgiving dinner making his way to the couch. I could have titled the image with a snarky name, but I didn't. It's merely titled, Saguaro Grove.
You can see a larger version of Saguaro Grove on its Web Page by clicking here. I hope you enjoy viewing this week's post and come back next week when we'll show another featured image from Black Canyon City.
Until next time — jw