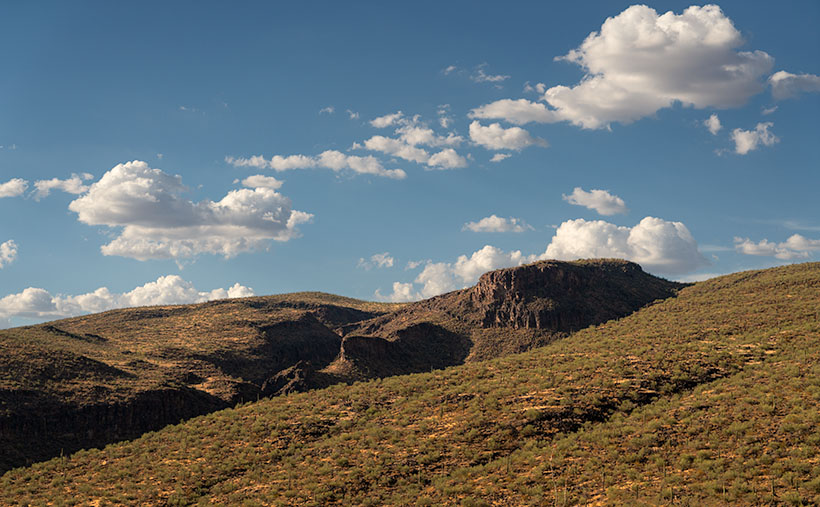 Well, folks, it's week two of our September golden hour stint along good ol' US 93. Last week, we dabbled in the architectural nuances of silt cliffs—kind of like the Las Vegas Strip but without the neon lights or questionable life choices. Today, we clambered back into the truck, waved hasta la vista to the Big Sandy River, and headed south like snowbirds in reverse. After scaling what can only be described as a geographical hiccup of a hill, we're greeted by the brooding spectacle of a lava dome. Not the explosive kind, mind you. This one's been dormant long enough to warrant a picture.
This is one of those places that has escaped my camera for decades because I had been rushing to somewhere else, the light wasn't right, or the 'T' on my typewriter sticks. Pick any excuse; it doesn't matter. The truth is that I never made myself stop until this afternoon's trip.
Have you ever driven on US 95 toward Goldfield, Nevada, and thought, "Gee, what this place needs is more cactus"? Well, welcome to Arizona's answer. Trading Nevada's coarse, scratchy sagebrush for a verdant army of Palo Verde and Saguaro cacti is far from the barrenness one might expect—like trading in a Ford Pinto for a Mustang.
Don't be fooled by the lush desert life clinging to these hills. Forget garden-variety potting soil; what you're laying eyes on is rugged, unyielding basalt—nature's bedrock. Yep, volcanic rock is hard enough to make diamonds jealous. Another meandering mile down the asphalt ribbon, and we'll find ourselves hovering on a bridge over a canyon so deep, it could swallow a 30-story building, where Burro Creek has sliced the basalt like it's a hot knife through…well, rock. Nature's got its own set of carving tools. It's such a pretty place that you may want to spend a night in the campground at the bottom, where the song of the semis pounding on the bridge's expansion joints will lull you into a deep sleep—or give you a headache.
Today's photography menu featured a main course of Golden Hour light, served up like liquid gold spilling across the jagged landscape, and boy, did it deliver. This week's photo offers a unique lens into Arizona's oversized playground. You look at the flora covering these slopes and think, "Ah, a lush, manicured lawn." But no, that's not grass. It's full-sized saguaro and palo verde trees, so don't go planning a picnic.
What's more, the distribution of the saguaro says a lot. They're abundant on this ravine side but scarce on the far side. This is where an imaginary frost line is. That's Mother Nature's version of police tape preventing the saguaros from marching north and overrunning Reno. This line in the sand is the boundary between the Sonoran and Great Basin deserts.
Alright, time to hightail it back to the trusty truck; ominous storm clouds are massing in the southern sky, ready to let loose with a downpour. Before you know it, we'll navigate a basalt slip 'n slide. Please take a moment to check out larger versions of this week's photo—Erosion and Elevation—on my website (Jim's Site) and Fine Art America (FAA Page). Be sure to tune in next week; who knows what wonders—or calamities—we'll encounter next.
Till next time
jw
Techniques: The Rule of Thirds and the Quest for Visual Balance
The Rule of Thirds is a fundamental principle in photography and art, but its origins are a bit murky. Some trace it back to John Thomas Smith's 1797 book "Remarks on Rural Scenery," while others connect it to broader theories of divine proportions. Regardless of its origins, the idea is simple: divide your frame into a 3×3 grid and position the subject or critical elements along those lines or at their intersections. Doing so generally leads to more dynamic, balanced compositions that are more engaging to the viewer.
In this week's photograph, the basalt butte is a textbook example of the Rule of Thirds in action. It straddles the right vertical line, grounding the image, while its peak touches the lower horizontal line. This positioning does more than "look good"—it directs the viewer's eyes around the frame in a natural progression, from the butte upward to the cloud lines.
Moreover, using the Rule of Thirds for the butte leaves space for the towering clouds overhead, which adds drama and scale to the photograph. This mirrors the real-life experience of being dwarfed by nature's grandiosity. It also serves a practical purpose—making room for those clouds allows them to act as another compositional element, filling the frame without crowding it.
The Rule of Thirds isn't an ironclad law—sometimes breaking it produces strikingly original work—but it's useful for photographers looking to up their compositional game. Understanding and utilizing the Rule of Thirds can transform a 'pretty view' into a compelling visual narrative for a landscape photographer like myself.