Alaska must have a state law that prohibits clean cars. This is the last evening of our Seward stay, and it has rained all three days. I know, rain is a minor nuisance. After all, we live in Arizona where the summer rains are only enough to glue the monsoon dust to the paint. I love Seward. There's enough to see and do here to keep one busy for a month. It's this campsite that has me down, or more precisely, the two miles of unpaved and pot holed road that leads here.
Like the town of Chicken, when the roads get wet, the mud coats everything. Unlike Chicken, this road's base is dark gray slate, so its mud/paste is like thin concrete. It gets everywhere. It will cost me ten bucks at the car-wash to get Fritz back to paint . . . and that's ten bucks one-quarter-at-a-time, because they only have the pressure washers here.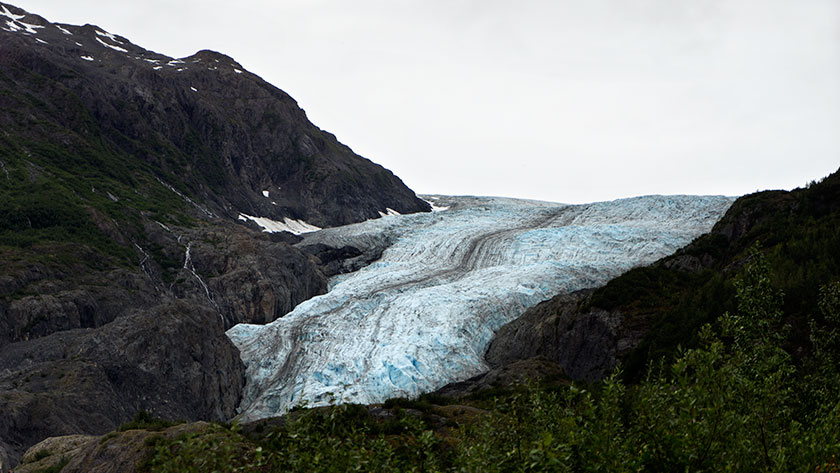 Today we drove Fritz back into town for a hike up to the Exit Glacier. A large chunk of the Kenai Peninsula is part of a little known National Park called the Kenai Fjords National Park. It includes several of the fjords west of Seward and the Harding Ice Field. The ice field drives several glaciers down the mountains and into the fjords.
The Exit Glacier is one of the few places you can drive up to a glacier. Well . . . you can drive to the parking lot, but it's a mile hike up to the glacier, and believe it or not, Queen Anne made the hike. There are markers along the trail indicating the receding glacier's terminus through the years. One couple along our hike had been here a decade ago and they were shocked at how much the glacier had receded since their last visit.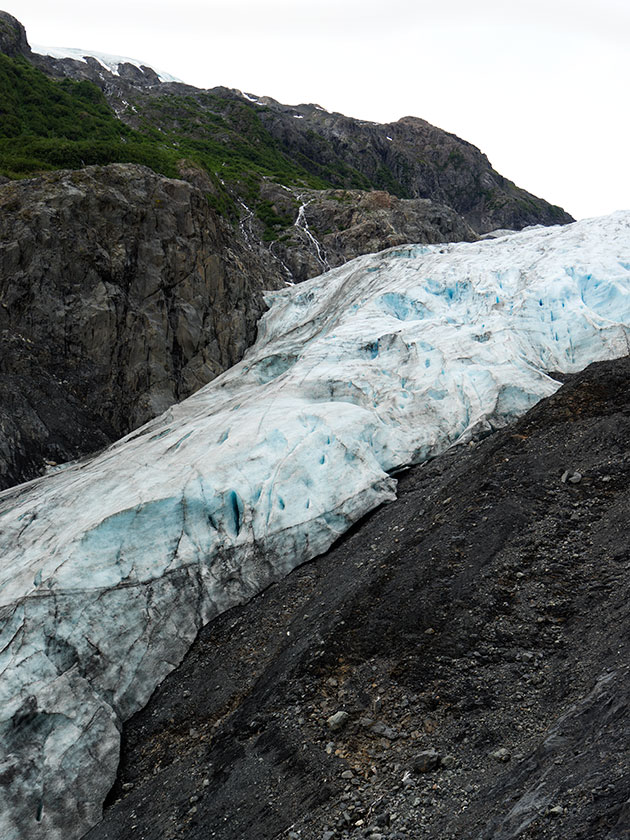 We didn't get close enough to stick our tongues on the ice (there are ropes preventing you from doing that), but we did get to see the blue icy interior and moraine. On a quiet moment, we could hear the moaning of the moving glacier . . . or was that me climbing the trail . . . I can't remember.
Tomorrow morning we head back to Palmer. We have to make a final Costco stop for BBQ sauce ingredients for The Great Rib challenge in Tok (more on that later). After that, we set off to see the largest US National Park . . . Wrangle St. Elias National Park in southeast Alaska. Hopefully, the roads won't be muddy. Before I retire for the evening, I've been commanded to rub the Queen's feet because they're sore; poor baby.
jw