This morning, when I got out of bed and looked in the bathroom mirror to see if I still had a reflection, I scared myself. What little hair that I still have was standing perpendicular to my head. I think I stuck my finger in a light socket last night. I'm puzzled at how the remaining five hairs on the top of my head—which are invisible when I comb them—manage to stick straight up like a coastal lighthouse. A less intelligent Albert Einstein stared back at me. I need a haircut.
When I got out of the Army, I had thick wavy red hair, and I went to a salon every other week to get it styled. I was on the hunt for a mate back then, so I had to look my best. I patronized one of those places that charged more because they cut your hair with a razor. I paid $30 for a wash, cut and blow-dry. I spent too much time each day trying to get that Glen-Campbell-look that was popular then. Then came the 70's, and we just let our hair grow long. When my hair curled over my ears like Bozo the Clown, it was time to go to Floyds.
I turned gray when I was in my thirties, and suddenly I was an old man. As my hairstyle paid fewer dividends, I gave up and started combing it straight back. I only got a haircut three or four times a year, whether I needed it or not. Now I visit the barber when we make a Mexican pill-run. It's cheaper there, and—because I'm a senior—I get a discount. The tip is more than the cut, and I still get change. I don't even care what it looks like as long as it's shorter than when I walked in.
We've suspended our trips to Algodones during this pandemic, so I'm taking matters into my own hands. I ordered hair-clippers from Amazon. They were supposed to be here on Friday but didn't arrive. I've worked up the nerve to let Queen Anne put it on the shortest setting and shave it all off. How bad could it be? Besides, that's why I have hats.
The day that Queen Anne and I traveled down Old Route 66 was the exact opposite of a 'bad hair day' (see how I did that?). The trip produced more good images than I usually get, and with good reason. The Black Mountain Range is an exciting pile of rocks. I can see me spending more time exploring them—especially when one of you coughs-up the funds for my hover-bike.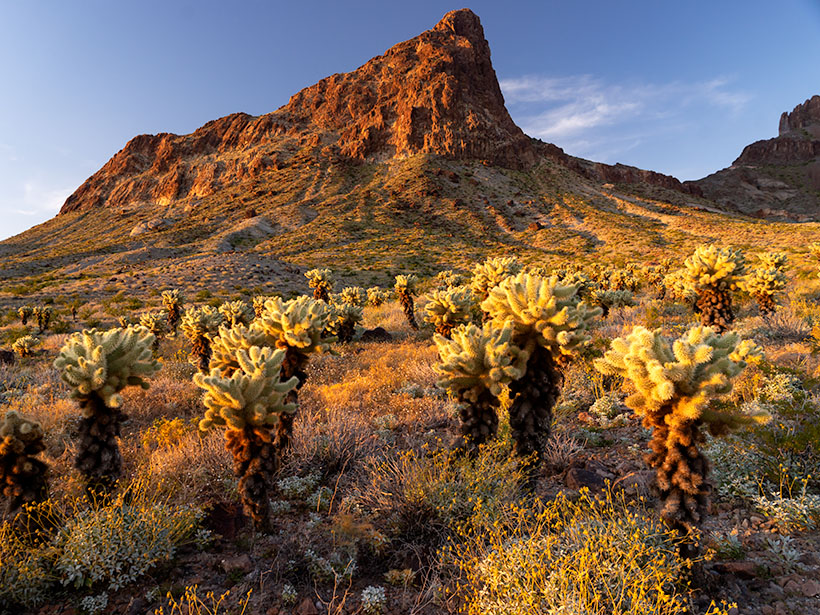 This week's featured image is called Warm Springs Cholla. As you can tell from the colors, I took it as the sun was setting. We were several miles south of Oatman, and I was studying a  peak—McHeffy Butte—as we drove along. Suddenly (ta-da), a patch of cholla popped up, making a perfect foreground. After I stopped the truck, I hiked a short distance uphill into the Warm Springs Wilderness and fired off a couple of shots. I think the resulting image makes a great wrap-up to our Route 66 trip.
You can see a larger version of Warm Springs Cholla on its Web Page by clicking here. I hope you enjoy it. Next week is June and another back road adventure. I hope you'll come back and hear about our road trip.
Until next time — jw