I've been left home alone for almost a week now. Queen Anne had to fly halfway across the country to drag her friend back to the proper side of the Continental Divide. I keep telling you folks that nothing good ever happens on the other side of those mountains. She's my editor, so if you find grammatical errors in this issue, you can blame her. Before she left, I told her that if she weren't here, she wouldn't get any press, so I'm not going even to mention her this week. It's funny how you don't understand how much you rely on someone until they're gone. I miss her a lot—the sink is full of dishes, and I'm out of socks.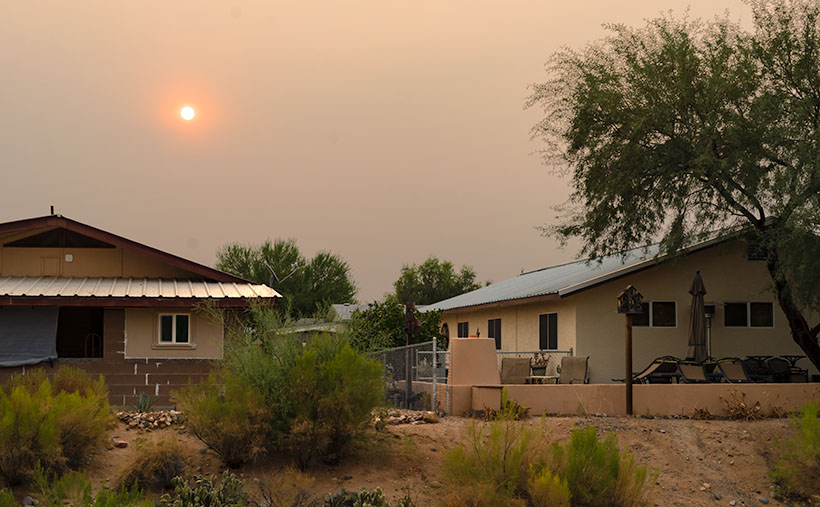 Another off-topic thing that I want to mention is how much the California fire smoke is making photography challenging. There's a strange color cast, and it looks like it's cloudy. The other morning, while I was riding my bike at sunrise, the sun was deep orange as it cleared the horizon. I grabbed my camera when I got home and tried to get that color on film. By the time I set up, the sun's deep color had faded. You can see in this shot that the sun is exposed correctly, yet so are the houses. On a regular morning, that range of exposure would be more than my camera can record so that the buildings would be black from underexposure. You can't escape the haze either. I was in Ajo this week, and the atmosphere was hazy there too.
Now, where were we—oh right, driving General Crook's trail. In last week's episode, we stopped at 13 Mile Butte, which is about halfway up the grade out of the Verde River Valley. The climb isn't as bad as some other routes to the rim, and if I intend to head east on Interstate 40, I usually go this way to get to Winslow. It cuts off a couple of miles, the grade is better than going to Flagstaff, and there's less traffic. Once you're on top of the rim, the road runs straight and flat.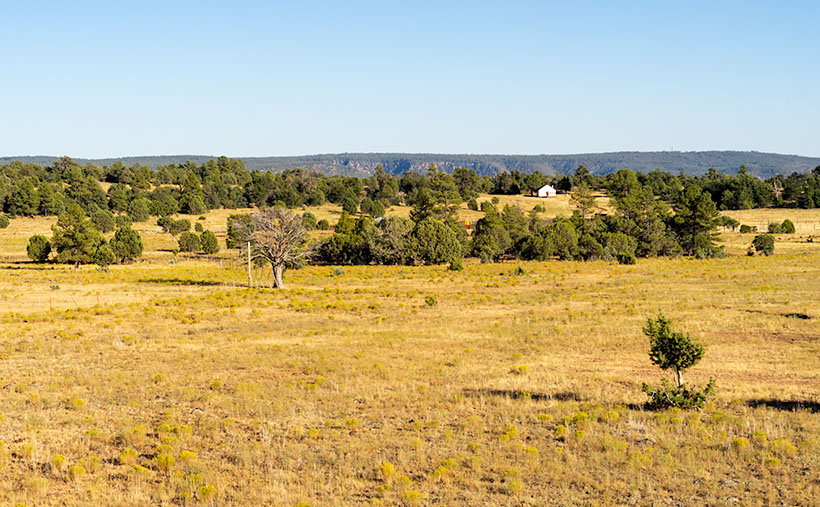 I took this week's featured image shortly after we reached the plateau. On the south side, I spotted a ranch with a building under construction—maybe a barn. I don't think it's supposed to end up white. It was wrapped in the Tyvek moisture barrier and didn't have siding yet. But, it gleamed in the sun well enough for me to stop the truck for a photo. It gives scale to the scene. I also liked how you can see the edge of the Mogollon Rim behind the building as it undulates across Arizona. I called this photo White Barn.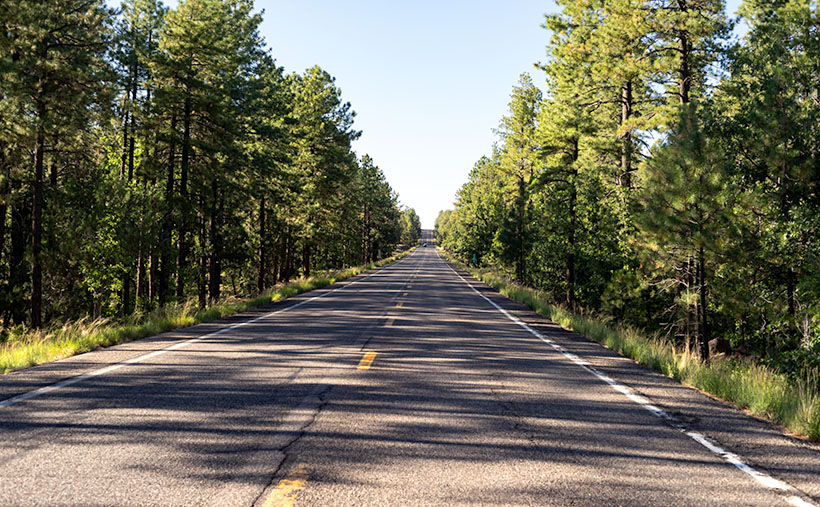 Since we don't have a fifth Sunday this month, I'm including an extra photo, at no additional charge. I took this shot the road after Crook's Trail enters the pine forest. When easterners think of Arizona, this is not the image that comes to mind. They believe we are one big desert with a great big ditch in the middle. But, this Ponderosa Pine forest is the largest contiguous stand in the country. It stretches across the state and into New Mexico. The plateau ranges from 7,000 to 9,000 feet, with a couple of 12,000 peaks on it. In summers, smart (or rich) Phoenicians either escape to San Diego or they have summer cabins up here. You can see why.
You can see a larger version of White Barn on its Web Page by clicking here. Next week we'll begin a new journey somewhere in Arizona, so y'all come back and join us, ya hear? (Gawd, now I'm talking like the queen.)
Until next time — jw