Queen Anne and I left The Boulders—the subject of last week's post—continuing west, and within a mile, we reached the side road to Cochran. It goes north to the ghost town on the Gila Riverbank. Unfortunately, nothing remains there except a few foundations and several beehive ovens used to produce coal for the mines. However, the ovens are on the north side of the river, and there isn't a crossing short of wading through quicksand. I want to reshoot them, but the trail coming in from the north is too much of a challenge for Archie.
The other notable thing about the Cochran intersection is that the Florence-Kelvin Highway becomes paved. That meant we could roll down the windows and pick up the pace, although I've never heard of anyone who has ever been in a hurry to get to Florence. The long, straight road follows the gentle western-facing slope into town, and you can't help but notice how the vegetation packs the desert. Groves of saguaro, cholla, prickly pear, staghorn, and ocotillo make it treacherous to hike cross-country, but there were still cattle out there picking at sparse patches of grass.
The day was late, and there were no impressive mountains around, so I'd given up on photography and was paying attention to the road when I saw something in my periphery that made me skid to a stop.
"What is it? What did you see?" Anne said, waking from her slumber.
"I've seen pictures of these, but I've never seen one in person. I got to get me a photo," I was excited and up in the pipes. I grabbed the camera and walked a short distance from the road. Among the dozens of saguaro standing around like they were at a cocktail party was my first crested saguaro. Aglow, in the evening sun, looked like it had put on a shawl and got a fresh hairdo like it knew I was coming to take its portrait.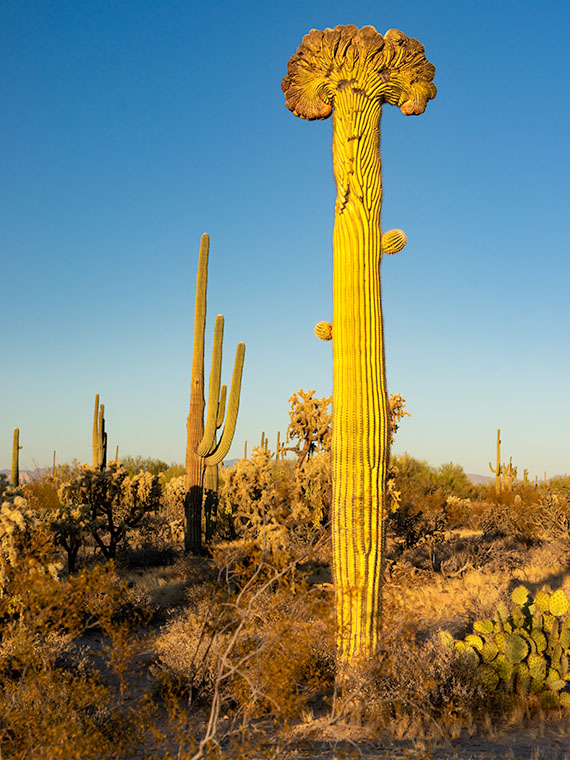 Crested saguaros are rare, and no one has a conclusive answer for what happens. Some biologists say lightning strikes, while others guess freezing or genetic mutation. According to the Saguaro National Park Web page, of the thousands of cacti there, only 25 crested ones have been identified. Like humans and snowflakes, the saguaros are unique individuals. I could build a career by photographing them, but better photographers than I have already done that. However, you can bet I'll collect every crested saguaro I see, like baseball cards.
Click here to see a larger version of Crested Saguaro on its Web Page. I hope you enjoy viewing it. As you know, Thursday is Thanksgiving, so Queen Anne and I will be surprising a lucky Deneys somewhere in Arizona. If we have too much fun, next week's post might be late. We'll be writing about a new road that we've traveled, so it'll be worth the wait.
Until next time — jw