As we continue our journey east along the Florence-Kelvin Highway, we leave behind the dry washes and haunted valleys of the Tortilla Mountains. We reach a crest where the land becomes a flat plain of sorts. There are small mountain peaks—big hills really—dotting the countryside here and there, but the view is more open, and it seems less appealing now.
Without the mountains and gulleys, the road has long straight sections, and although it appears to be flat, it's a long downhill slope into Florence. The elevation drops almost a thousand feet over the next ten miles. Just after passing the Tea Cup cattle ranch on the road's north side, we spot a field of granite boulders that Google Maps identifies—oddly enough—as The Boulders.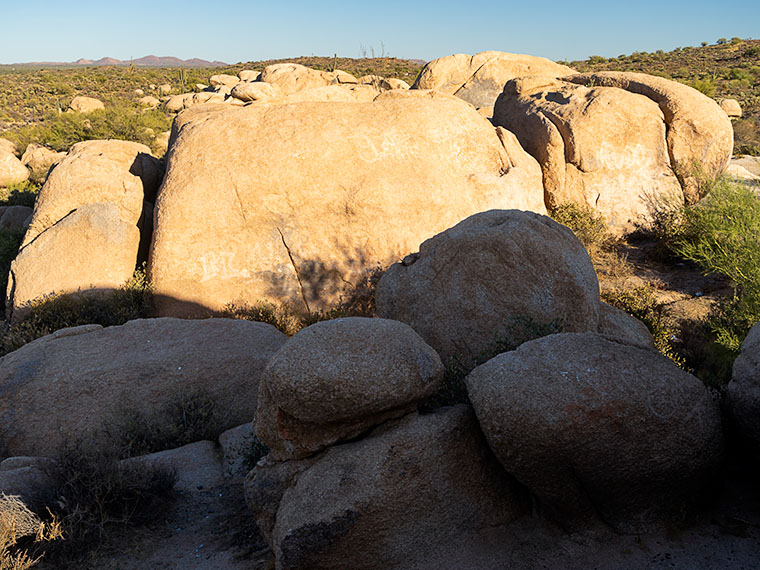 The boulders that you find at The Boulders are the same pile of granite rocks found in Prescott, up the hill from here in Yarnell, Kingman, or any other place throughout Arizona. They're everywhere. Instead of turquoise, the state legislature should have designated these granite deposits as the state gemstone, but, like Ben Franklin's idea of making the turkey the national bird, granite just lacks pizzazz—except on your kitchen countertops.
Because the rocks stand out like a sore thumb along the road, I had to stop to take some more rock pictures. There are a couple of good campsites here. In fact, on our visit, a motor-house and fifth-wheel were doing just that nearby, so The Boulders is a popular place. As I clambered in, on, and among the rocks, I looked for a composition that distinguished this outcrop. The image that I chose to present this week was one that was covered with graffiti. I'm always flabbergasted how some people love to get out in the wild and are then compelled to mark it up with spray paint.
I call this week's featured image The Boulders, and I like it for a couple of reasons. One is the contrast of small against the big; the other is the shadow against the light. I'll throw in the wall-art at no additional charge. Another thing in this image that I find interesting is the Tortilla Mountains barely visible on the horizon. It shows the amount of distance Queen Anne and I have traveled.
You can see a larger version of The Boulders on its Web Page by clicking here. I hope you enjoy viewing it. Next week, we'll finish up our trip along the Florence-Kelvin Highway and I have a surprise to show you—something I've seen in pictures, but never in person.
Until next time — jw