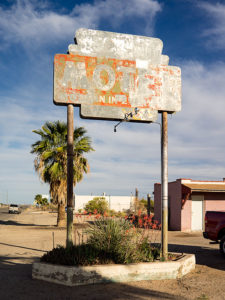 This week's new picture I call Motel Aguila, and it's another faded motel sign for my collection. Located as you would expect, in Aguila—a farming town some twenty miles west of Wickenburg. It's also across the street from last week's shot, which is how I spotted it. The paint on this sign is so faded that I don't see a business name, and there's only a whisper of letters left to show it as a motel.
As the sign suggests, there is no longer a functioning motel here. The buildings seem to be converted to apartments sheltering migrant farm workers. With less than a thousand permanent residents, there aren't enough people to work the melon and lettuce fields surrounding the hamlet. The workers have to sleep somewhere and I suppose an old motel is better than the improvised lean-to sheds I've seen elsewhere.
Aguila isn't a destination. There's a café, gas station, a Dollar General store, and that's about all. In 1973, Interstate 10 diverted traffic twenty-five miles south, so there isn't a motel to stay at even if you wanted to. Besides, the only thing to see here is the eagle-eye window in the hills south of town and that's a fifteen-minute investment along the side of the road (I'll talk more about the eagle-eye next week).
You can see the larger version on here on my website. I hope you enjoy viewing it and tell me what you think.
Till next time—jw