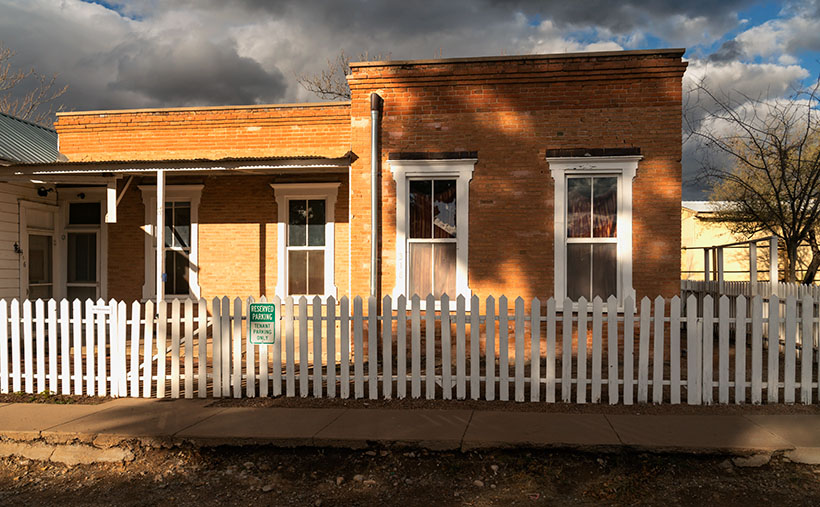 You may have noticed that history is one of my frequent photo themes, whether it's human history, historical buildings, or the geologic origins of a mountain. I don't know where this passion came from because I was a terrible history student in school—I could never keep my dates straight. Maybe it's an old-person thing. Ironically, we geezers try to cram useless facts into every unused nook and cranny in our brains, only to drop dead before using any of it.
Whenever Queen Anne and I visit a place like Tombstone, we like to see all the hot spots that every tourist goes to. The gunfighters, the courthouse, the palatial bars, and we even rummage through the gift shops (ya gotta have new T-shirts). When I get home and write about my photos, digging up the background on the above subjects is relatively easy. But, as is the case with the building featured in this week's picture, not every historical building has a bronze plaque.
When I shot the Tombstone County Courthouse featured a couple of weeks ago, I started across the street and circled the building. I snapped images as I went, but I was looking for something different—an angle no one had seen. The shot I presented was taken from the alley out back, and the wall, tower, and clouds gave me what I wanted.
When I finished my loop, I was back at the starting point—in front of a red-brick home across the street from the courthouse. This century-old home doesn't have a written story—well, not online, it doesn't—but I want to know more. Who was it built for? Why was it converted into apartments? Where did they get all of those bricks?
I'm a sucker for picket fences. I would never own one because they're a pain in the ass to maintain, but I can't pass one without getting out my camera. I took two versions of this photo; the first was when I started my courthouse walk. In that one, the sky was overcast, and the building was entirely in its shadow. When I finished my lap, the clouds had partially opened, allowing the sun to shine light onto the apartments. This pattern of light and shadow is my favorite light. Here's why: if you combine the way the building is lit and the broken clouds in the sky, this scene will never happen exactly again. That means I captured a specific moment that can never be reproduced. If you think about it, it's a moment of history.
I called this shot White Pickets and Red Bricks because those are the essential elements that make up this image. You can see its larger version on its Webpage by clicking here. I hope you'll join us next week when we come back with our final Tombstone image.
Till next time
jw
BTW:
I want to note this week's passing of David Crosby, a founding member of two bands that were part of my formative years; the Byrds and Crosby, Stills, and Nash (and subsequent derivatives). They pioneered the transformation of folk music to folk rock. Several of David's albums in my collection get regular rotation in my listening room. Peace-out David.