There are two types of drivers on the road. The first type is people trying to get somewhere, while the second group is people who are out for a ride. You're not always stuck in one group or another. Sometimes you have an appointment to make; while on other occasions, you have all the time in the world. My dad was part of the gotta-get-there group. Once he got in the car, he didn't stop for anything unless it was gas. Although he was our family's driver, I don't think he liked it much.
I'm part of the second group. On a day like today, sunny and temperatures in the mid-seventies, I relish driving an excellent machine down back roads with the windows down so the wind can blow where my hair used to be. These are the times when I feel most alive and free. Nothing beats driving an empty winding road with a hot blond beside you in the passenger seat—even if it's just my blow-up doll—er, sorry. I got carried away there. I see a time soon when we'll have autonomous vehicles, and that's fine as long as I'm not in one.
That brings me to one of our community's best features—the road leaving town. Up until the Second World War, our trail carried most of the traffic between Phoenix, Prescott, and Flagstaff. At that time it was part of the U.S. highway system, and its designation was US89. After the Highway Department opened the last section of Interstate 17, the Feds depreciated our road, and now it's officially Arizona State Route 89. During its heyday, US89 stretched between the Mexican Border at Nogales and Canada at Glacier National Park, but today it stops at the US66 junction in Flagstaff.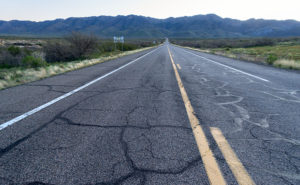 Now that most of the traffic is on the freeway, SR89 has become a scenic back road that drivers love with low traffic, almost no trucks, plenty of curves, and a variety of scenery. I can prove it. On any weekend you can sit in your lawn chair at our park's driveway and watch clusters of geezers on Harleys, boy-racers on rice rockets, and waves of sports car clubs headed north on Saturdays and south on Sundays. On weekdays, the proving ground boys' wiz by driving disguised test cars and trucks. You know they're having fun because you can see dilated eyes behind their Ray Bans and they have big grins on their faces.
When I thought about this week's featured image, I wanted the road front and center, and the spot that I chose is where SR89 heads towards the Weavers as if they're going to crash. They don't however, because, at the last moment, the road turns right and starts up Yarnell Hill. If you're traveling in a group, that's where the race starts—well, actually I don't need others because I raced in autocrosses—ask Queen Anne.
For this shot that I named 89 Sunrise, I wanted to have my tripod in the middle of the street, so I needed an empty road. That's why I got there and set up before this morning's sunrise. The highway is the subject of my image, but the Weaver's aren't bad either. In this shot, there's a lot of green, but in a few weeks, it will turn golden brown.
You can see a larger version of 89 Sunrise on its Web Page by clicking here. I hope you enjoy viewing this week's post and come back next week when we'll start a month of featured images from another Arizona place.
Until next time — jw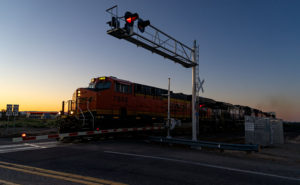 PS—As I was finishing up this morning's shot, I could hear a freight train pulling the Wickenburg grade, some four miles away. So I quickly packed up and rushed down to the crossing and got this image. It's not the shot that I described last week, but at least it's a train.