With this posting, we've completed this month's photo excursion of Castle Hot Springs Road. The detour north of State Route 74 started with almost prairie-like flat desert adjacent to the Wickenburg range. Then the road ascended into the Buckhorn Range with a magnificent view of the Bradshaw's. Next, our back road dropped down to Castle Creek through the Hieroglyphic Mountains past the hot springs resort. Finally, we returned to asphalt at Lake Pleasant where we saw vast groves of saguaros growing on the mountain slopes (I put that in my mental filing cabinet for a future outing).
There was one scene along the way that wasn't quite ripe enough to shoot when I first drove by it, so I wanted to backtrack and see if it improved with the warm afternoon sun. It did, and it is this week's featured image which I call Mine Tailings.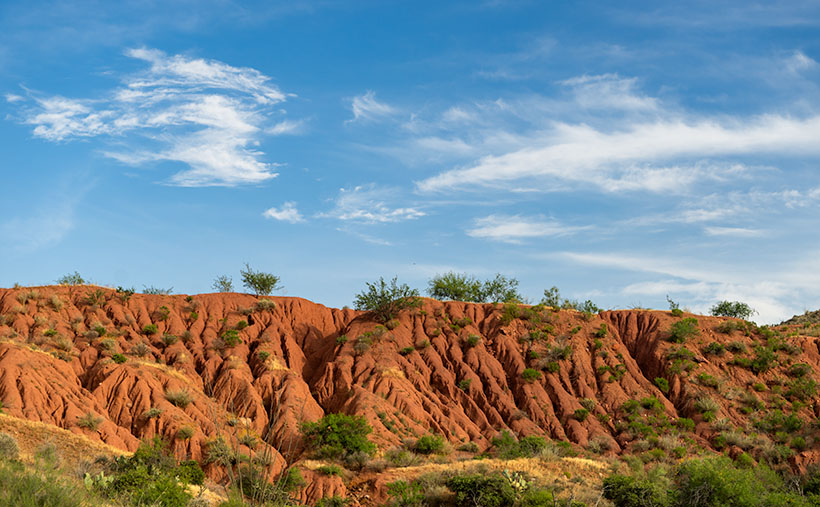 I don't know if there are an inordinate number of mines in Yavapai County, but it seems like they're everywhere. A few hearty souls—that either suffer from unrelenting gold fever or have nothing better to do—still work the claims, but most of the mines are abandoned. When the ore runs dry, the prospectors move on in search of the next elusive bonanza. Because there's no economic incentive to restore the claim, abandoned mines are left unposted and are often dangerous. Just this year, rescuers have pulled a couple of people trapped in mine shafts. It's a growing Arizona problem.
One of the tells of an old mine is the tailings. As prospectors tunnel into a mountainside, they have to remove the diggings and pile them somewhere. In massive operations, fleets of trucks build hundred-foot-tall dikes, like the one that used to line Highway 60 in Miami, Arizona. But with smaller claims of one or two men, they will fill a wheelbarrow and walk it outside and dump it over the edge, building a tailings dump; the deeper the mine, the bigger the tailings.
The thing that makes the tailings in this week's photo interesting to me is that they're red, and the late afternoon sun exaggerates that color. The red against the blue sky vibrates my eyeballs. There's more that we can learn from the image, like how old it is. The erosion patterns are deep from many seasons of heavy rain, and its fan pattern is reminiscent of what you see in the Painted Desert. In both cases, water easily cut through soft soil. Finally, dirt and rock that comes out of a shaft is well below the topsoil level, so it's not rich in nutrients. Here, the desert Mesquite has begun to colonize the hillside, so the soil contains some organic material already.
You can see a larger version of Mine Tailings on its Web Page by clicking here. Be sure to come back next week when we set off for another adventure exploring Arizona's back roads.
Until next time — jw