Before Interstate 40, before Route 66, and before the Railroad, Seligman was a quiet Havasupai Village where Beale's Wagon Road crossed the Big Chino Wash, and the reason you stopped there was for water. Back then it was called Prescott Junction because you could hop on a stagecoach to the territorial capital. Not a lot of people traveled that wagon trail because it was rough, dangerous, and in the middle of the God-forsaken desert. All of that changed in 1849 when James Marshall discovered gold in California, and suddenly everybody and his brother wanted a share.
Congress immediately passed a bill to give away ridiculous chunks of land as incentives for railroad upstarts to lay tracks from coast to coast, but the Civil War got in the way. Shortly after peace broke out, the railroads got to work in earnest. In those days, you had to plan for fuel and water stops every 30 miles, and that's the reason railroads built regularly spaced stops every 30 miles. They renamed the town Seligman for Jesse—one of the big money guys from New York. Being halfway between Flagstaff and the California border, its site was in an excellent spot for crew swaps, and since there was plenty of flat space, the company built a large switching yard here. So, Seligman became a busy stop along the route. The trains don't stop anymore, in fact, they don't even tap the horn as they rush by on the quarter-hour.
Seligman's historic district is within walking distance of the old depot, which—unfortunately—was demolished in 2008. It had a Harvey House—like the one in Winslow—and a reading room. I would have loved to have added them to my collection, but I'm a decade late. The old section of town has several notable buildings: a garage with gas pump island, a few warehouses, a boarding home, and some overnight cabins that the train crews used.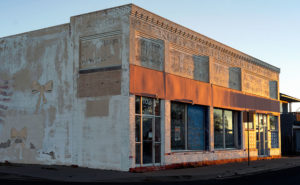 The building that I kept coming back to was this store. I immediately walked to it, because of the flag mural and yellow ribbons on the side wall. After walking around town, I returned and shot some other angles. When I got out the next morning, there it was again, and I liked how the daybreak lit the front. It shows off every brick and the fascia detail along the top. It even reveals some of the original sign hiding under the whitewash. From the tour guide that I picked up at the barber shop, this is the Pitts & Washington Central Commercial Department Store built-in 1903. The brick was probably red, and the signs were gold—like a Woolworth's. I believe the whitewash was added later to accommodate new tenants. It's my picture of the week, and I call it Central Commercial.
I think it would be neat to see it restored and brought back to life as a working museum. I see it stocked with period and retro items for sale. There's not enough traffic to sustain such a free-standing business, but maybe a display center for an online store could work—sort of an Amazon for antiques. I feel the car culture that the town caters to would patronize a store that carried upscale items like that. On the other hand, maybe it's too late because that's my generation's thing, and we're fading rapidly.
You can see a larger version of Central Commercial on its Web Page by clicking here. I hope you enjoy viewing this week's post and come back next week when we'll show another featured image from a different place in Yavapai County.
Until next time — jw