I had been asleep for an hour when Queen Anne finally came to bed last night. She nudged me until I almost woke and snapped, "What?"
"It's raining," she gleefully said.
I rolled over, pulled the covers up, and tried to go back to sleep while grunting, "Harrumph."
"It's pouring," she persisted.
"Why are you waking me?"
"You're snoring,"
I was too sleepy to recall accurately what happened next, but I think she bumped her head because she went to bed and didn't get up till morning. I swear that's the actual conversation we had last night.
This year's monsoon season is unlike the drought that we had last year. We've been enjoying a week of cloudy skies, isolated showers, and last night's low was under 70°. It wasn't that pleasant autumn-like 68° where you can throw open the doors and windows. It was 68° with 95% humidity—which is cool only if you have gobs of air blowing at you—aka swamp cooler. But still, we have a decent river flowing down the street out front and the Red Sea in our backyard. The two trellis vines out front that have spent last year imitating Paul Rubin's death scene in Buffy the Vampire Slayer—are already sprouting fresh green shoots.
All in all, it's been a good monsoon so far, and they say there's more to come. I lament the wasted rainwater flowing down the streets. There should be a way to capture some of it and store it for a (forgive me) non-rainy day. The runoff flows down the washes and eventually into the Gila River, where the Gila Bend and Yuma farmers use it for their crops.
I'll bet if I revisited Burro Creek—last week's featured image—it would look like a proper creek instead of a string of puddles. I'm not going to risk a possibility of getting caught in a flash flood. Arizona has a Stupid Driver law now, and with my luck, I'd be the first person to get billed for my rescue. Instead—as I promised last week—I'll turn the camera around so that you can see what's downstream.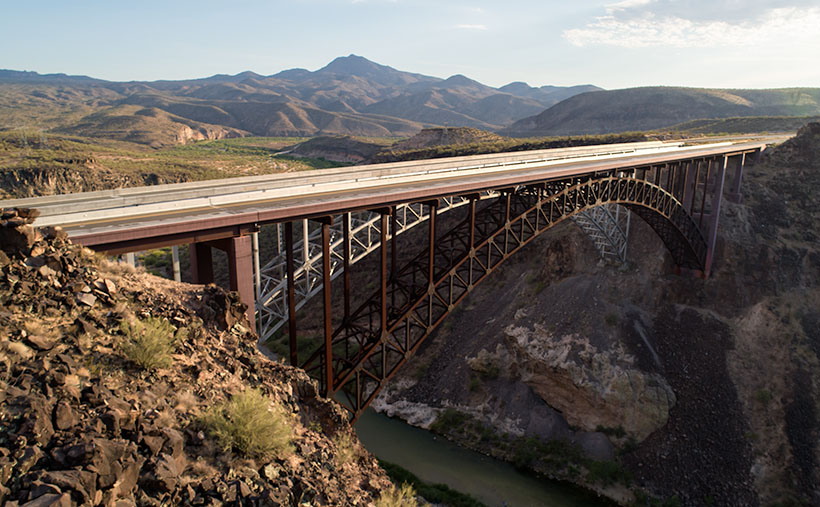 The subject of this week's image is a pair of freeway bridges over Burro Creek, waiting for Interstate 11. Don't be fooled into believing that this is an empty highway. U.S. 93 is normally a bustling traffic corridor. It's just that my image was taken just after dinner when the freight drivers are still belching in truck stops.
You can see a couple of other things in the photo and another hidden by the bridge. First—under the bridge—are the deep pools in the creek. They're wet all year round, so they have small fish in them. The minnows are useless to anglers, but they support a colony of Great Blue Herron that nest along the canyon walls.
Along the horizon is the 4,339 foot high Greenwood Peak. I have another shot of this mountain that was featured in a January 2020 post. During that month, Anne and I drove over the pass to the mountain's left and, at the bottom, we found the road blocked by water flowing in the Big Sandy River. In that article, we remarked how the slopes of the Poachie Range were covered with saguaro and pinion pines growing next to one another.
Finally, what's hidden behind the bridges is the Burro Creek Campground. It's smallish with quiet camping spots until a loaded semi drives over the bridge's expansion strips—the noise echoes along the canyon walls like Gilbert Godfrey with a megaphone. However, if you're into history, the campground's access road is the original two-lane highway that winds its way down the canyon, crosses the creek on a  low bridge, and then ascends the north face.
You can see a larger version of Burro Creek Bridge on its Web Page by clicking here. I have to come up with a creative idea for August, so please come back and see what I've come up with. For now, I'm going to don my galoshes and go stomp in some puddles.
Until next time — jw