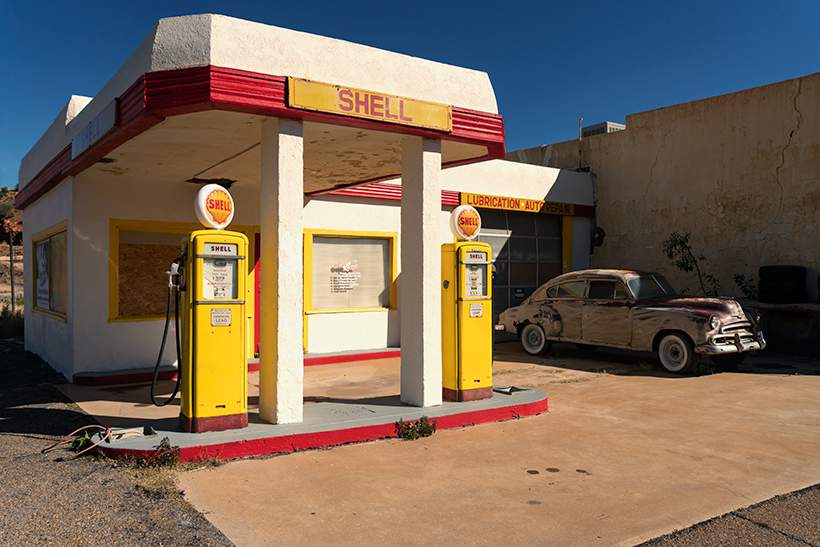 Maybe I'm doing this wrong, but I'm a photographer first and a storyteller second. When I'm out taking pictures in the field, I don't have a story in mind that I have to illustrate. My stories come after I'm at my desk trying to explain why I bothered to snap the shutter. Some weeks I struggle to put together two pages of sensible words; other times, my thoughts fly at my keyboard, and my fingers seem to move barely.
When Queen Anne and I happened upon Lowell and made our unplanned stop, I hopped out of the car and started snapping pictures down one side of Erie Street and up the other. When I returned home and processed the images, it was like there was a story in me begging to be told—and these were the perfect pictures to hang them. Like the rest of February, this week's featured image, Shell Station—has a built-in untold story about my first real job.
I never got an allowance when I was in high school. My dad paid me to work at his drapery factory after school and on weekends. It should have been the perfect arrangement because I was mostly alone. I hated it because it was repetitive work, and it had nothing to do with cars or girls—besides, dad always thought I was goofing off—which I was.
The summer of my graduation, Dave—a good friend of mine—asked if I'd be interested in working evenings at his brother's gas station. George—the owner—was short a person and needed someone dependable. I went for an interview, and George wanted me to start that very Saturday so that he could learn-me-up on how to pump gas. On Saturday, I was still in bed when the phone rang, and I vaguely remember driving to Van Nuys half dressed.
George's station was an Atlantic-Richfield (ARCO now) on the northeast corner of Van Nuys and Magnolia Boulevards. It was about three times the size of the Shell Station in this week's picture. He had three gas islands and two service bays, open 24 hours daily. My salary was only 1.65/hr, but because it was a service station, we got a commission on everything but gas. That's why we were so happy to wash your windows (blades), check your oil (air filter), and your tire pressure (if you sold a set of tires, you were golden). Although it was common then, we didn't pressure the customers to buy anything—we'd show them the evidence and let them decide. It worked for me, and I could make an extra $5.00 weekly.
There was another significant aspect of George's station. I don't know if you did this in your part of the country when you were a teenager, but cruising was extensive on the west coast. Every Friday night, pimpled face adolescents from across the valley would pile into shiny cars and drive up and down Van Nuys Boulevard. The guys paired up in someone's hot rod, and the girls rode around in daddy's T-Bird. Our traffic pattern started in Panorama City, south through Bob's Big Boy, a turn around at Magnolia, and drove back to the beginning. There wasn't any point to it other than to see and be seen (and it annoyed older people). If you need an example, run to Blockbuster Video and check out the movie American Graffiti—that was us.
Our station was at the loop's south end (less than a mile from Bob's), and we'd have more traffic driving behind the gas station every Friday night than we did out front the rest of the week. Since we were convenient, the kids took advantage of our restrooms. From the horror stories I heard, I'm glad I wasn't part of the Saturday morning crew that had to clean them.
As you've heard, everything shall pass, which also happened with George's station. As property values rose in the San Fernando Valley, the gas station's land was so expensive, Atlantic Richfield sold the land to a developer who built a high rise. George got an amicable settlement and a much smaller station in Reseda, which closed at 9:00 pm each day and didn't open Sundays and holidays. I worked at that station until I got drafted. Besides getting my first drag racing ticket on my way home, I don't have any interesting stories from there.
You can see a larger version of Shell Station on its Webpage by clicking here. This completes our February visit to Lowell, so we'll move on next week. Come back and find out where the road led us—won't you?
Till next time
jw
BTW:
Did you work at a gas station? How do you think they compare to the self-service ones we have today? Do you feel the cars get as much care as they need?