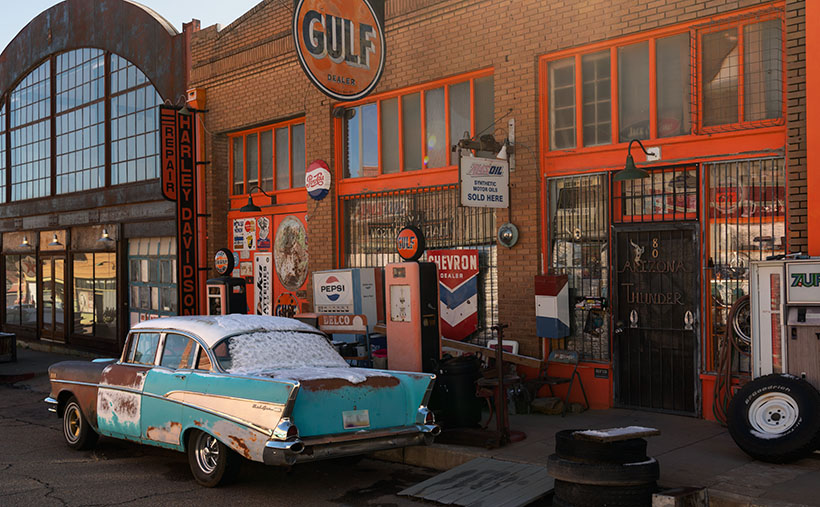 My lifelong love affair with cars runs so deep I'm sure I was born wearing aviator sunglasses and a pair of black Italian leather driving gloves—the kind with knuckle holes. My earliest memories are of toy cars from my parents, the countless scale model kits I built in my room, and the peddle car I had when we lived on the steepest hill in Pittsburg. At age five, I learned to drive it with my feet off the peddles so it could go faster. I held on for dear life and eventually got around the corner at the bottom without lifting (for the uninitiated, that means not scuffing your shoes along the sidewalk). Of course, even then, I complained about the dreaded push back up the hill.
My dad and Uncle Bunny (Yeah, that's right. His real name was Charles, but everyone called him Bunny) came home one Saturday when I was thirteen with a beater 51 Ford sedan. It was less than ten years old but already considered junk. Dad proclaimed, "If you can fix it, you can have it." He handed me a pair of pliers and a flathead screwdriver. I had no mechanical training and no idea what to do. After unsuccessfully trying to remove one of the head bolts from the old flathead V8, I gave up. The coupe sat silently in our garage for years.
I did find a use for it eventually. One day I was walking in our alley from school when I spotted a trash can overflowing with Playboy magazines. I don't know who threw them out, but it was a gold mine for a 13-year-old. I scooped up as many as I could carry and stashed them in the back seat of my Ford when I got home. My little friends and I spent countless hours pouring over those articles until we wore out the magazine staples. I suppose that's when my dirty old-man training began.
I guess that's why I'm so delighted to find a place like Lowell and its open air museum showcasing things from my past. For example, when I look at this week's picture—called Bel Air at the Gulf Station—I see the 57 Chevy and remember cruising through Bob's Big Boy in a 58 Ford my cousin drove that dad bought us. Clydie would pull a couple of plug wires off, so it had a loping idle. It didn't bother him that the car reeked of unburned fuel or that the guys with real hot rods were wise to his scam. It was Clydie's moment in the sun. There are so many stories about that 58 and my cousin Clydie it would fill a whole chapter in my autobiography.
We never had Gulf or Sunoco gas stations on the west coast. Our premium gas was Chevron Supreme. I became a fan-boy when Gulf sponsored the winning Fords and Porches at Le Mans. If there were a Gulf station within a hundred miles of my house, I would have gone out of my way to fill my tank. Unfortunately, Gulf Oil merged with Standard oil in 1986, and their stations are now Chevron and don't sponsor racecars. Maybe that's why there is a Chevron sign on the orange building, which otherwise seems out of place.
I feel there are a couple of errors in this presentation. The first is that Chevrolet is a four-door, and no self respecting greaser would own a four-door. Even our friend Fred once owned a 2-door (maybe he'll share a photo with us). However, 57 Chevy's are the pinnacle year for collectors, and they have cherry-picked them off the market. I doubt that there are any more hiding in barns somewhere in America.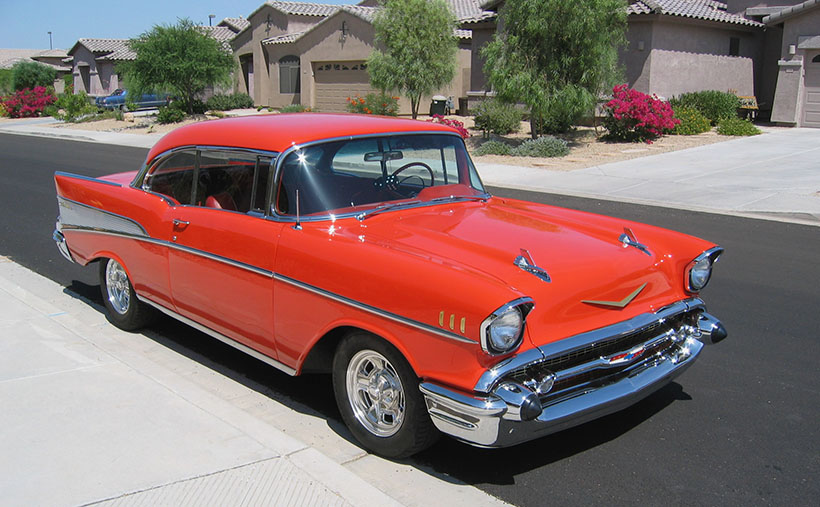 The other error is a Pepsi and 7Up machine, but not a Coca Cola box. Unless you lived in Utah, no one drank anything other than Coke. Long before In-N-Out, Bob's had a gorilla menu, and you could order a Coke with a shot of vanilla or cherry flavor. I knew all of that hip stuff.
You can see a larger version of Bel Air at the Gulf Station on its Webpage by clicking here. There's more to see along Erie Street, so don't forget to come back next week for another story.
Till next time
jw
BTW:
There is a gold star waiting for the foreheads of anyone —except for Fred—who can tell where the gas went into a 1957 Chevrolet.