When you hear someone talk about a desert, what image pops into your mind? Is it the endless Sahara dunes where Bedouins in keffiyeh headdress travel by camels? Maybe it's the barren, dry lakes of Death Valley, or perhaps your go-to desert is in Mongolia. By definition, a desert is any place receiving less than 20 inches of annual precipitation. That makes most of the Great Plains, most of Southern California, and the Antarctic deserts.
My desert is the one that I've called home for almost 50 years; the Sonoran Desert. In the last half-century, I've traveled most of its parts within Arizona and California. I can attest that it's not a flat, uniform wasteland—as some people think. It has mountains, canyons, plains, dry washes, and an exotic river or two. Its span ranges between Arizona and the Mexican State of Sonora. If you see a map of it (and you have to squint real hard), it's jellyfish shaped—starting at the north (where I live), the half-circle body covers Arizona, and the tentacles reach south to either side of the Sea of Cortez. Its width covers from El Centro to Tucson.
The signpost that says, "This is the Sonoran Desert," is the saguaro cactus. It thrives here because of the four major western deserts; the Sonoran is the only one with two rainy seasons; winter rains and summer monsoons. In winter, the rains nourish the cactus to flower and bloom, while the monsoons provide water for the dispersed seeds to germinate. Isn't nature swell?
Although the saguaro may be the Sonora's big-ticket item, it isn't the only thing here to see. That's evident when you visit the desert's reserves like Saguaro National Park, Organ Pipe Cactus National Monument, KOFA Wildlife Preserve, or several wilderness areas in southern Arizona. The biodiversity of these places will keep you on your toes—"Watch out! There's a snake over there."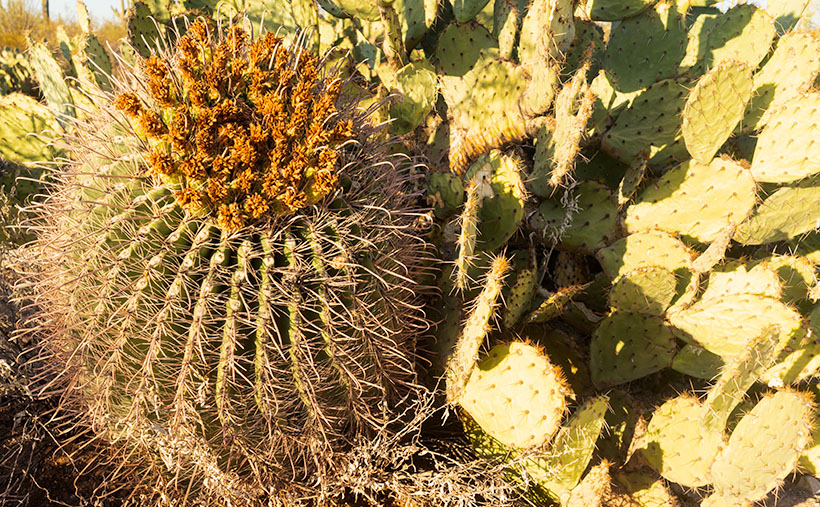 That's how I thought I'd end our one-day tour of Saguaro National Park. While exploring the park's dirt road loop, I spotted a couple of succulents nuzzling one another, so I went in and grabbed a shot. I call this picture Fish-hook Barrel Cactus. It shows a couple of common cacti—a fish-hook barrel and prickly pear—glowing in the evening sun. The barrel cactus is the one you're supposed to cut open if you need water—it's not hollow, so you have to wring the pulp if you're desperate for a bad tasting drink. Prickly Pear grows everywhere and has even overrun Australia after it was illegally transplanted there.
You can see a larger version of Fish-hook on its Web Page by clicking here. For December, we have an idea for a completely different type of monthly project. We had to. I'll be spending time with my Mexican dentist—oh joy—and Anne is risking her life to visit her family. She's shortening my leash while she's away, so I won't be able to roam very far from home. If I do, my electronic collar will shock me.
Until next time — jw