Not all saguaros are super-models. Like people, they come with all sorts of warts and scars. The Gila woodpeckers carve nests in them because inside the flesh, the summer daytime temperatures can be over thirty degrees cooler than outside. The cavities don't cause harm to the saguaro, and squatters like hawks, owls, and other birds move in after the woodpeckers leave. The substantial threats to a saguaro's life are from lightning, strong winds, stupid people, but the real culprit is frost.
On our imaginary day-trip around Saguaro National Park, we've left behind the visitor center, and we're exploring the Bajada Wash Loop, which leads from the west side up toward the Tucson Mountains—the park's backbone. In fact, these are the only roads into the interior. Countless trails crisscross the park, and they appear to be the preferred method of exploring the backcountry. I'll leave that mode of transportation to people younger and more agile than me.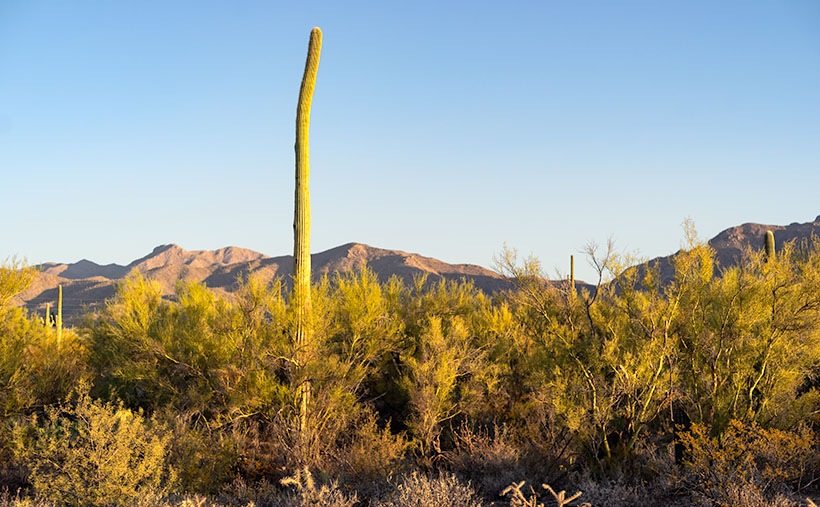 The afternoon was getting late when we reach the top of the loop. The shadows were already long as I looked for a shot of the range's high peaks. I stopped the truck when I spotted an interesting cactus. It rose maybe thirty-feet above the top of a palo verde thicket, and it had a bent trunk. I guessed the deformity was the result of a freeze. It's a young specimen—if you can consider thirty-years young—to have damage like this, but the Tucson Basin is a thousand-feet higher than Phoenix, and we were near the top of the loop, which is 500-600 feet above the city. That's near the limits of the saguaro's range because winter nights often get below freezing up here.
After I processed this shot and began pouring over area maps,  I realized that I also captured another landmark in it—actually two of them. To the saguaro's left are two peaks on the horizon. The taller of them is Wasson Peak (4639′), and the other is Amole Peak (4386′). They are the two highest points within the park's boundaries. So, this week you get a BOGO.
You can see a larger version of Get Bent on its Web Page by clicking here. Next week, our day in Saguaro National Park comes to an end, so be sure to come back and see what we found.
BTW: Queen Anne and I wish you a very safe and happy Thanksgiving. We'll be spending the day at home enjoying store-bought leftovers. You know, the usual turkey, stuffing, mashed potatoes swimming in gravy, cranberry sauce molded in the shape of a can, and buttermilk pie topped with fruit and whipped cream. I'll see you next week if I can get up from the couch.
Until next time — jw