July is soon ending, and next month I'll be writing about a different mountain range and its back-roads. In a way, I'm not ready to move on. The Aquarius Range has more that I'd like to explore, and it may be a while before I get a chance to come back. I could use and extra Sunday to squeeze in another story. Oh well—a promise is a promise.
So, this week we'll finish up at the beginning or end—depending on your direction of travel—of the Aquarius Range, its south end. Here, there's no sharp boundary that identifies that we've arrived. The mountains just taper into low hills then gently deliver you into the Burro Creek Valley at Six-Mile Crossing.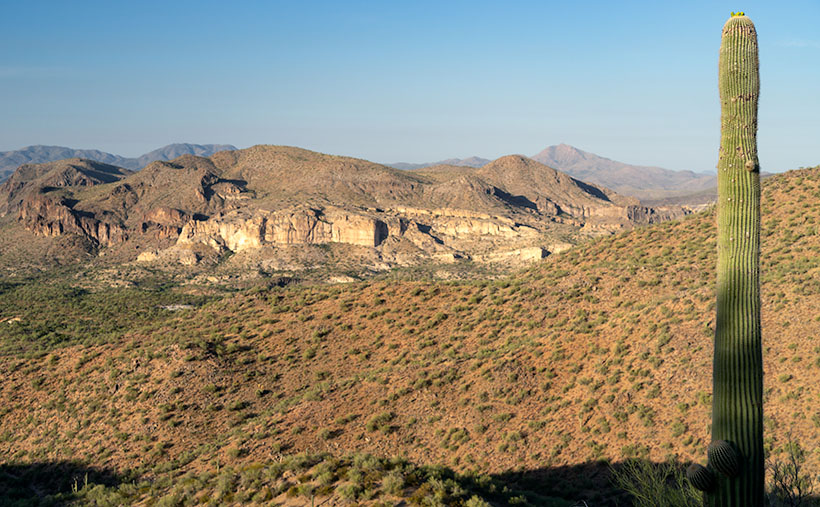 As you descend from the higher mountains into the valley, you'll notice a cluster of small hills with buckskin colored cliffs for which I found two names. On the valley floor, there are Bureau of Land Management (BLM) signs saying these Clay Hills were restoration protection. On my TOPO Maps, however, they're called Hell's Half Acre. It amuses me that when pioneers found land that wasn't flat and plowable, they called it Hell's this or Devil's that. I once had a friend who was an Ohio farm-boy that told me, "… the Grand Canyon is a wasteland. You can't grow crops there."
I took this week's image after I poked around Six-Mile crossing for a while. I looked for a pretty shot of the creek running under the Cottonwood trees. The water was slow, stagnant, and choked with algae. It resembled a cesspool, so I gave it a pass, although the shade was pleasant.
As I began driving up into the mountains, I stopped to capture the scene that I call Clay Hills. It was already late morning, and the pretty light was quickly disappearing. The glare of the harsh desert sun would soon replace the warm colors. The camera is pointed west in this perspective and highway US 93 crosses Burro Creek Canyon on the far side of the cliffs. The pointy mountain eight miles in the distance is Burro Peak, so the air was pretty clear considering the recent fires near Prescott. For a cherry topping, I threw in a young saguaro with fresh buds sprouting from its top like the hairdo kids wear these days.
You can see a larger version of Clay Hills on its Web Page by clicking here. Be sure to come back next week when we set off for another adventure exploring more Arizona back roads.
Until next time — jw