In my post a couple of weeks ago, I tossed out the fact that Organ Pipe Cactus National Monument was established in 1937—Franklin Roosevelt proclaimed it on April 13th, to be exact. In the subsequent weeks, we've explored the east side loop, which shows off the beautiful and rugged Sonoran Desert. So we accept that the monument is worth traveling a half-hour south of Ajo to visit—in fact, 22 million people did that last year—but in 1937, who knew?
If you look at a 1935 Arizona road map, you'll notice that there isn't anything south of Ajo except for the Papago Indian Reservation (They now call themselves Tohono O'odham, which means "Desert People" in their language—Papago is a derogatory derivative of a Spanish word for "Bean Eaters"). The only settlers in the Monument area were the Grays—a ranching family who bought up several local homesteads. So, how did word get back to the president about this unique area?
I came across one story that I liked, and I hope it's true. In the Wikipedia listing for Organ Pipe Cactus National Monument, I found a line that says, "Land for the Monument was donated by the Arizona state legislature to the federal government during Prohibition knowing that the north-south road would be improved and make contraband alcohol easier to import from Mexico." Of course, the very next words are "Citation needed." It sounds too good to be true, but it also sounds like something the Arizona Legislature would do. A fact that makes me skeptical is that Prohibition was repealed in 1933, four years before Roosevelt's proclamation. If the story is true, the smuggler's highway has become the main thorofare to the Arizona Riviera—Puerto Peñasco—or as we Zonies call it, Rocky Point.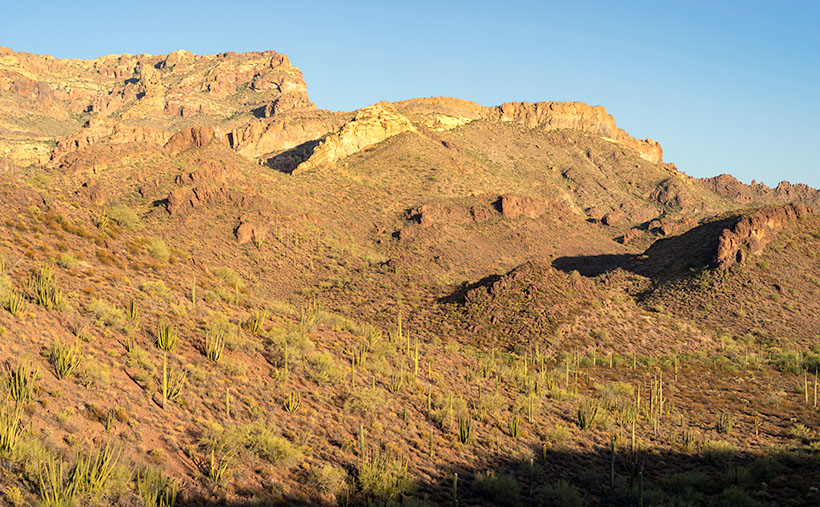 This week's featured image was taken on the Ajo Mountain Loop's downside as the road descends into a valley among the foothills. The shadows were getting long when I took the shot, and you can see Organ Pipe and Saguaro growing on the hillside below the rugged cliffs of Rhyolite and Tuff. I call this image Ajo Foothills.
I really enjoyed my afternoon at the monument. I want to return and drive the western loop. I want to take the Ritz and spend a night under the stars. Maybe we can do that next year when we're able to move about the country again freely. Besides, there are other beautiful places in Arizona that we can show you in the coming months.
You can see a larger version of Ajo Foothills on its Web Page by clicking here. Come back next week when we begin another adventure traveling Arizona's back roads.
Until next time — jw