Did you really think that we would leave California without bringing back a beach shot? No way—that would be unconstitutional. Whenever Queen Anne and I visit the Morro Bay area, we always save an afternoon for a drive up the Big Sur coast. Sometimes we make it to Carmel for lunch; sometimes, we're blocked by a landslide—like this year.
Getting to Monterey Bay isn't the point; there are traditions we have to uphold. As we pass by San Simeon, we point to and wave at the hilltop castle. A stop at the elephant seal colony is required to watch them sleeping on the beach. If we're not planning a full drive, we'll pick up a bottle of local wine, some cheese for Anne, and Italian deli meats for me. There's a beautiful little beach under that famous bridge featured in all the postcards you see, and we spend a couple of hours picnicking on a blanket while we search for Japan on the Pacific horizon.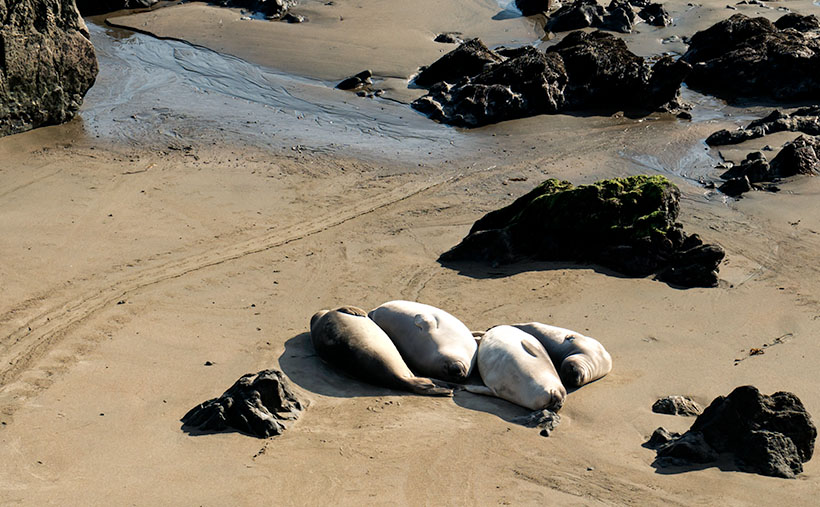 Because of this year's landslide, we didn't even make it to our picnic spot. Instead, we drove leisurely along the Pacific Coast Highway to the spot where Caltrans turned back traffic. From the pull-out, we could clearly make out the slide area just south of our bridge. It still looked like Big Sur; only a section of the road was missing. The ocean below was full of silt that turned the water mud brown. It surprised me that it hadn't settled during the month since part of a mountain fell into the sea.
With the rest of the afternoon to kill, we made our way back to Cambria, frequently stopping to take pictures of beaches, flowers, seals, and the San Simeon lighthouse. I was disappointed that the grounds were posted as a "No Drone Zone" because I had such a great shot planned.
Back in the village, we had one last dinner out and then stopped at the local liquor store. We found out a little secret during our last trip. It's fun to taste the new vintages at the vineyards, but the liquor store (and the Circle K), sells bottles at discount prices. We sadly went back to the motel with the few bottles we bought and prepared for the long drive home.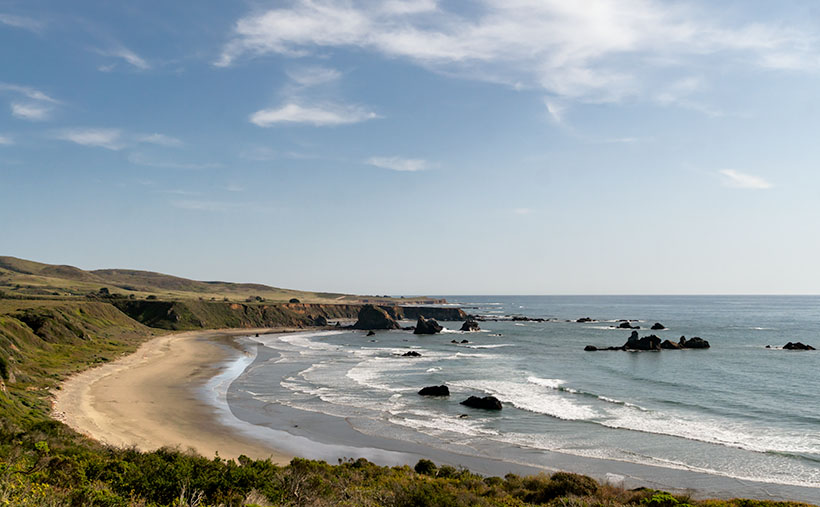 This week's featured image is called Beach for One, and you can see a larger version on its Web Page by clicking here. I picked this shot because you'd never expect to find such a lovely spot in California without a single person on it or in the water surfing. I'm going to print a small version over my desk to remember this moment come July and 115º temperatures.
Until next time — jw