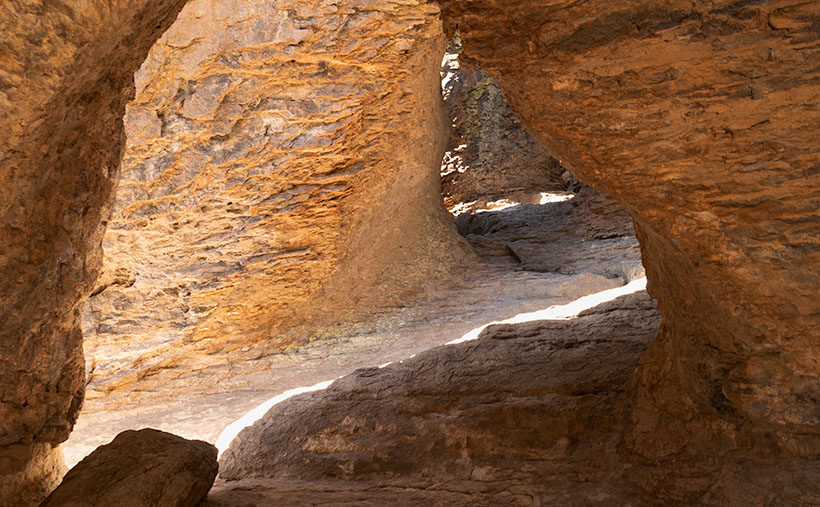 Over the past couple of weeks, we've been hiking and photographing the Grotto Trail in the Chiricahua National Monument. I know that seems like a long time for a one-mile trail, but I'm old and quickly fall. As you've seen in previous photos, massive rock formations that sometimes resemble sculptures line the track. That's another reason the hike takes me so long—I can't pass up these shots.
As I walked through the towering erosion formations, I wondered how the grotto would look. By definition, they're a 'picturesque cave,' so I wasn't sure what I was looking for. I shouldn't have worried because, as that old proverb goes, "You'll know it when you see it." That's precisely what happened. When I first peeked through a side window, I shouted, "Eureka, I've found it."
It's a cool room with light filtering in from outside. Four pillars line the room and hold up a slab of stone that fell on top. If you aren't my size, you can crawl up inside and take a nap or play tea-time should you happen to bring your Barbie set. Because it's open to the sky, you wouldn't be able to take shelter from a storm like you'd be able to do in an actual cave.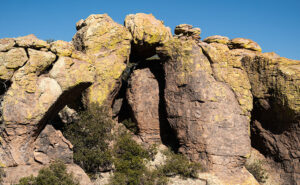 After catching my breath for a minute, I started back to the parking area. I was only a few steps down the road when I turned around and shot this second image. It gives you a better idea of how the Grotto is assembled, and quite frankly, it doesn't seem to be a secret room—just an interesting pile of rocks. You can see a larger version of The Grotto on its Web Page by clicking here.
Since today is the last Sunday of the month, this is the end of April's Chiricahua project. I took many more pictures, but I couldn't show you all of them in only four weeks. If only there were another way for you to see them. Oh wait, there is.
Wrote a book about it—wanna see it?—here it is.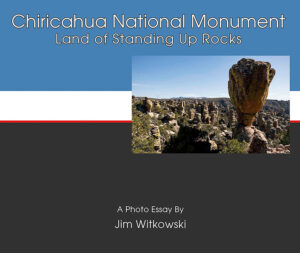 I've been working on a book while talking with you to prove that I can walk and chew gum. It's the second in my sampler photo essay series. This one is called Chiricahua National Monument, and it includes the photos I've shown this month, plus a couple dozen more. Chapters in the book cover the Faraway Ranch, the hiking trails, and the landscapes surrounding the park.
It isn't listed yet, but like my last book—Snow Canyon—it will be sold exclusively on Amazon at a ridiculous price of $68.00—unless you want to order a half-dozen or more, I can get a discount for you. Otherwise, no one will pay that price. But because you're loyal readers, I devised a way for you to read the book and see my other photos—for free. I ordered a PDF version that you can open and download using this link: Chiricahua National Monument. PDF. You're welcome to download it, print it, and toss it in the garbage when you're done. I hope you enjoy it.
Next week is a new month, and we're not entirely done with Cochise County. I found some pretty things to show you outside of the park, so come back next week when we begin May's project.
Till Next Time
jw