Trick or Treat
smell my feet
give us something good to eat
Since this is my first-ever Halloween post, I couldn't pass that up.
So, where were we? Oh yes—Queen Anne and I spent an afternoon exploring and photographing along the back roads to Sycamore Point. The sun was going down, and we wanted to get back to Williams to have a nice dinner at The Red Raven Restaurant.  Before we leave, let me get in one more shot.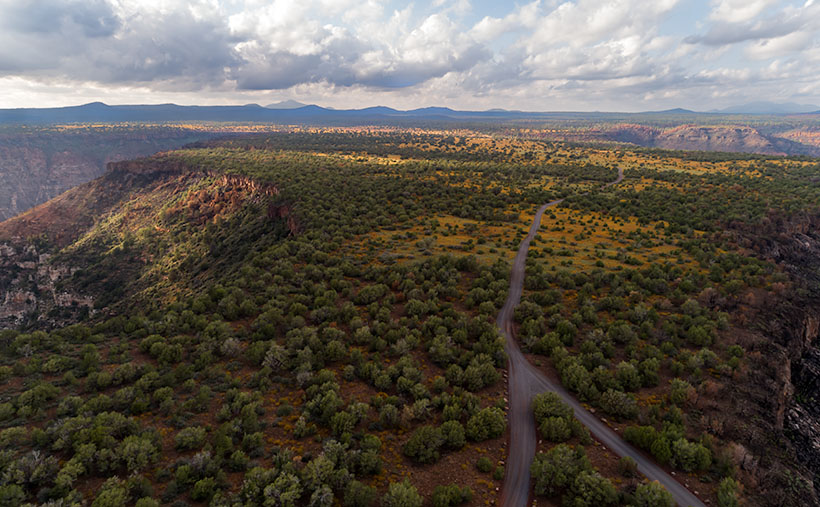 I call this week's photo Sycamore Point. If it isn't apparent, I took it with my drone. Unlike a normal camera, you can't spontaneously whip it out and start flying about—well, not if you want to keep your license. You have to file a flight plan, conduct a pre-flight check, and there are no fly areas. In this case, I couldn't fly it past the wilderness boundary (you can get an exception from the BLM—but that takes weeks).
The truth is that I took several drone shots of the canyon, but because the drone's camera lens is ultra wide, the images from my Sony were better, so I used those. Since the drone had battery time left, I turned it around and pointed the camera toward the road we traveled. From an altitude of two-hundred feet, this is the image that I got.
When I started processing this photo, I realized that it has everything that we've been talking about during October. In one image I see Alligator Juniper, patches of yellow wildflowers, Thumb Flat, the edges of Sycamore Canyon, burn scars, the back road, shafts of sunlight, and in the distance, the Northern Arizona Volcanic Field—including Bill Williams Mountain (center left) and The San Francisco Peaks (far right). It's like you're back in school, and here's the chapter review before the test—but from a different perspective.
You can see a larger version of Sycamore Point on its Web Page by clicking here. Next week, it's time for a new project from a different location. You'll want to come back and see what trouble I got myself into this time.
Calendars
This year is hurtling to an end already, so it's time for me to make new calendars. In spite of the extra cost last year we got a nice response. Inflation has taken a toll again this year. After reviewing my printer's price list and post office shipping costs, I need to charge $20.00 for them. I know that cost is prohibitive to most of you, but they're a limited item. I need to get one for myself and if you're interested, I'll print a copy for you.
The pictures for the 2022 edition are from this year's outings. The size remains the same—6 ½ inches high (each half—about the size of a sheet of paper folded in half) and 8 ½ inches wide, and they have holidays noted on the dates. They're printed on card stock—which is part of the expense.
In order to get them to you for Christmas (and we're cutting it close according to the Post Office), I need to know by November 10th. If you'd like one, you can leave a comment in this post, use the contact form on my website (https://www.jimwitkowski.com/junk/index.php), or email me directly. Don't forget to leave your contact information if I don't already have it.
Until next time — jw