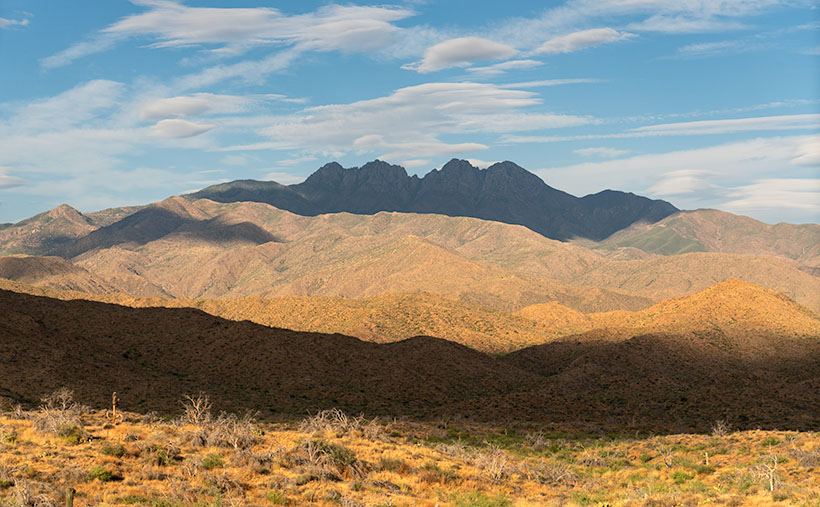 Yea! We've made it over the hump. Now we start whittling away the second half of 2023. But first, we must suffer through the insufferable—our monsoon season. As we enter the scorching summer months in Arizona, fleeing from the heat becomes a top priority for Phoenicians. We seek refuge in the pleasant mountain landscapes outside the city to beat the relentless triple-digit temperatures and humidity. But hey! I'm here to help, so July's photo project involves one of the escape routes Phoenicians by the thousands use each weekend—the Beeline Highway.
It's been at least a decade since I last drove Arizona State Route 87, but last month, my friend—and regular contributor—Fred asked me to help him fetch some trailer equipment in Heber—a small community on the Mogollon Rim. As he drove through the rugged mountains to Payson, I rode shotgun and thought, 'I forgot how spectacular this scenery is. I need to come back with my camera.' That's when I decided to do July's Mazatzal Mountains project and use the Beeline Highway for our trail. It sure beats hiking.
The name—Mazatzal—is a directive of a tribal word the Spanish picked up from the native Indians, Mazatzalli—meaning ankle bone. The Yavapai thought these mountains resembled an ankle when viewed from certain angles. Situated northeast of Phoenix, the Mazatzal Mountains stand as a rugged and formidable barrier, marking the gateway to the Rim Country. These majestic peaks serve as a scenic backdrop for Phoenicians as they embark on their journey to the Mogollon Rim and its surrounding areas. While the Mazatzals offer breathtaking vistas and a sense of natural grandeur, access to their remote backcountry is primarily reserved for avid hikers, horseback riders, and outdoor enthusiasts seeking a more adventurous experience. It's important to note that due to the rugged nature of the terrain and limited facilities, the Mazatzals may present challenges in terms of accessibility, especially for individuals with mobility restrictions.
As we travel along the Beeline Highway, we traverse a physical distance and ascend through a tapestry of changing climates and vegetation. From the arid lowlands near Phoenix, we gradually ascend into cooler uplands adorned with diverse flora. We witness transition from cacti-dotted desert landscapes to lush pine forests and high-altitude meadows. This elevation-driven change in vegetation is a constant reminder of the varied ecosystems thriving within the Mazatzal Mountains.
This brings us to this week's image—Four Peaks: the Crown Jewel of the Mazatzal Mountains. This image is my latest attempt to capture the highest point in Maricopa County. Well, they're the highest four points in the county. From left to right, they're named: Brown's Peak (7657′), Brother Peak (7642′), Sister Peak (7572′), and Amethyst Peak (7524′). On the afternoon that Queen Anne and I stopped to take this image, it was windy, and the sky was filled with lenticular cumulus clouds (cirrocumulus clouds that look like lenses). As they crossed the sky, they cast shadows on the mountain, adding depth and drama to the composition. Without the shadows, the mountain would appear flat and featureless.
Thank you for joining us on this virtual journey through the Mazatzal Mountains. We invite you to share your experiences and memories of these stunning landscapes. Feel free to connect with us and the community as we continue exploring this magnificent region's natural wonders. Stay tuned for our next installment, where we delve deeper into the heart of the Mazatzals.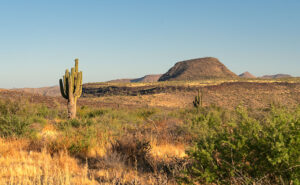 If you'd like to see a larger version of Four Peaks, you can do that in several ways. The first is to visit its Webpage using this link (https://www.jimwitkowski.com/newWork/fourPeaks.html). Miss Deb reported last week that the second method works only if you use a desktop computer. Follow this link (https://fineartamerica.com/featured/four-peaks-jim-witkowski.html) to my posting on Fine Art America. Please hover your mouse cursor over the image until a green square appears (they're magically delicious). Select the area you want to inspect, and then click. A one-to-one preview window of that section will open on the screen.
Till Next Time
jw
Techniques: Embracing the Elements and Finding Drama in Nature's Surprises
Photography is a dance with elements; sometimes, the most captivating images come from natural surprises. As photographers, we can embrace these elements and find beauty and drama in their presence. The photo of Four Peaks with its lenticular cumulus clouds and their resulting shadows is a prime example of how nature can add a touch of magic to our compositions. When faced with unique cloud formations, we may be tempted to wait for them to clear, fearing they will obscure the peaks. However, there is value in embracing the unexpected and capturing the scene as it unfolds. By incorporating the lenticular cloud shadows, the image takes on a new level of depth and intrigue. The shadows play across the rugged mountain terrain, accentuating its contours and adding drama to the composition.
When you find yourself amid nature's surprises—a sudden storm, an unexpected play of light, or unusual cloud formations—embrace them. Explore their potential to add depth, drama, and a touch of magic to your photographs. Remember, breaking the rules or deviating from your initial plans can lead to some of your most captivating and memorable images.