Since our trip to Pearce Ferry, I've written about the Grand Wash Cliffs, and rightly so. Last week, I mentioned that they formed the western edge of the Colorado Plateau and that the great river bisects the cliffs. But the Hualapai Valley has another mountain range on its west flank, and they're the Cerbat Mountains. They fill the 23 miles between Kingman and Dolan Springs. On the drive to Las Vegas on US 93, they're to the east side of the highway as you travel north through the Detrital Valley.
There are some old mines located in the Cerbats; Cerbat, Mineral Park, and Chloride. Traveling north from Kingman, you first pass the ghost town of Cerbat, which is hidden at the end of a challenging (4wd) road. The next is Mineral Park, which is due east of Santa Clause (that's another story unto itself). Finally, the biggest one is Chloride—whose tailings are visible from Highway 93. I think Chloride is still active, but I don't know for what they're digging.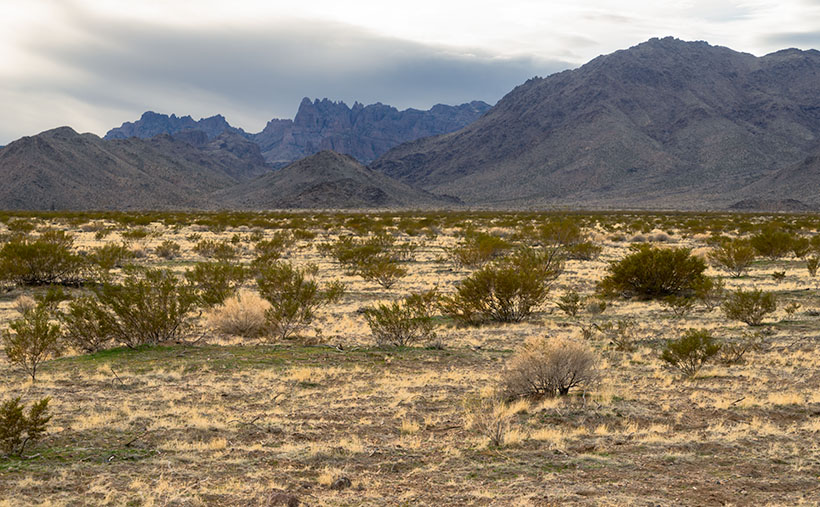 More interesting to me is the Mount Tipton Wilderness Area, which is almost at the northern end of the Cerbat Range. At 7148 Mt. Tipton is the tallest peak, but the wilderness area also has some jagged peaks that made me stop to take this week's featured image—even though the sun had gone behind the looming storm clouds. I named the photo Mt. Tipton Wilderness, and it shows dried grasses and creosote bush against the barren granite mountains.
On the whole, I enjoyed our drive to Pearce Ferry. There were a lot of beautiful sights found there, and I can see returning in the future to do more serious photography. That's the downside of these trips. They're to photography what Cliff Notes are to books. To get the best results, you need to study and understand the subject.
On the other hand, we've only begun to explore Arizona's back roads, and there's so much more to see. I feel like I wasted the first two-thirds of my adulthood working for a paycheck. However, I understand that I wouldn't be here if I hadn't. I hope I have enough time to finish it all.
You can see a larger version of Mt. Tipton Wilderness on its Web Page by clicking here. I hope you enjoy seeing it. Next week I have a surprise for you. Something completely different, so I hope we'll see you then.
Until next time — jw