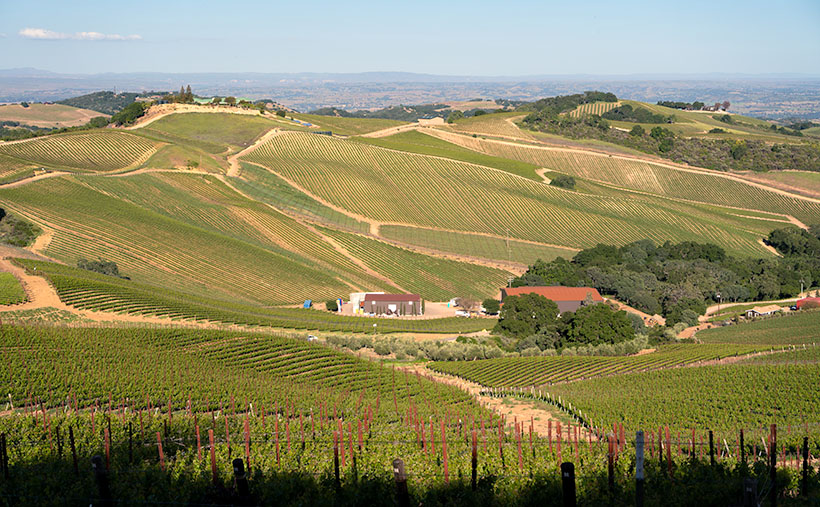 I bought our first bottle of DAOU wine by accident. While choosing from the Safeway shelf selection, I looked a row above the cheap stuff and spotted a bottle of their chardonnay. I immediately noticed that it came from Paso Robles—our favorite wine region. It was more pricey than our house brand but not by much, and since it had been a rough week, I thought, "What the heck?" I grabbed it by the neck and placed it in the cart.
That was a couple of years ago, and since—when we wanted something a little nicer—we splurge on a bottle of DAOU. That's why we were so tickled that a stop at DAOU was on our wine-tasting recommendation list this spring. Indeed, I thought we wouldn't come home without buying the place out.
Driving up to the tasting room reminded me of the Clifton Hillclimbs of days past. A castle-like building sits at the summit of the family-owned mountain. Instead of orange pylon cones, the narrow, twisting road is lined with lavender, making the mountain look like it's wearing a purple crown. The finish line is under an ornate wrought-iron arch at the top—just after a sharp right turn. After I parked the truck, I let the engine idle for a few minutes to let it cool, which gave Queen Anne time to stop screaming and hyperventilating. Our breaths were removed again when we stepped out of the truck—this time from the view.
Stepping out onto the hilltop patio of DAOU Vineyards, one can't help but feel as if they've entered an exclusive retreat, a day spa designed not just for relaxation but for the epicurean at heart. With panoramic views that command the senses and an ambiance that whispers of indulgence, it's a place where time seems to stand still, encouraging you to savor every moment. With their attentive grace, the staff are like sommeliers of comfort, offering tastings and a complete escape from the ordinary.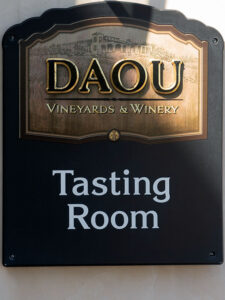 For Queen Anne and me, this wasn't just another stop on our wine trail; it was a moment of serendipity that had us seriously contemplating a permanent residence. The fusion of luxury and viticulture was intoxicating in its own right. And as the hot and cold running hostesses pampered us, each sip of DAOU's exquisite wine seemed to erase any thought of a world beyond the vineyard's embrace. It was here, amidst the laughter and clinking glasses, that we made our selections—wines that would forever remind us of the sun-drenched patio, the gentle breeze, and the feeling of absolute contentment.
A visit to DAOU Vineyards is essential to any wine lover's journey through Paso Robles. It's an experience that transcends the act of tasting into an art form, set against a canvas of sweeping hills and skies that stretch into infinity. DAOU is renowned not just for its wines but for its ability to transport you to a state of awe with its mountaintop location, offering a view that could rival any famed landscape painting. Here, each glass is complemented by the vast vistas of the valley below, the verdant rows of vines narrating the terroir's tale. The tasting room, an epitome of elegance, invites guests to savor each note of their carefully crafted wines wrapped in Paso Robles' natural grandeur. This harmonious blend of sensory pleasures positions DAOU as a destination of choice for those seeking to indulge in the grand symphony of winemaking.
At the heart of DAOU Vineyards stand the founders, brothers Georges and Daniel DAOU, whose journey in winemaking is as rich and compelling as the wines they create. Their foray into grape cultivation was born from a shared vision to produce Bordeaux-style wines that would rival the world's best. With roots stretching back to the mountains of Lebanon, the DAOU brothers bring a unique fusion of old-world charm and new-world innovation to their craft. They are known for their exacting standards, from fastidious vineyard management to the precision of their cellar practices, constantly pushing the boundaries of what's possible in Paso Robles. At DAOU, it's not just about maintaining quality but elevating it, ensuring that every bottle tells a story of excellence and ambition, a narrative that honors their heritage and the land they've come to cherish.
DAOU Vineyards has etched its name in the annals of fine winemaking with a portfolio of wines that speaks to the discerning connoisseur's heart and intellect. Their flagship offering, "Soul of a Lion," is a testament to the DAOU brothers' father and embodies the winery's pursuit of uncompromised excellence—a Cabernet Sauvignon that commands attention with depth and complexity. The "Reserve Chardonnay" marries the richness of Paso Robles fruit with the finesse of French oak, creating a harmonious profile beloved by those who favor a fuller-bodied white. Not to be overlooked, their "Estate Cabernet Sauvignon" stands as a pillar of their red wine collection, showcasing the perfect balance of power and grace that the region's unique climate and soils can instill. These wines, among others, have propelled DAOU to the forefront of Paso Robles wineries, each vintage crafted not only to impress but to leave a lasting impression of the terroir's potential.
I would love to tell you what bottles we bought during our DAOU visit, but as you can see from the prices below, we were well out of our league. But throughout our discussion of whether we could get adopted by the DAOU family, we enjoyed each of the five samples our hostess selected for us. Unlike our introduction to wine tasting—when the Carlo Rossi Burgundy came from the very jug you bought—these days, the samples served at the vineyards are the creme de la creme—If the wine you buy in a retail store were an AC Bristol, they tempt you with a Shelby Cobra here at the ranch. Had we the budget, here are the bottles we would have brought home.
2021 Estate Chardonnay–$100.00. We liked this chardonnay. It had the same characteristics as our Safeway version but more of everything. Unfortunately, it was clearly out of our price range, so we passed and bought four bottles of the normal chard from Total Wine instead.
2020 Reserve Eye of the Falcon–$75.00. This Cabernet Sauvignon is made from a blend of Cabernet Sauvignon and Verdot grapes grown on the valley floor. It had excellent color and a great taste of black fruits and aromatics.
2021 Cuvee Lizzy—$89.00. This was another Bordeaux-style wine using the estate-grown grapes. It's a blend that starts with Malbec grapes and is then blended with Petite Verdot, Cabernet Franc, and Cabernet Sauvignon stock. This was our favorite of the flight. If possible, we'd buy a bottle, but we haven't found one in our local stores. If we want to enjoy a bottle, we must win the lottery and return to Paso Robles.
Beyond enjoying DAOU's wines, the experience at the vineyards was breathtaking. Sitting in those red patio chairs with attendants passing frequently with another offering was the definition of indulgence. We would have stayed the night if we'd brought our sleeping bags. At the end of our visit, our wine guide noticed that I was using my USAA credit card to pay the tab. She asked, "Oh, you're a vet?" When I confirmed that I was, she waived the tasting fees. If I had known that was possible, we might have sprung for one of their Eye of the Falcons.
We hope you enjoyed our month of wine offerings as much as we did. If you'd like to pixel-peep this week's Image, you can visit the larger version on my website < Jim's Web> or its FAA page <FAA Link>. Be sure to put us on your holiday calendar next month because we're going to a place where no man has gone before—well, not many have been there. Join us next week when we take you off the beaten path—it'll be an adventure, I promise.
Till next time, keep your spirits high and your humor dry
jw
Techniques: Leveling the Horizon on Sweeping Vistas
A common pitfall I've noticed in many online landscape photos is a slightly tilted horizon, which can unintentionally give the impression that the scene is off-balance. Remember, even the Pilgrims relied on the horizon to align their buildings at Plymouth Rock. Getting this right in-camera is critical, as it preserves the natural balance of your shot.
For those looking to ensure a perfectly level horizon, modern technology offers a helping hand. My camera, for instance, comes equipped with an in-built level in the viewfinder. As you adjust the angle, the level's indicators align, turning green at the perfect balance point. It's a small step in the setup but makes a difference, especially for scenes like the one in this week's photo where the horizon plays a starring role.
If you capture a slightly askew horizon, don't fret—software like Photoshop can come to the rescue. Use the ruler tool to draw a line along the horizon, then select Image> Image Rotation > Arbitrary. Photoshop cleverly calculates the necessary adjustment, automatically realigning your Image. A quick crop to tidy up any resulting white edges, and your photo is ready to impress with a horizon that's true to reality.
BTW:
I released the fourth video in my On the road with Jim on YouTube on Friday. This one covers the images in my Sonoran Desert portfolio. As a subscriber to this newsletter, you get a sneak preview before I add any links. If you want to view my latest effort, you can use this link to get to the video: https://youtu.be/QDc9fXnccy8