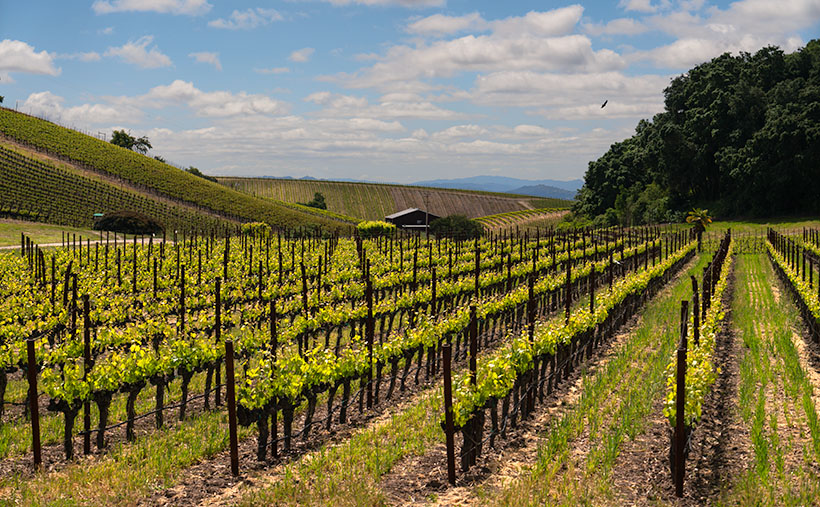 Wine tasting is not what it used to be. I remember when all it took was a sunny afternoon and a car, and we could show up and taste. Now, it's all about planning with reservations. The spontaneity's gone, but the trade-off is a more intimate experience at each stop. So we were starting our day at L'Aventure Winery while the morning was still fresh, and the roosters were thinking about their wake-up calls. Not every day you get to taste fine wine with the dew still on the grapes, but it makes for a memorable morning when you do.
We had to make reservations for each stop—days in advance this year, and we had to coordinate those times because what we wanted sometimes wasn't open. The vineyards wish you to spend at least an hour so you get the whole spiel. Then you have to allow for travel time. God forbid you're late for an appointment because the next bus arrives, and you're locked in the parking lot. There you have the short version of why we started tasting wine at L'Aventure at 10 a.m. before the chickens got up.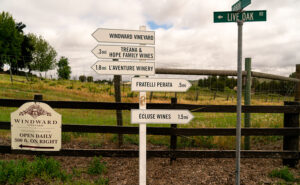 L'Aventure Winery came onto our radar like a secret whispered among the vines—its name uttered with a vinous reverence in the circles of oenophiles we admire. Nestled within the undulating landscapes of Paso Robles, this winery has carved out more than a niche; it has etched a legacy in the very bedrock of the region. It's not just the distinctive wines; it's the philosophy permeating every bottle. Here, tradition isn't merely upheld; it's reimagined. Stephan Asseo's creations have bucked the trends, danced gracefully between the rules, and presented the world with blends that defy expectations. In Paso Robles, a place flourishing with winemaking potential, L'Aventure has boldly claimed its stake, garnering approval from critics and connoisseurs alike. To sip L'Aventure's wine is to participate in a legacy of innovation that whispers of exclusivity and guarantees your pallet something new.
Stephan Asseo's vinicultural journey is a narrative steeped in passion and the relentless pursuit of perfection. It's a tale that begins in the esteemed vineyards of France, where the terroir—the unique combination of soil, climate, and landscape that imparts distinctive character to the wine—is as much a part of the culture as the vines themselves. Yet, after 17 vintages, the rich but restrictive traditions of French winemaking left Asseo yearning for a canvas broad enough to hold the scope of his ambitions. His odyssey for the perfect terroir brought him to the variegated landscapes of Paso Robles—a place where the soil spoke to his soul. Here, freed from the stringent Appellation d'Origine Contrôlée (AOC) regulations dictating French winemaking minutiae, Asseo's maverick spirit thrived. In this New World sanctuary, blending is an art form, and Asseo, the ever-daring artist, dismisses the notion that wines must conform to preordained profiles. His wines are a triumph, not just of terroir, but of bold innovation—melding the best of both worlds to create something truly extraordinary. This is the spirit of L'Aventure: a symphony of earth and effort, a testament to the magic that happens when you refuse to accept that the status quo is the pinnacle of what can be achieved.
Nestled in the rolling hills of Paso Robles, L'Aventure has become synonymous with bold, innovative winemaking, and this is nowhere more evident than in their celebrated varietals. The winery has garnered acclaim for its exceptional Rhône blends, robust with the complexity and depth that the region's soil imparts. But it is the pioneering estate blends that truly set L'Aventure apart—chief among them, the Optimus and Estate Cuvée, which seamlessly marry Rhône varieties with the noble Bordeaux, creating symphonies of flavor that resonate with the essence of both Old World sophistication and New World audacity. Their Cabernet Sauvignon, Syrah, and Petit Verdot are testaments to the winery's dedication to quality and the full expression of each grape's character. Each bottle from L'Aventure is not just a beverage but a story of land and labor, a narrative told through each sip of their meticulously crafted wines.
Two of the samples in our flight (different specimens picked by the vintner) impressed us enough to purchase. We used to love finding wines priced around $10 at tasting rooms, but those days are long gone. These days, anything over $50 is out of our league unless it's exceptional. Then I have to get down on my antique knees and beg Anne to sell one of the many jewels from her crown to cover the cost.
The Estate Rosé. We're not fans of rosés because they're often fruity and sweet—a holdover from the Mateus days. Not so in this case. L'Aventure's rosé was dry and drank more like a chardonnay. We paid less than $30 for our bottle.
The Cote A Cote Red Blend. We were impressed with the complex hints of dark cherries and chocolate and how the terroir came out in this wine. I thought the tannin aftertaste was harsh but would mellow with age. This bottle sells on the north side of $50.
After our early morning tasting at L'Aventure, we left with a couple of bottles that caught our fancy and some good memories. The rosé was a pleasant surprise — not too sweet, how we like it. And the red blend? It was rich and bold, even if I think it'll taste even better with time. With our wine adventure off to a great start, we were ready to grab a bite and gear up for the next round of tastings. Next week, I'll tell you about our visit to Justin's, a place you might know from your local store. But until then, don't forget to check out my website < Jim's Web Page> or my Fine Art America page <FAA Page> to see this week's photo in full size.
Till next time, keep your spirits high and your humor dry
jw
Techniques: Mastering Natural Framing in Landscape Photography
This week's photo at L'Aventure showcases a classic compositional technique: natural framing. Like curtains on a stage that focus the audience's attention on the performance, the rows of vines guide the eye toward the central barn. Flanking the barn, the sloping hill on the left and the dark green oak trees on the right mirror each other, encasing the scene in a verdant embrace. This draws the viewer's gaze to the heart of the image and adds a layer of depth, making the barn appear as the show's star. Natural framing is a powerful tool, subtly suggesting where to look without overt direction. In vineyard photography, where every element tells a part of the story, such frames are the unsung heroes, providing structure and focus to the landscape's natural beauty.
And About That Speck in the Sky
You might notice a speck against the clouds if you squint at this week's photo. Let's set the record straight — that's not a smudge on your screen or a rebellious dust spot I missed in post-production. That, my friends, is a turkey vulture soaring high above the vineyard. These discerning birds of prey are known to patrol the skies over Paso Robles, perhaps keeping a watchful eye on the ripening grapes or just searching for their next meal. It's nature's quality control, though I'm happy to report they've yet to dip down for a taste test of the vintage. They may have a keen sense for the exquisite, but thankfully, they leave the wine tasting to us mere mortals.