It's already the last day of January. Where does the time go? After looking at this month's photos, it seems that I spent a lot of my time around Aguila—with good reason. That's the route that Queen Anne and I take when we travel west, so I knew there was stuff to shoot, and it's close by—well if you consider an hour close.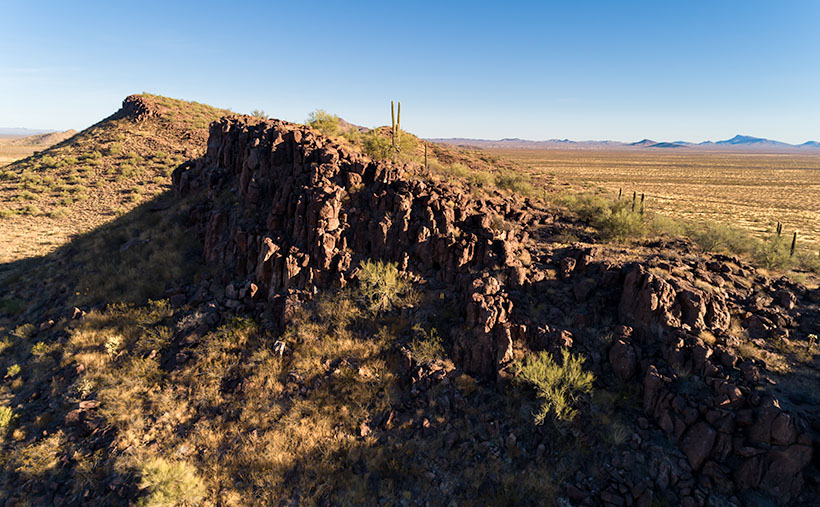 This week's featured image comes from the same area. I didn't have to travel far after I captured last week's picture—Harcuvar Forest. In fact, all that I needed to do was turn around. OK, let me explain. I wanted to shoot the saguaro forest ever since I first saw it on a trip to Robson's Mining World, but it's miles north of the highway and tucked under the cliffs of the  Harcuvar Mountains. My topo map shows a jeep road that runs behind a couple of hills situated between the highway and the forest. The hills screen the cactus patch from the highway. So, me and Archie did a little four-wheelin'.
After I had finished shooting the saguaros, I noticed that the north side of the hilltops behind me weren't rounded as they appear on the south. Instead, they had a ridge of broken rocks—plate tectonics fractured them and pushed them towards the sky. Since I find edges like these interesting, I decided to waste some time photographing them.
This week's featured image is the result of my curiosity. I call this photo Foothill Uplift. There are a couple of things that I like about this image. I like how the second hill repeats the pattern of the foreground one. It's like they're lined up for presentation. The same wedge shape shows up again on the photo's right side. Along the horizon and on the far side of the Aguila Valley is our old friend Black Mesa. It's the western high peak of the Vulture Mountain Range that stretches all of the ways back to Wickenburg. Finally, I love the double-headed saguaro, which I couldn't see from the trail. It's the garnish that completes the cocktail.
You can see a larger version of Foothill Uplift on its Web Page by clicking here. Be sure to come back next week, and I'll see what I can scrounge up from around the neighborhood.
Until next time — jw